Slim Shady Throws Down: Eminem's Net Worth on His 45th Birthday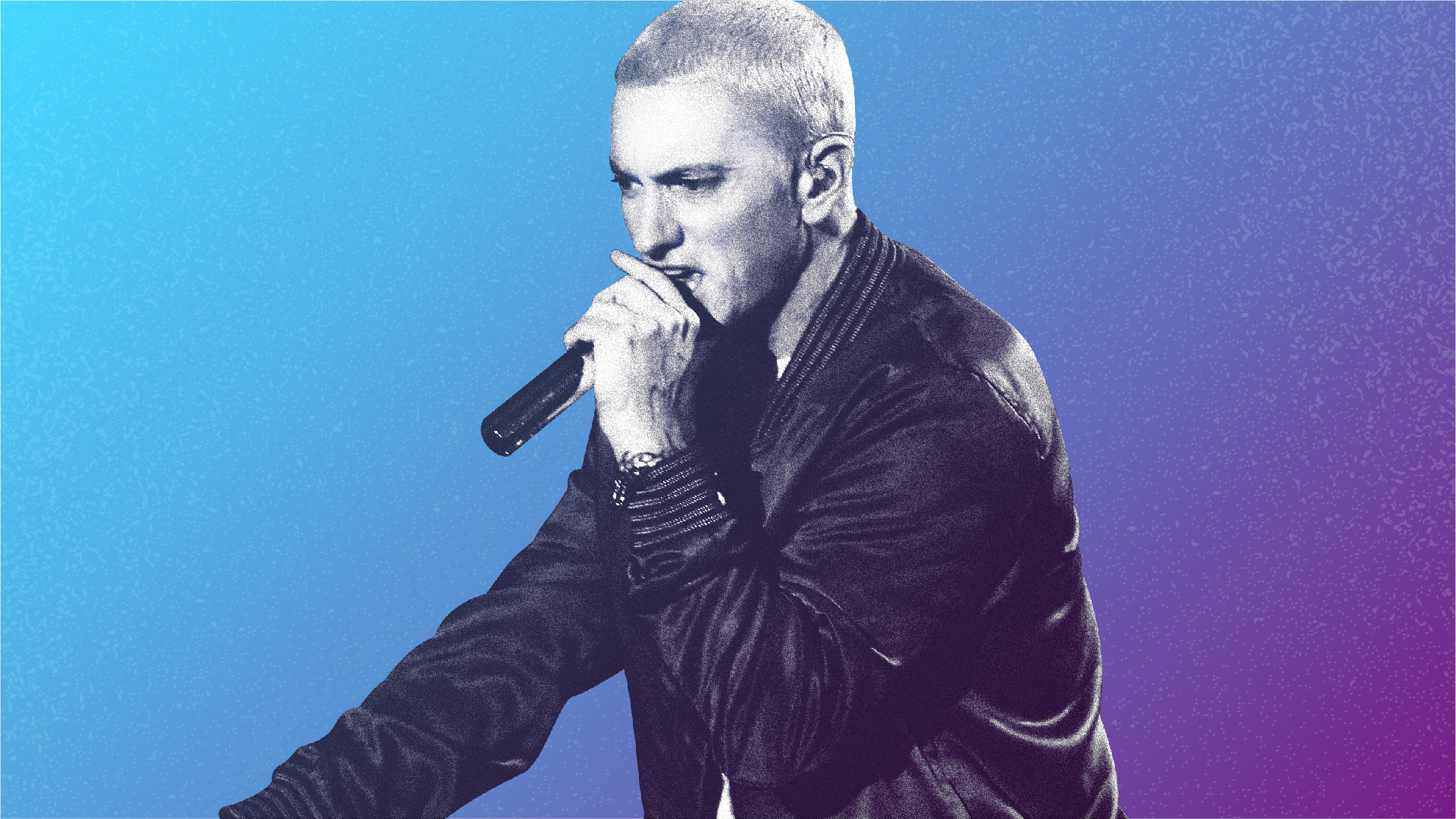 One of the most successful, acclaimed and controversial musical artists in history, Marshall Mathers — aka Eminem, aka Slim Shady — turns 45 on Oct. 17. Volumes have been written about the firebrand rapper's poor, unstable childhood, his ongoing vendettas with his mother and ex-wife, his public attacks on pop culture icons — including his most recent freestyle rap at the 2017 BET Hip Hop Awards, where he unleashed a wave of scathing criticism directed at President Donald Trump — and his unlikely rise to fame after being discovered by rap legend Dr. Dre. But did you know that Eminem has broken records in both ticket and album sales while amassing a nine-figure fortune? Here's a look at the vitriolic wordsmith's career and net worth on his 45th birthday, and how his earnings compare to the profits of the world's biggest rappers.
Eminem Net Worth: $190 Million
In 1996, the world had not yet been introduced to Eminem, the Real Slim Shady or Marshall Mathers. When the soon-to-be megastar released "Infinite" that year, the album sold just 1,000 copies and didn't crack the charts. It was just another album flop. All that was about to change, however — along with Eminem's net worth.
Three years later, with production help from hip-hop legend Dr. Dre, Eminem released the landmark album "The Slim Shady LP." It peaked at No. 2 on Billboard's album chart and sold 18 million copies, catapulting the recently down-and-out, struggling Detroit rapper to global superstardom. It would be the last time an Eminem album didn't reach No. 1.
Eminem's Mentor: How Dr. Dre Built His $830 Million Empire
Eminem: Lose Yourself in Album Sales
Just one year after "The Slim Shady LP" made him the hottest act in hip-hop, Eminem followed up with even greater critical and commercial success when 2000's "The Marshall Mathers LP" sold 32 million copies and became a No. 1 hit. He quickly followed up with the now-classic albums "The Eminem Show" in 2002 and "Encore" in 2004, which sold 27 million and 21 million copies, respectively. 
After a five-year hiatus, Eminem returned in 2009 with the album "Relapse," followed by "Recovery" in 2010 and "The Marshall Mathers LP 2" in 2013. The later albums never achieved the commercial success of the masterpieces from his heyday, but they all charted at No. 1 and "Recovery" sold 15 million copies.
Celebrities Who Bounced Back: 10 Millionaires Who Lost It All
Eminem Songs, Albums, Tours and Movies
Eminem sold more albums during the 2000s than any other artist in the world. He's not only one of music's most successful stars, however — he's also one of the most prolific. He's released eight studio albums, six of which have been No. 1 hits, as well as 31 music videos, 37 singles and 78 collaborations. In all, Eminem has sold 172 million albums worldwide.
His fortune can also be traced to the success of his concerts. Eminem launched four tours between 2000 and 2012: "Up in Smoke," "Anger Management," "Home & Home" and "Recovery." They combined to sell 11.94 million tickets for a total gross of $751 million.
In 2002, Eminem crossed over to acting when he starred in "8 Mile," a semi-biographical film about a struggling Detroit rapper desperate to escape a broken home. Produced on a budget of only $41 million, "8 Mile" earned critical acclaim, an Academy Award for Best Original Song and $242.88 million at the worldwide box office.
Eminem Albums, Tours Add $85 Million to his Fortune
Over the last five years, Eminem has earned a combined $85 million even though he turned in only a few performances a year, didn't release an album and shunned the types of business ventures that made many of his peers rich. The continued success of his back albums and the massive per-show fees he commands are enough to keep him at or near the top of the annual Forbes highest-paid Hip-Hop artists list.
In 2012, Eminem raked in $15 million on just a few tour dates and back catalog sales. 2013 was also a good year for the rap superstar when he pulled in $10 million. In 2014, Eminem earned $18 million thanks to a handful of high-paying tour dates and a nice clip of back catalog sales.
Eminem had a monster year in 2015, when he earned a whopping $31 million, thanks mostly to the more than $5 million per show he earned co-headlining the Monster Tour with fellow superstar Rihanna. Two shows at MetLife stadium alone raked in $12.4 million — more than Jay Z and Beyoncé earned at the same facility on their own two-night run.
In 2016 Eminem earned $11 million, once again thanks to continuing sales of his classic hits and a small but lucrative touring schedule. He performed just three shows, but all of them were in front of massive crowds at South America's version of Lollapalooza.
Eminem defined rap music in the late '90s and 2000s and pushed the boundaries of the already controversial genre even farther. His success was so total that he continues to earn more than all but a few rappers with just a handful of show dates and no new albums.
Up Next: The Richest Rap Moguls in the World