Maria Bartiromo Bio: The Profile of CNBC's "Money Honey"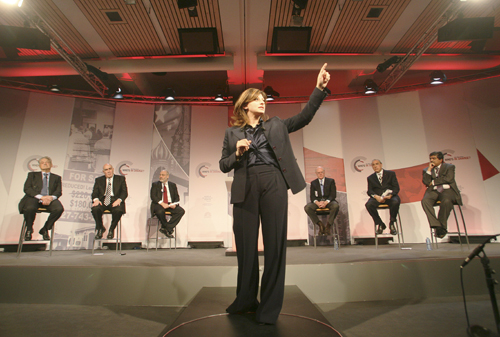 Maria Bartiromo has been a financial and investing powerhouse for more than 20 years. Getting her start on the national stage with a prominent gig at CNBC, her success has blossomed over the years.
Today, Bartiromo is one of the most popular anchors on the network, hosting Closing Bell with Maria Bartiromo and serving as host and managing editor of On The Money with Maria Bartiromo.
Over the years, she's become a top financial presence with television appearances, articles written for numerous magazines and book publications.
Maria Bartiromo's Background
As a teenager, Bartiromo led a humble life, working as a coat-check girl at a restaurant. In college, as she studied at New York University to earn her Bachelor of Arts in both journalism and economics, she worked on the weekends with her mother at Off-Track Betting.
Not long after graduating, the Brooklyn native started her journalism career. She currently resides in Manhattan and is 45 years old.
Maria Bartiromo CNBC Legacy
In the late 80s, Bartiromo joined CNN as an intern on the general news desk. Shortly after, she was hired on at the business division and worked her way up to producer and assignment editor with CNN Business News. Several years later, she left her job at CNN and her Maria Bartiromo CNBC legacy began.
In 1995, Bartiromo became the first journalist to report live from the floor of the New York Stock Exchange with the show Squawk Box. On the daily show, she covered breaking news for the network's unscripted program, which undoubtedly boosted her financial profile.
Since then, she became the anchor of Closing Bell with Maria Bartiromo, as well as host of the nationally syndicated The Wall Street Journal Report with Maria Bartiromo, which airs weekly and is one of the most watched financial news programs in America.
On the Money with Maria Bartiromo, another nationally-syndicated business, financial and economic news program, is distributed by NBC Universal Domestic Television Distribution and airs weekly on over 200 stations.
Maria Bartiromo Reputation and "Money Honey" Moniker
In her years as a journalist and financial guru, Bartiromo has built quite a reputation as a smart woman with extreme beauty. She's equally adored for her financial knowledge and attractive appearance.
Reputation and Influence
Bartiromo has been pegged by PBS as "one of the most influential voices on Wall Street." Some have even stepped up her reputation to one of the most influential and trusted journalists in the world. She has served as a reliable voice during some of the economy's most important booms and busts. Based on her Big Board reports, her financial knowledge is so well-respected that her opinion is said to have actually moved the markets.
She's known for posing the tough questions to institutional investors, business leaders and even CEOs. She also has an amazing reputation for her unbiased reporting.
Bartiromo has a large fan base that has created numerous clubs and websites to her legacy in financial business reporting. (Image: Annette Boutellier via Wikimedia Commons)
"Money Honey" Moniker
Not long after starting her position on Squawk Box, Bartiromo gained the moniker, "Money Honey."At the time, she was a fast-rising 20-something with tremendous financial sense and a shining personality. The nickname also came from her fashion sense and assortment of hairstyles.
It didn't take long for Bartiromo to recognize that her "Money Honey" moniker had become a household name. Though she wasn't always thrilled about the potentially patronizing connotation behind the name, she decided to take advantage of the popularity it garnered by filing a trademark on a host of products in 2007.
Her "Money Honey" trademark has shown up on a number of products that include entertainment and educational services, her website, personal finance TV show, toy action figures, jigsaw puzzles, toy cash registers and card games.
It wasn't until she received a new seven-figure per year, multi-year deal a few years ago that Bartiromo chose to walk away from her trademark filings.
Her "Money Honey" moniker hasn't been lost on the public, nor has her popularity as a finance expert. In fact, Joey Ramone, of The Ramones, developed such a crush on her that he wrote a song titled "Maria Bartiromo" that appeared on his "Don't Worry About Me" album.
Maria Bartiromo Publications and Other Projects
Bartiromo writes a monthly Q&A column called "One-on-One with Maria Bartiromo," for the nationally syndicated newspaper, USA Today. Her column focuses on top business issues of the day and features interviews with business and government leaders.
In the past, she has written a weekly column for BusinessWeek and Milano Finanza, in addition to monthly columns for Ticker, Reader's Digest and Individual Investor magazines. Her work has also been featured in a wide variety of publications, including Newsweek, Financial Times, Registered Rep and Town and Country.
Maria Bartiromo's television appearances include The Oprah Winfrey Show, The Colbert Report, Real Time with Bill Maher, The Tonight Show with Jay Leno and Live with Regis and Kelly.
Bartiromo is a member of the Board of Trustees of New York University, as well as the Board of Directors of the New York City Ballet, Public Education Needs Civic Involvement and Leadership (PENCIL) and the Girl Scouts Council of Greater New York. From 2010 to 2012, she served as an adjunct professor at NYU Stern School of Business in the fall semesters.
Maria Bartiromo Divorce and Affair Scandal
[relatedposts]In recent years, Maria Bartiromo has found herself in the midst of a hot and steamy scandal that was completely unrelated to the stock market.
In 2007, the so-called "Mariagate," scandal emerged after Bartiromo reportedly accepted rides on Citigroup Inc.'s corporate jet, allegedly to spend time with senior executive Todd Thompson.
Bartiromo vehemently denied the accusations that she was having an affair or cheating on her husband of eight years, Jonathan Steinberg, who serves as chief executive officer of WisdomTree Investments.
Despite Mari Bartiromo's affair rumors, there has been no confirmation of a John Steinberg-Maria Bartiromo divorce. She and Steinberg are still currently married.
Maria Bartiromo Awards
It certainly didn't take long for Maria Bartiromo to receive recognition for her many accomplishments in the journalism and banking fields. Here is a list of her many award nominations and wins:
CableACE Award nomination for three-part series on the Internet and its implications for investors (1996)
Coalition of Italo-American Associations' Excellence in Broadcast Journalism Award (1997)
Gerald Loeb Award nomination for Distinguished Business and Financial Journalism (2002)
The Union League of Philadelphia's Lincoln Statue Award (2004)
Gracie Award for Outstanding Documentary for "Greenspan: Power, Money & the American Dream" (2008)
News and Documentary Emmy for "Bailout Talks Collapse" coverage (2008)
News and Documentary Emmy for "Inside the Mind of Google" (2009)
Bartiromo was also featured in the Financial Times as one of the "50 Faces that Shaped the Decade" in 2009 and was inducted into the Cable Hall of Fame Class of 2011.
Maria Bartiromo Books
Maria Bartiromo has published three books in her career:
Use the New: How to Separate the Noise from the Investment Nuggets and Make Money in the Economy (2001)
The 10 Laws of Enduring Success (2010)
The Weekend That Changed Wall Street (2010)
Maria Bartiromo Twitter and Website
The Maria Bartiromo Twitter page (@MariaBartiromo) has a huge fan base with more than 83,000 followers. Bartiromo also hosts a website (Bartiromo.com) that shares more about her career, publications, accomplishments and fun personal photos.
(Image: christopherjoye.blogspot.com)