6 Most Accessible Cruise Lines
If you have accessibility concerns and you're planning to take a cruise, it's important to know that you'll be able to comfortably get around. According to Accessible Journeys, an accessible travel provider, "Cruise ships are an ideal way to see the world on vacation while having wheelchair-specific comforts onboard."
An emphasis on accessibility wasn't always the case among cruise lines. In 2015, however, the U.S. Department of Justice mandated that cruise ships that sail in U.S. waters — no matter where they originate from — must be compliant with the American Disabilities Act.
Even so, not all cruise ships are equal when it comes to these accommodations. Take a look at these six cruise lines that are dedicated to providing some of the best accessible experiences and facilities to their guests. Although not all accessible cruise lines are featured here, you can gain insight into what many of the largest and most popular ones provide.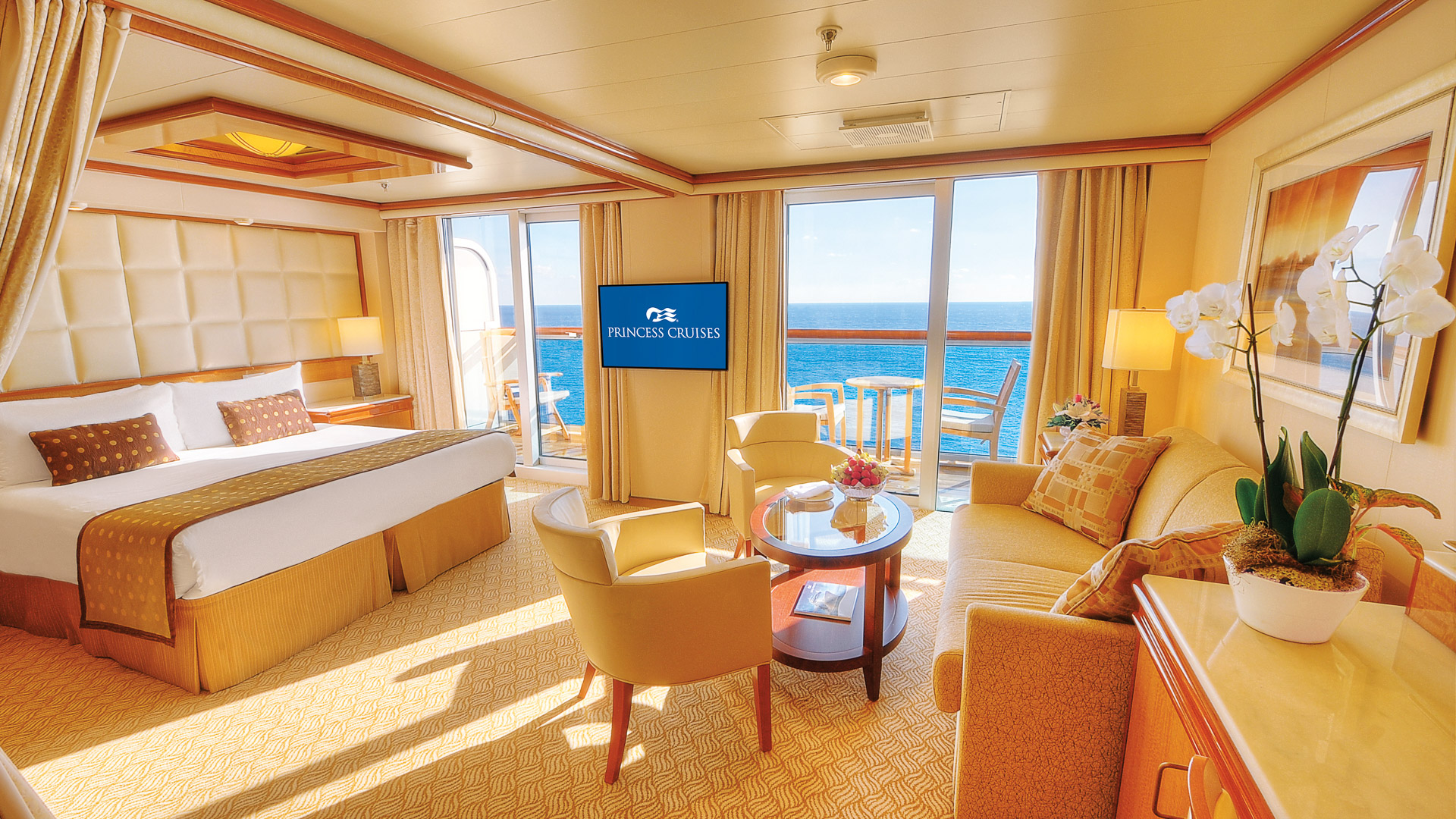 Princess Cruises
Princess Cruises is known for pioneering accessibility efforts in the industry, launching its first program in 1992. More than 350 wheelchair-accessible cabins are available across the Princess fleet, and each ship houses up to 31 accessible cabins. Access to the room and bathroom is made easy with the presence of widened doorways with removed or revamped thresholds.
In the bathroom, roll-in showers, hand-held showerheads and lowered sinks are present. Plus, convenient handrails and closet railings are featured. Additional accessibility equipment is available upon request.
Getting around a Princess ship is easy, with most ships featuring a design that allows for easy access to open deck space, show lounges, spas, restaurants and theaters. Ship elevators offer roomy 36- to 42-inch doorways, and wheelchair seating is available in public spaces.
Travelers with sight or hearing disabilities will have access to infrared listening assistance systems in the ship's theaters and ADA kits that feature items such as text telephones, door knock sensors and visual smoke detectors.
Most ships in the Princess fleet include specialized gangway mechanisms that allow wheelchair travelers to embark and disembark with ease in various ports worldwide. Princess also works with onshore facilities at its ports to expand accessibility for wheelchair guests, but results may vary.
Global accessible travel specialists Travel for All offers this valuable advice when planning your cruise, "Look for itineraries in which the ship will 'dock' at a pier, providing easier access for wheelchair guests than if the ship must 'tender' guests ashore — essentially taking them in small lifeboats."
See: Beautiful Destinations Where It's Cheap and Easy To Get Around 
Royal Caribbean International
Although the exact number of accessible staterooms across its fleet is not disclosed on Royal Caribbean's website, all of its ships have accessible staterooms, which are designed with a 5-foot turning radius in all areas for ease of maneuvering. To give you an idea of how many accessible staterooms a Royal Caribbean vessel might have, the cruise line's Symphony of the Seas offers a total of 46.
If you're concerned about being able to secure an accessible room, Travel for All recommends booking your cruise early: "Cruise lines set aside a selection of accessible staterooms and, at times, suites. Booking very early will provide the best choice of accommodations."
Other features of accessible staterooms on Royal Caribbean International vessels include 32- to 34-inch doorways and a removed entry door sill. Bathrooms offer grab bars, a lower sink and vanity, raised toilet, roll-in shower and a hand-held showerhead.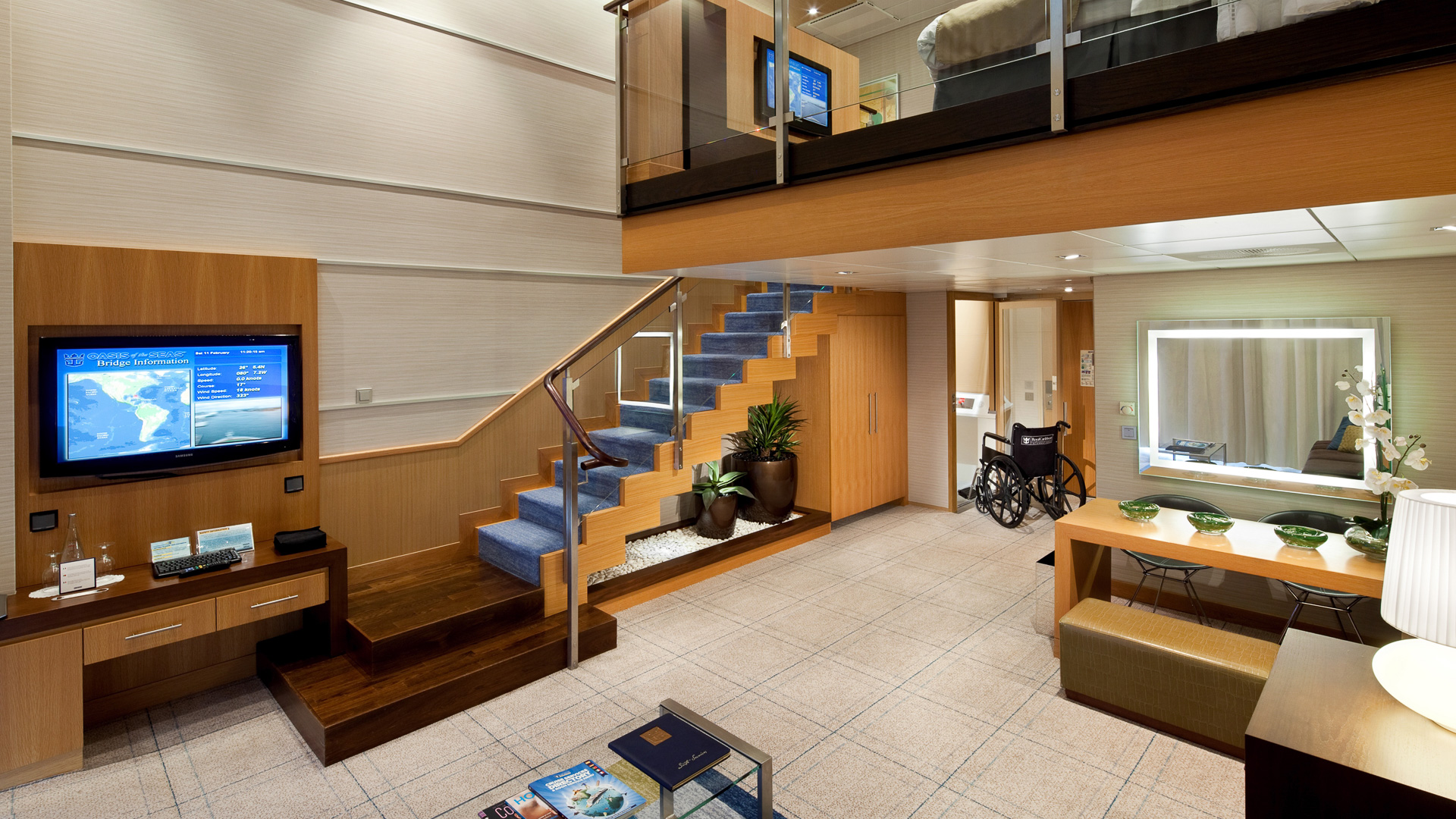 Gradual inclines into public areas, wide corridors, automatic doors and accommodating elevators all make moving around the ship much easier. Plus, each ship in the fleet offers one pool and whirlpool lift. Vessels also offer accommodations for guests with hearing or visual difficulties, including assistive listening devices and Braille signage.
Although many of the ports provide access for wheelchairs and scooters, certain conditions may prevent disembarking, such as a gangway that's too steep, or tendering, which doesn't accommodate the roll-on of assistive devices.
Carnival Cruise Line

Like other cruise lines, Carnival offers fully accessible staterooms on its vessels, but two ships stand out. Carnival Horizon, built in 2018, features 65 accessible staterooms, and then there is Carnival Panorama, built in 2019, which offers 75 accessible staterooms.
Within these rooms, travelers will find accommodating elements, such as accessible routes through the room, turning space, plus grab bars and shower seats in the bathroom. Travel for All recommends seeking out the newest ships for the most widespread accessibility: "Generally, the newer the ship, the more likely that accessibility for all guests was built into the design."
However, Carnival has made substantial modifications to older vessels in its fleet to aid in accessibility, such as wheelchair-accessible elevators — equipped with tactile controls and audible signals for guests who have limited vision or are blind. Visual-tactile room kits are available for guests who have hearing difficulties.
Other accommodations include accessible routes throughout the ship and accessible dining room seating in both casual dining spaces and restaurants. Pool lifts are also available on certain Carnival ships: Horizon, Panorama, Radiance, Sunrise, Vista and Mardi Gras.
Although Carnival makes every effort to accommodate its guests with disabilities at the different ports of call, facilities in ports vary. Sometimes water shuttles must be used to transport travelers between the vessel and shore and, in some circumstances, those with mobility limitations may not be able to board the shuttles.
Celebrity Cruises

One way Celebrity stands out among other cruise lines is that it has put special effort into its customized excursions, which are wheelchair accessible and only require light activity levels in select locations, so passengers can have as much fun off of the ship as they will when cruising.
Celebrity describes its fleet of ships as "accessible from bow to stern." For example, the 2011 Celebrity Silhouette and the 2012 Celebrity Reflection feature 30 accessible staterooms with wide, automatic doorways and plenty of turning space. Bathrooms feature roll-in showers, grab bars, hand-held showerheads and fold-down shower seats. Around the ship, all dining and bar areas offer wheelchair seating, as well as the ship's theatre. Guests can also enjoy lifts at the main pool and whirlpool and lower playing tables in the ship's casinos.
For passengers who have sight difficulties, Braille signage and elevator buttons are available on select ships, including all Solstice Class vessels. Each ship's crew will also provide assistive devices, when and where possible, to accommodate guests who are deaf or hard of hearing.
Holland America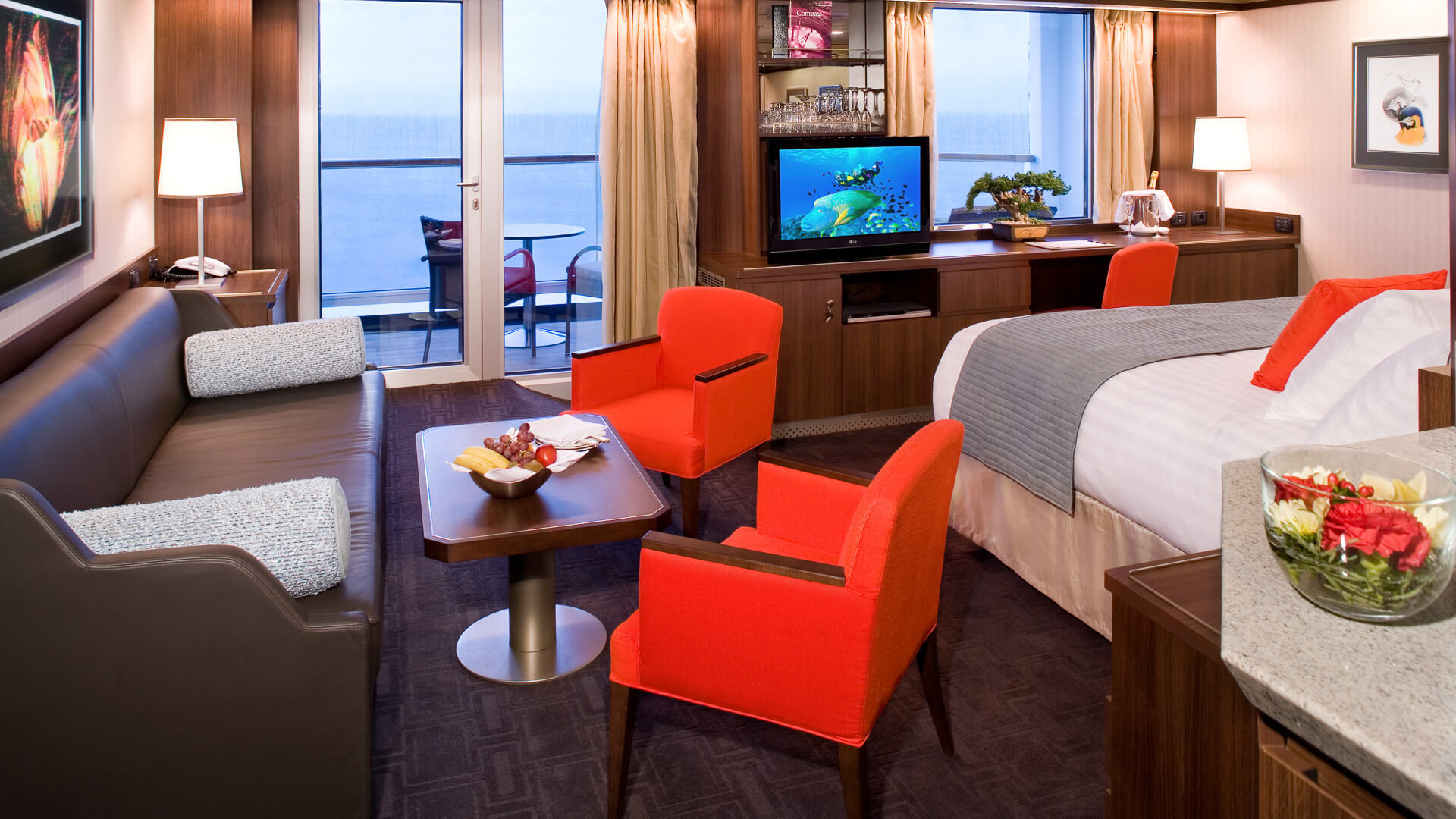 Holland America was the first cruise line to install a safe and comfortable wheelchair transfer system for passengers between ship, tender and pier. The cruise line offers accessible staterooms on all of its vessels, but Signature and Vista class ships have the most available — up to 30 per ship. Features available include wide interior and exterior doors, wheelchair access to both sides of the bed, a roll-in shower with grab bars, a shower seat, accessible shower controls and a hand-held showerhead.
Guests with visual impairments have the benefit of screen reader computer software and large print or Braille menus — with 45 days notice — and for those who are hearing impaired, stateroom visual and tactile alert kits and assistive listening systems in show lounges are available. 
Even though Holland America makes every effort to accommodate its guests, due to varying conditions available in port-of-call facilities, wheelchair accommodations may not be available for some shore excursions.
Norwegian Cruise Line

On Norwegian Cruise Line, when guests with accessibility concerns board the ship, they will have the opportunity to meet with a staff member who will assist with any accessibility needs during the trip. Norwegian offers up to 27 wheelchair-accessible staterooms on each cruise but availability is limited and booking well in advance is recommended.
Accessible rooms include wider door frames, highrise toilets, roll-in showers, shower benches and handrails. Sky, Sun and Pride of America vessels feature staterooms that are equipped for deaf and hard-of-hearing guests, and portable kits are also available. Braille and tactile signage, as well as customized assistance, are also provided by the cruise line for blind or low-vision guests.
The accessibility of shore excursions will vary, depending on location. Norwegian makes its best effort with companies based in the U.S. to provide accessible excursions, but excursions in foreign ports can be challenging for those needing accessibility. For the best experience, Travel for All recommends evaluating shore excursions in advance so you'll know what you may or may not be able to do.
Click through to find out the 31 costly travel mistakes to avoid.
More on Money