MTV VMAs 2015: Host Miley Cyrus Net Worth Vs. Nicki Minaj Net Worth, Taylor Swift Net Worth and Kanye West Net Worth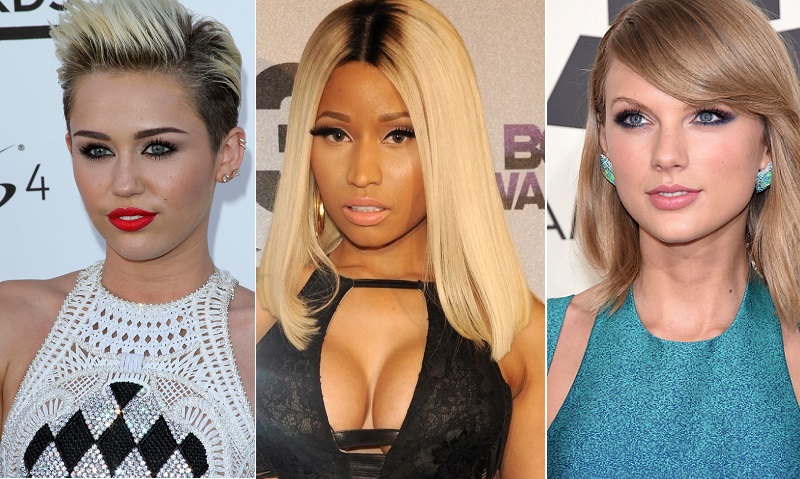 Sunday night's MTV VMAs 2015 was a standout among past awards shows over the years, with the biggest names in music delivering plenty of drama and surprising moments. From host Miley Cyrus to award winners Kanye West, Nicki Minaj, Taylor Swift and Justin Bieber, the VMAs was full of raw moments fueled by star power.
Read: The Richest MTV Video Music Awards Hosts From 1984 to 2015
Find out which celebrities from the MTV VMAs 2015 are the richest:
Miley Cyrus Net Worth: $160 Million
At this year's MTV VMAs, Miley Cyrus continued her controversy — which started with her 2012 twerking performance with Robin Thicke — by criticizing rapper Nicki Minaj.
After MTV announced the 2015 VMA nominations, Minaj took to Twitter to call out the network for not giving her video "Anaconda" more nominations and speculated that MTV favored music videos of artists whose videos prominently feature skinny, white women. Initially, Taylor Swift took Minaj's remarks personally, though the two made up and even performed together onstage at the MTV VMAs 2015.
As the MTV VMA host, however, Cyrus defended MTV in a New York Times interview. "If you do things with an open heart and you come at things with love, you would be heard and I would respect your statement," Cyrus said of Minaj's tweets. "But I don't respect your statement because of the anger that came with it," said Cyrus, who also added that Minaj was "not very polite."
Cyrus' unfiltered antics are definitely paying off for the star, however. She made $36 million in 2014 alone, a sum that made her tie with Celine Dion for the spot as the seventh highest-earning woman in music from June 2013 to June 2014, according to Forbes. Miley Cyrus' net worth is estimated to be around $160 million, according to CelebrityNetWorth. Her net worth will probably continue to increase with the release of her upcoming album, "Miley Cyrus & Her Dead Petz."
Nicki Minaj Net Worth: $60 Million
Despite her disappointment that "Anaconda" didn't receive more nominations, Nicki Minaj was still a big winner at the MTV VMAs 2015, taking home the award for best hip-hop video. Minaj also had a standout performance of the night, starting her set with "Trini Dem Girls" and transitioning into "The Night Is Still Young" with Taylor Swift joining in and finally a chorus of Swift's "Bad Blood." The pair ended the high-octane performance with a genuine hug.
Cyrus also promised that the 2015 VMAs would be more "raw," and they were — especially when Minaj called out the VMAs host following her acceptance speech. "Now back to this b—h who had a lot to say about me last week in the press. Miley, what's good?" Minaj asked, her face showing real offense. Cyrus seemed flustered, evidence that this was not a planned publicity stunt.
As far as net worths go, however, Cyrus is the winner. Nicki Minaj's net worth of $60 million is significantly less that Miley Cyrus' net worth.
Related: Will Rihanna or Nicki Minaj Go Broke First?
Taylor Swift Net Worth: $240 Million
Taylor Swift was a big winner of the evening, taking home awards for video of the year and best collaboration for "Bad Blood," which features Kendrick Lamar. She also won best female video and best pop video for "Blank Space."
Swift also made news by cooling some of the tensions between her and other celebrities. In addition to her performance alongside Minaj, Swift also presented Kanye West with the Michael Jackson Video Vanguard Award, MTV's equivalent of a lifetime achievement award. Swift even jokingly alluded to the moment at the 2009 VMAs when Kanye interrupted her acceptance speech to say that Beyonce's video was better.
Swift's huge celebrity factor has done more than just score her plenty of VMAs, however. It also has earned Taylor Swift a net worth of $240 million. From June 2014 to June 2015 alone, Swift earned $80 million, reports Forbes.
Keep reading: Jessica Alba, Taylor Swift and 20 Other Successful Female Entrepreneurs Under 40
Kanye West Net Worth: $130 Million
Another one of the most memorable MTV VMAs 2015 moments was the Kanye West VMA speech, which ran a long 12 minutes. In his VMAs speech to accept the Michael Jackson Vanguard Video award, West referred to the 2009 interruption of Swift's speech, called out MTV for rehashing that moment, admitted to getting high before taking the stage and said he didn't understand awards shows in general.
"I don't understand how they get five people who work their entire life [to] sell records, sell concert tickets, to come stand on a carpet and for the first time in their life be judged on a chopping block and have the opportunity to be considered a loser," West said.
Kanye West VMA Speech
https://www.youtube.com/watch?v=u9x92nwGf_M
But, is Kanye West running for president? He ended his speech by saying, "And, yes, as you probably could have guessed in this moment, I have decided in 2020 to run for president." Then he literally dropped the mic before exiting the stage.
Thanks to his incredible success in the entertainment industry, Kanye West has racked up a net worth of $130 million.
Justin Bieber Net Worth: $200 Million
One of the more bizarre moments that was almost lost in the shuffle was Justin Bieber's reaction following his performance. Bieber started with "Where Are U Now" and led into his new single, "What Do You Mean." His performance ended with him floating above the audience on wires in an epic visual stunt. Once his song wrapped and Cyrus continued with the event, Bieber was shown leaning over in an apparent sob and also rubbing his face, clearly emotional.
Bieber's bad behavior in recent years has earned him something of a bad rep, but the pop singer appears to be trying to repair his image and get back to the business of making music. This is great news for Beliebers, as well as Justin Bieber's net worth, which already stands at $200 million.
Photo credits: s_bukley / Shutterstock.com; Joe Seer / Shutterstock.com; DFree / Shutterstock.com