10 of the Worst Tornadoes in History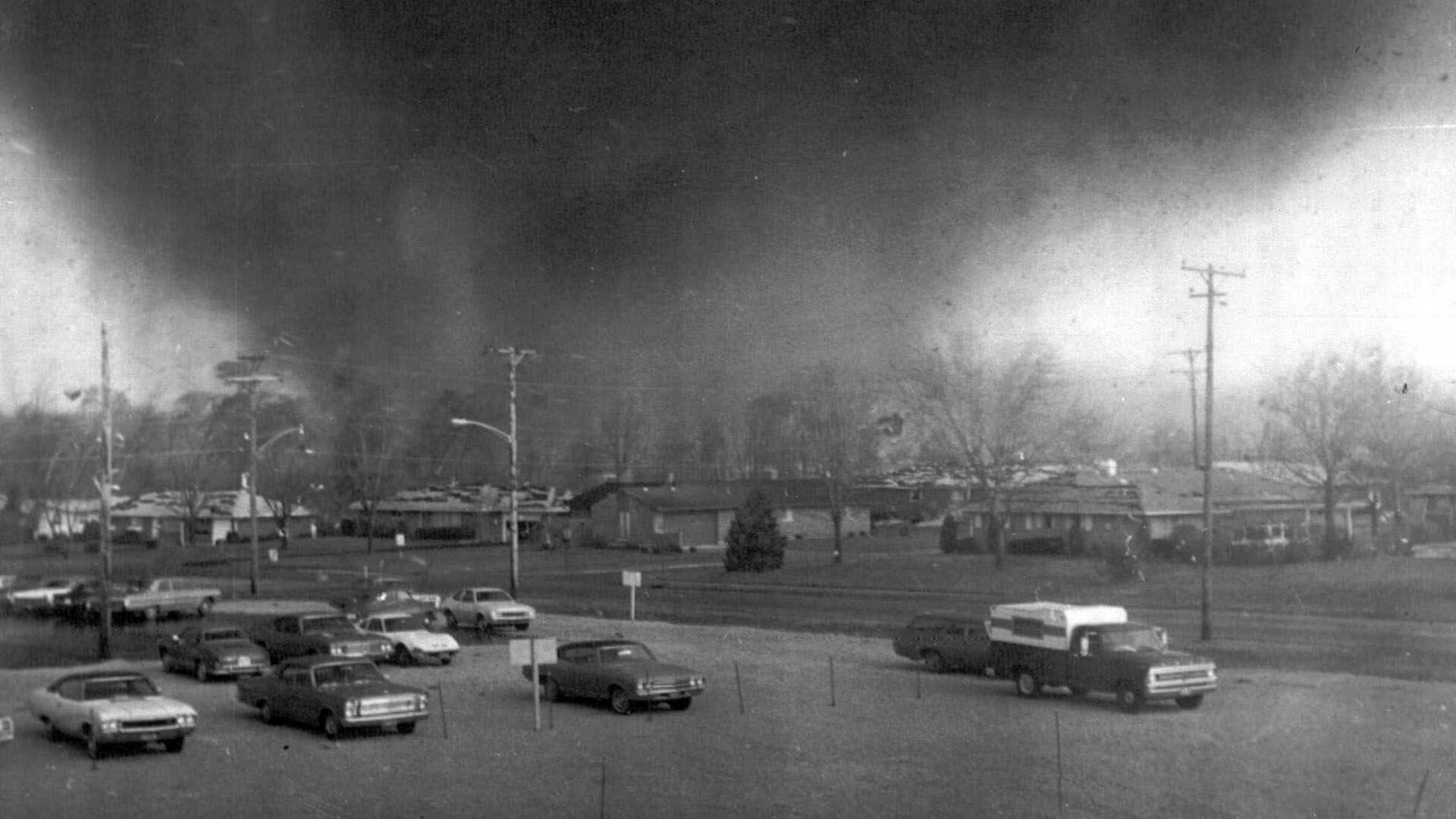 Fred Stewart/AP / Shutterstock.com
The U.S. experiences about 1,200 tornadoes per year, according to the National Oceanic and Atmospheric Administration. And 10 of these extreme weather events — some of which reach decades back — have earned a spot on this list of the worst tornadoes in history, with damages totaling hundreds of millions of dollars.
But damage costs at the time don't always indicate how severely a tornado impacted an area. For the tornadoes included on this list, GOBankingRates compiled dates and actual costs when the extreme weather events occurred, sourced from the NOAA's Storm Prediction Center, and adjusted for inflation to find out how much the destruction from the tornadoes would have cost in today's dollars. The number of injuries and deaths were obtained from the National Weather Service unless otherwise noted.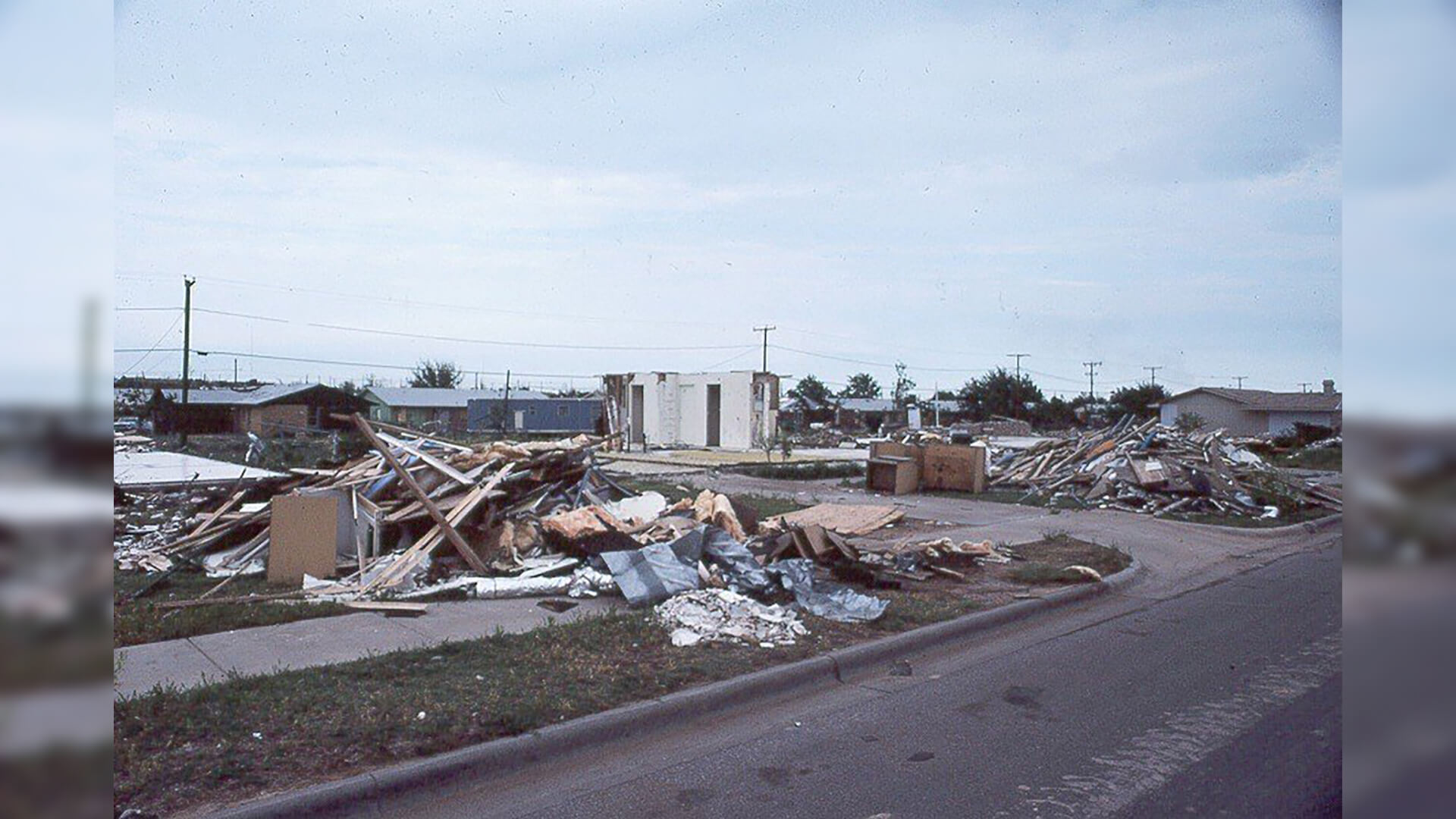 U.S. National Oceanic and Atmospheric Administration / Wikimedia Commons
10. Wichita Falls, Texas, on April 10, 1979
Residents of Wichita Falls and Wichita County had been receiving severe weather warnings for close to an hour before the tornado reached the city around 6 p.m. The last siren from the city's warning system sounded around 5:50 p.m. — the same time that storm spotters reported seeing the tornado approaching Memorial Stadium, the town's high school football field.
As for the damage, this storm was no slouch. The tornado appeared as a gigantic, black, column-shaped mass, carving a path of destruction more than 1 mile wide as the storm made its way through the area. Swirling within the tornado's fury were large pieces of debris that were visible from miles away.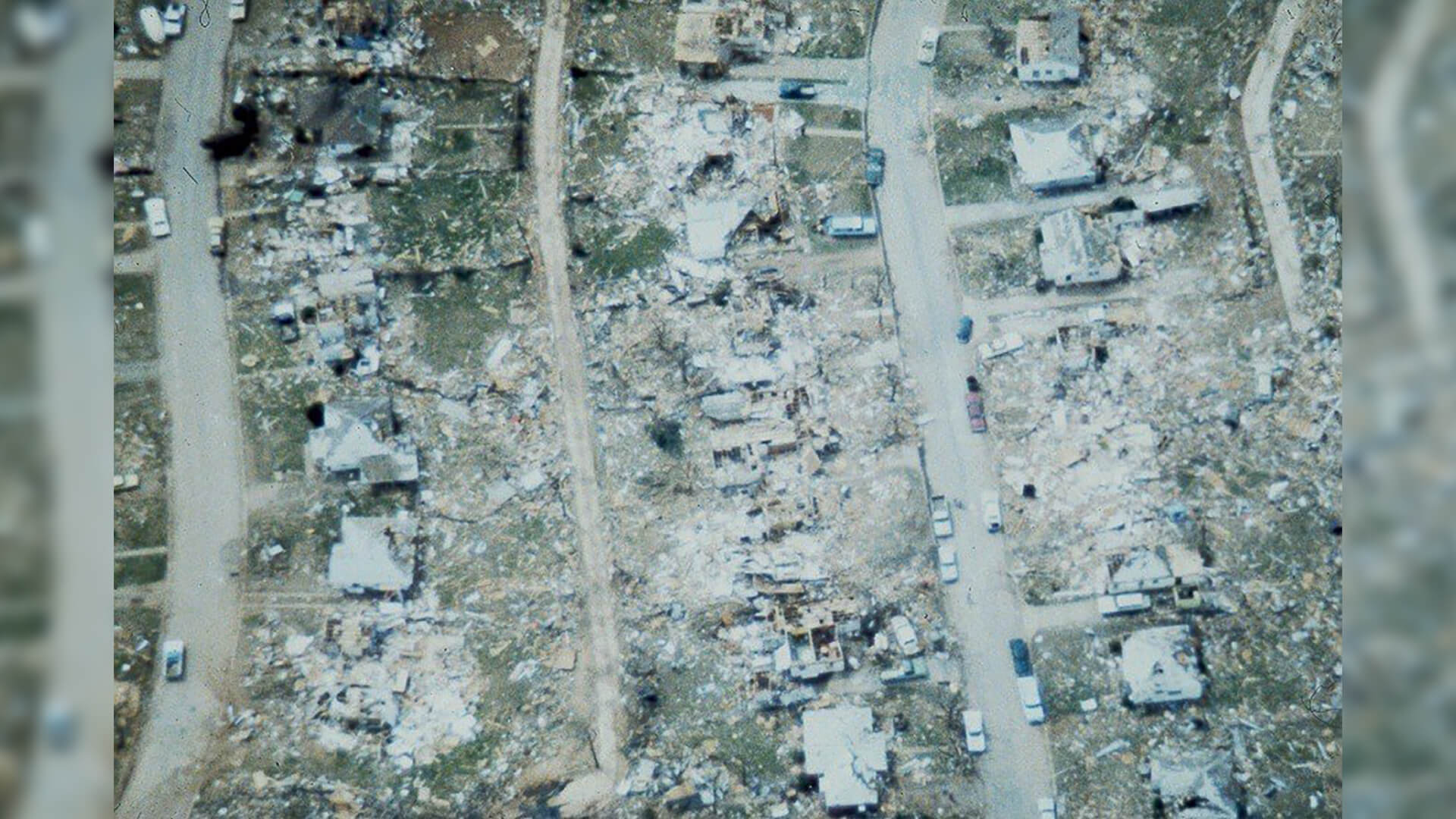 U.S. National Oceanic and Atmospheric Administration / Wikimedia Commons
Tornado's Damage to the Economy
Tornado's actual cost: $277,841,000
Cost adjusted to 2019 dollars: $984,323,380
The Wichita Falls tornado cut one of the widest paths of destruction on record. Even with the advance warnings and sirens, there were still people who fell victim to the storm. A total of 1,916 were injured, and 56 were killed. Those who survived are credited with sheltering in place, whether they were in their homes or at a business. The majority of fatalities occurred to those caught in vehicles during the powerful storm.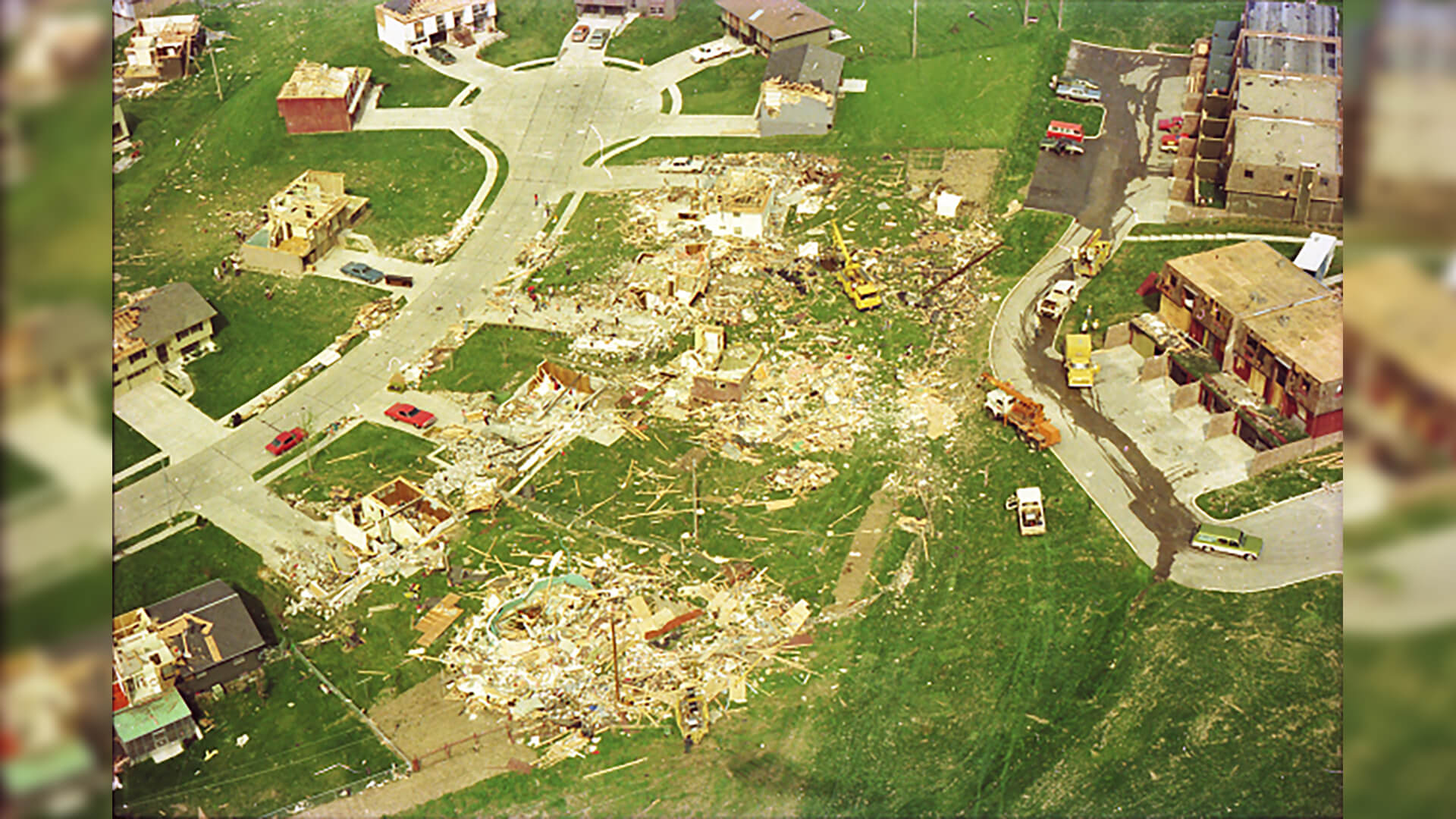 National Weather Service / U.S. National Oceanic and Atmospheric Administration
9. Omaha, Nebraska, on May 6, 1975
At 4:14 p.m., the National Weather Service issued a tornado warning for three counties, which included the city of Omaha. At 4:29 p.m., following a 911 call of a confirmed touchdown, Omaha sounded its emergency sirens. Damage reports began to flood in as the tornado moved north and northeast through the city, at one point striking a hospital and causing officials to shut down Interstate 80 due to injuries sustained by motorists. By 4:58 p.m., the tornado had lifted and broken apart over the city's Benson Park.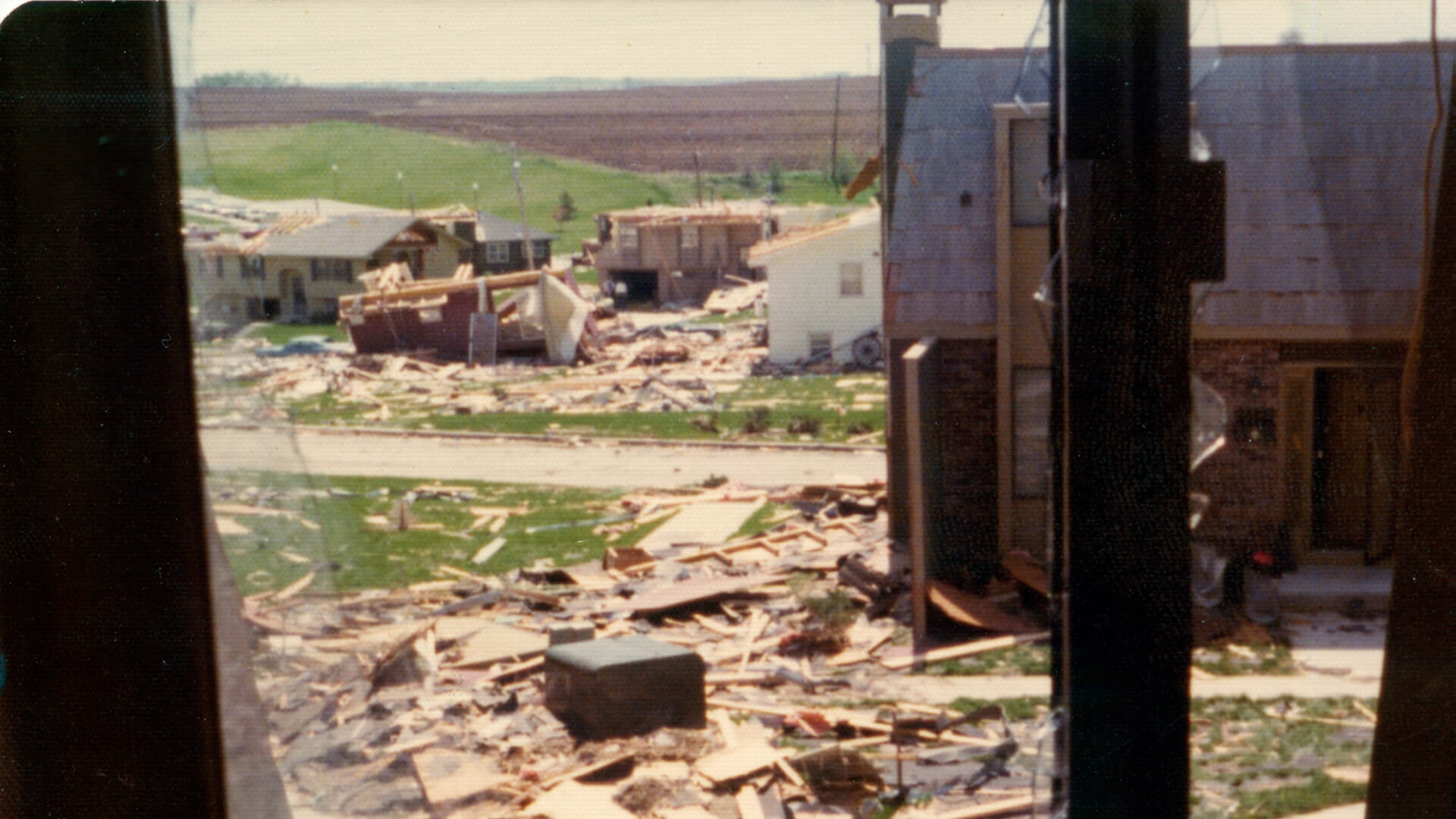 chames richalds / Flickr.com
Tornado's Damage to the Economy
Tornado's actual cost: $250,603,000
Cost adjusted to 2019 dollars: $1,198,069,680
According to the Omaha World-Herald, injuries totaled 157, and there were three fatalities. The damage caused by the Omaha tornado was the ninth-most expensive in U.S. history. It affected 2,459 residences, with 572 suffering crippling damage or total destruction. Other damages included 153 commercial properties and 23 industrial sites.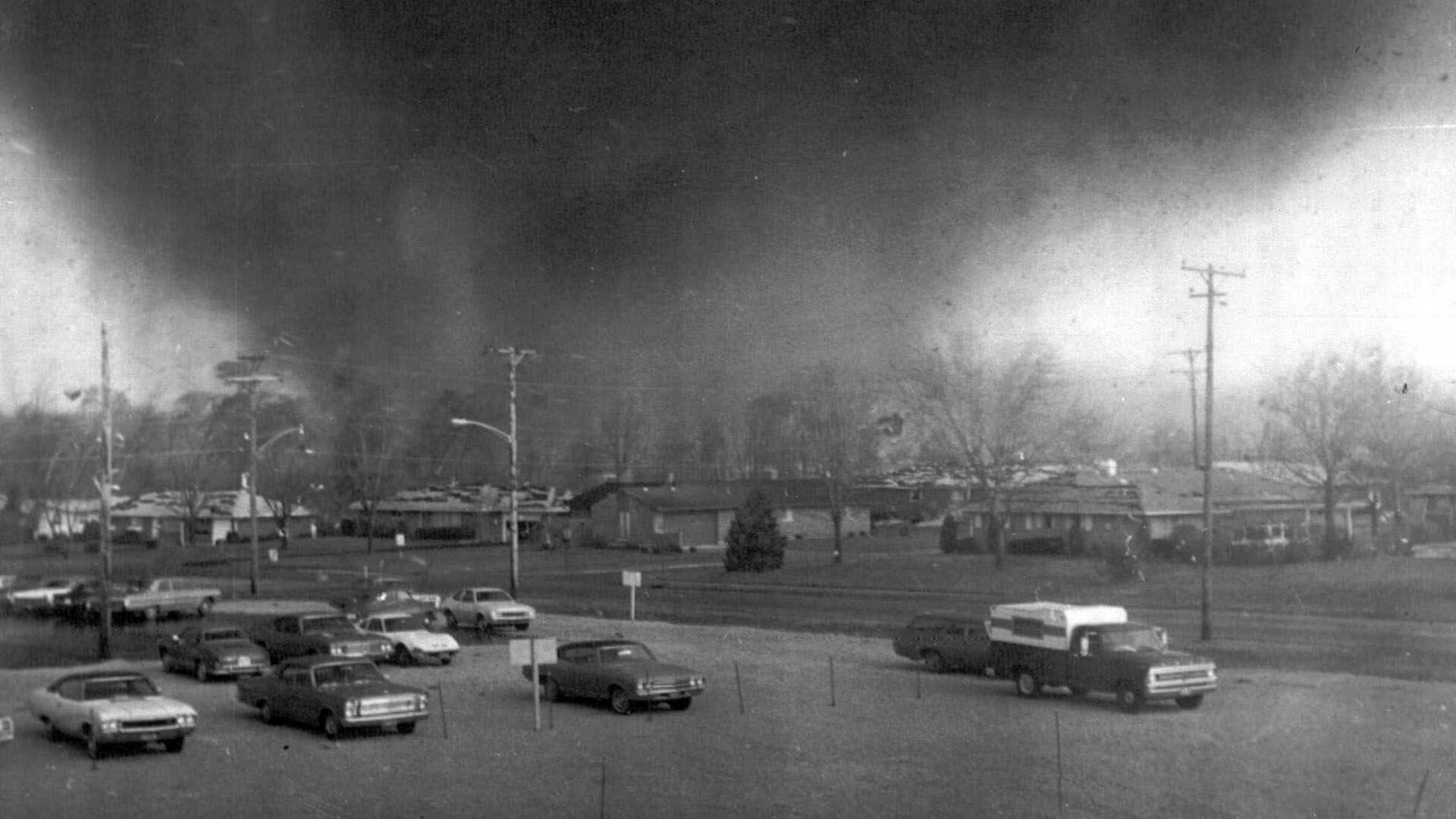 Fred Stewart/AP / Shutterstock.com
8. Xenia, Ohio, on April 3, 1974
At 4:30 p.m., a tornado was reported 9 miles southwest of the city, and it raged into Xenia approximately 10 minutes later. The tornado continued with force in a northeastern direction as it pummeled buildings and residences, including schools — which, fortunately, had dismissed classes about an hour earlier. A train passing through the city was also struck, derailing seven out of its 47 cars and temporarily blocking Main Street.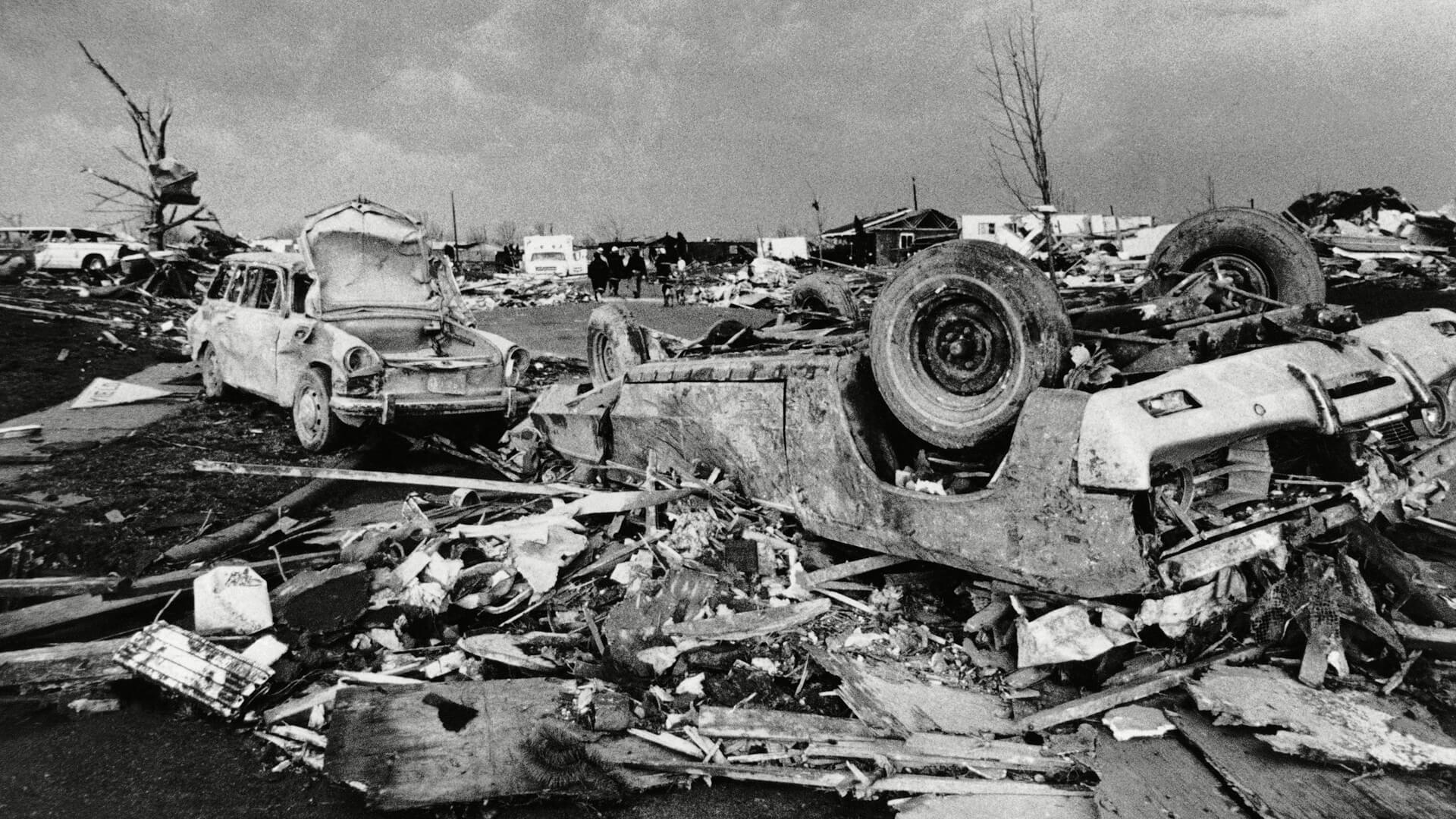 Anonymous/AP / Shutterstock.com
Tornado's Damage to the Economy
Tornado's actual cost: $250,000,000
Cost adjusted to 2019 dollars: $1,304,276,830
The Xenia tornado was a significant part of a disaster labeled the 1974 super outbreak, which comprised 148 tornadoes in 13 states. Of all the tornadoes in the outbreak, the Xenia tornado resulted in the most deaths, killing 34 people. Approximately 50% of the city's buildings, including nine churches and seven of the 12 schools, suffered total destruction. Three hundred residences were also destroyed.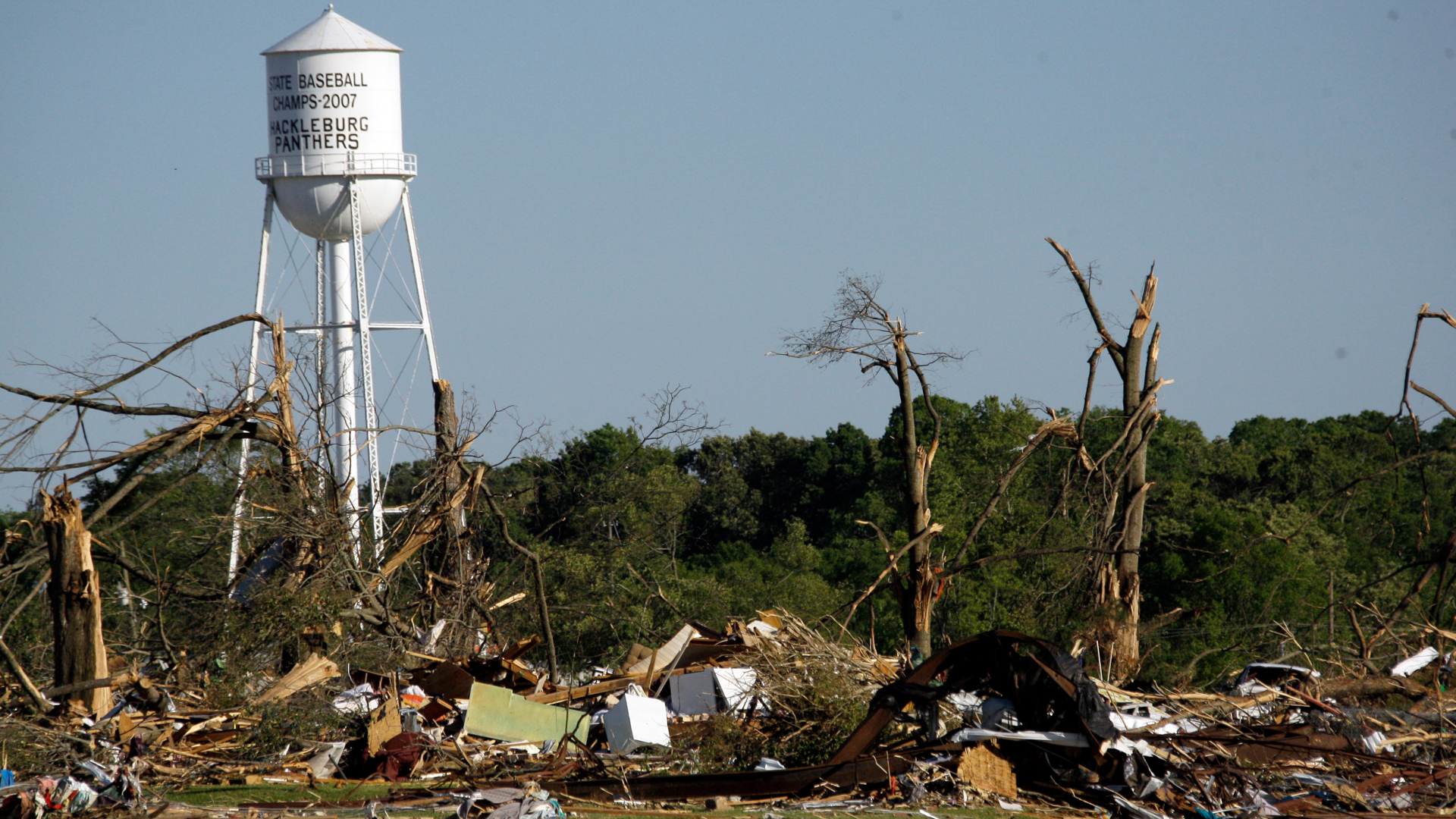 Rogelio V Solis/AP / Shutterstock.com
7. Hackleburg, Alabama, on April 27, 2011
The Hackleburg tornado began at 3:05 pm. As it approached the town from the southwest, the storm strengthened to an EF4 rating on the Enhanced Fujita scale, which rates the wind speed and intensity of a tornado. Continuing on its path to Hackleburg, the storm escalated to an EF5, with winds up to 210 mph. The tornado ended at approximately 3:28 p.m. — about 23 minutes after it began.
From Furloughs to Hurricanes: How Much You Need To Save for Life's Major Emergencies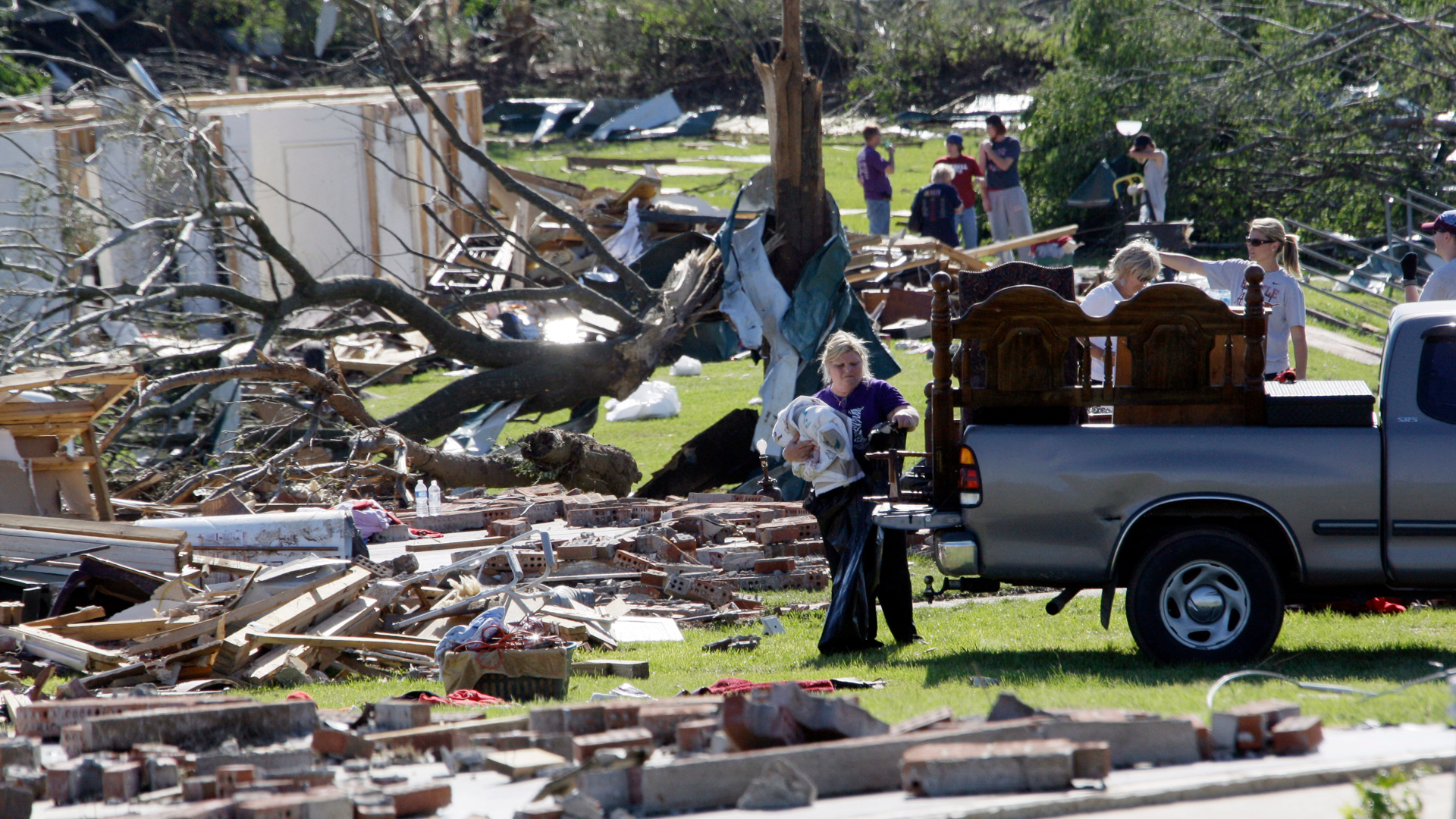 Rogelio V Solis/AP / Shutterstock.com
Tornado's Damage to the Economy
Tornado's actual cost: $1,290,000,000
Cost adjusted to 2019 dollars: $1,475,032,590
After the extreme weather event, 100 injuries and 18 deaths were reported. The tornado caused devastating damage to Hackleburg, destroying subdivisions, businesses and schools. Weather service meteorologists and storm damage experts determined that the Hackleburg tornado was an EF5, due to factors such as the storm lifting vehicles in the air by 150 to 200 yards and completely leveling a brick home, with debris from the home later found 40 yards from its foundation.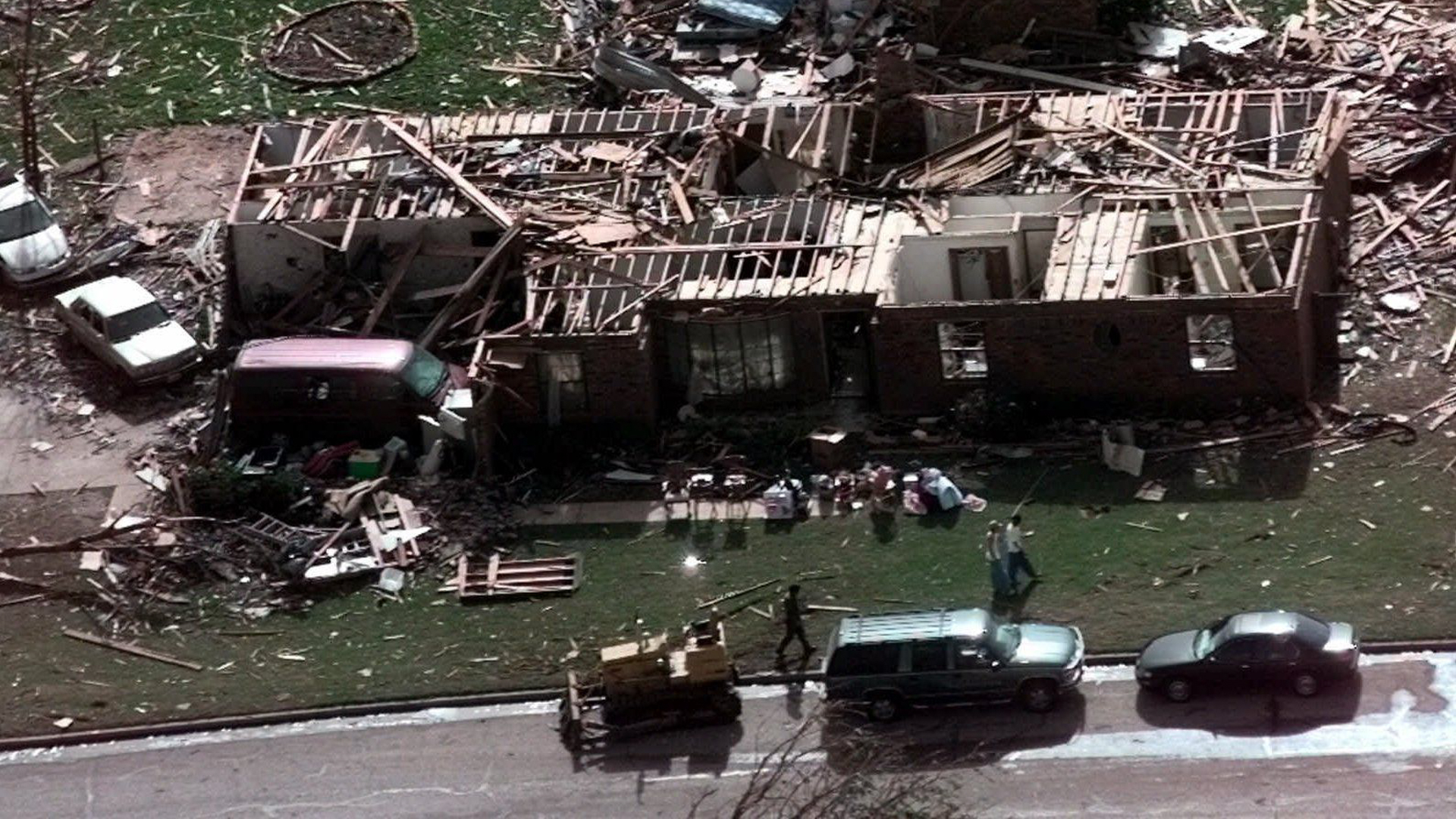 J Pat Carter/AP / Shutterstock.com
6. Oklahoma City and Moore, Oklahoma, on May 3, 1999
A parent supercell thunderstorm that began around 3:30 p.m. in Tillman County, Oklahoma, and lasted around 3 1/2 hours produced 14 tornadoes — one of which was the EF5 tornado that struck Moore and Oklahoma City.
After tracking near parts of Amber and Newcastle, the tornado reached southern Oklahoma City, where it damaged and flattened homes across a widespread area. The storm then entered Moore, cutting a swath of damage measuring one-half to three-quarters of a mile wide. As it moved through the area, the storm continued to wreak havoc on residential areas. The tornado then traveled northeast into Oklahoma City, where it damaged an industrial district and turned northward to inflict destruction on a second industrial district before entering some of the city's residential neighborhoods.
At one point, the tornado lifted a freight car, weighing around 18 tons, and blew it three-quarters of a mile across an open field. The car left gouge marks every 50 to 100 yards, indicating that it was airborne during parts of its journey.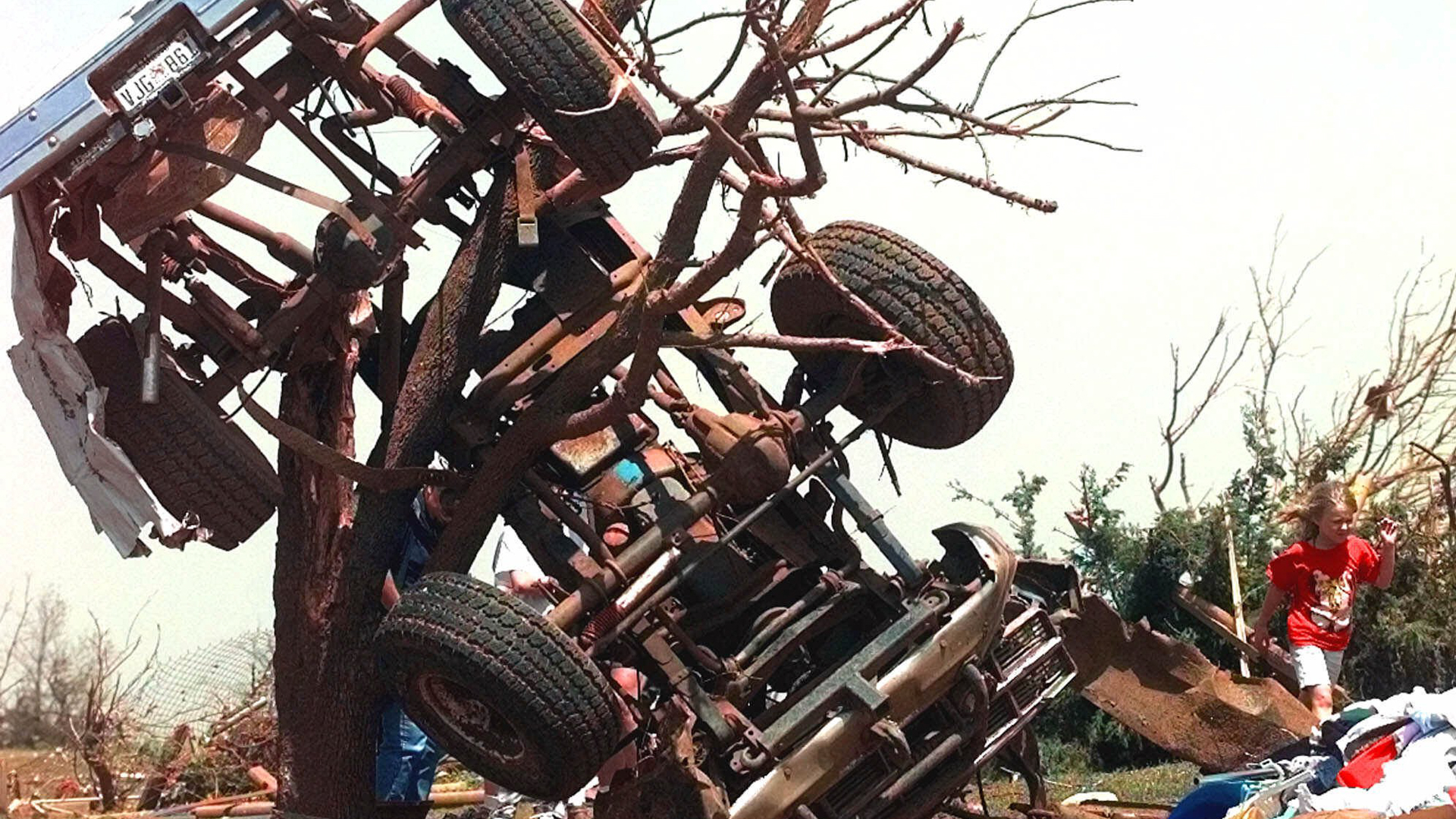 Lm Otero/AP / Shutterstock.com
Tornado's Damage to the Economy
Tornado's actual cost: $1,000,000,000
Cost adjusted to 2019 dollars: $1,543,847,720
In its wake, the tornado — which spanned up to three-quarters of a mile wide and reached wind speeds of 301 mph, according to the Weather Channel — left 675 injured and 40 dead. Per the National Weather Service, 1,800 homes were completely destroyed, and an additional 2,500 sustained damage. Some of the homes were completely swept off their foundations, leaving only a concrete slab.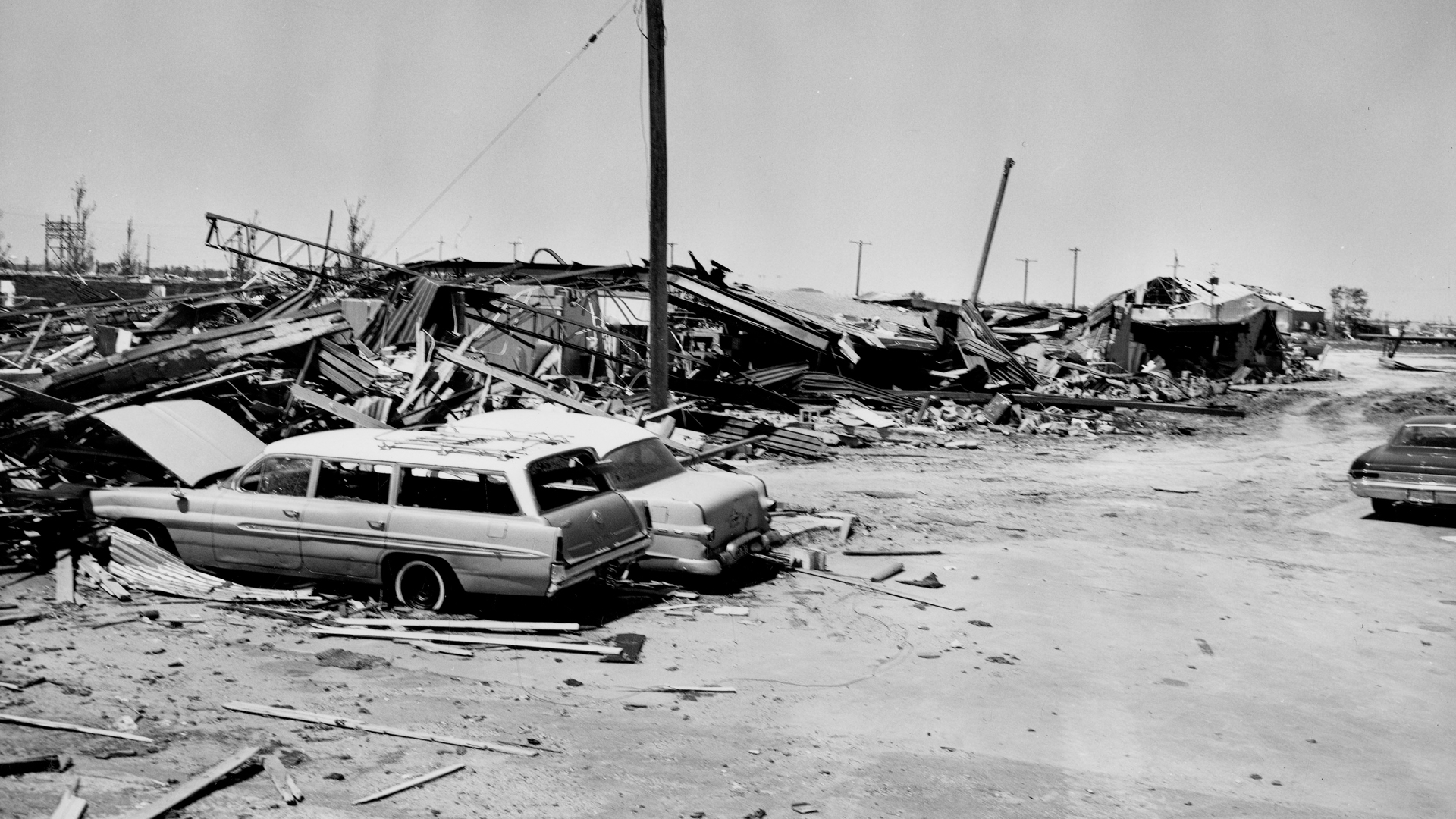 5. Lubbock, Texas, on May 11, 1970
At 8:10 p.m., a funnel cloud located 7 miles south of the Lubbock Municipal Airport was reported by an off-duty policeman. Around that same time, a severe weather statement was issued, alerting to grapefruit-sized hail 2 to 3 miles south of the city limits. Five minutes later, a tornado warning was issued for Lubbock.
At approximately 9:35 p.m., the tornado touched down southwest of the airport. As it moved northeast, it covered around 15 square miles of the city, resulting in devastating damage. The tornado lifted and dissipated as it reached the airport shortly after 10 p.m.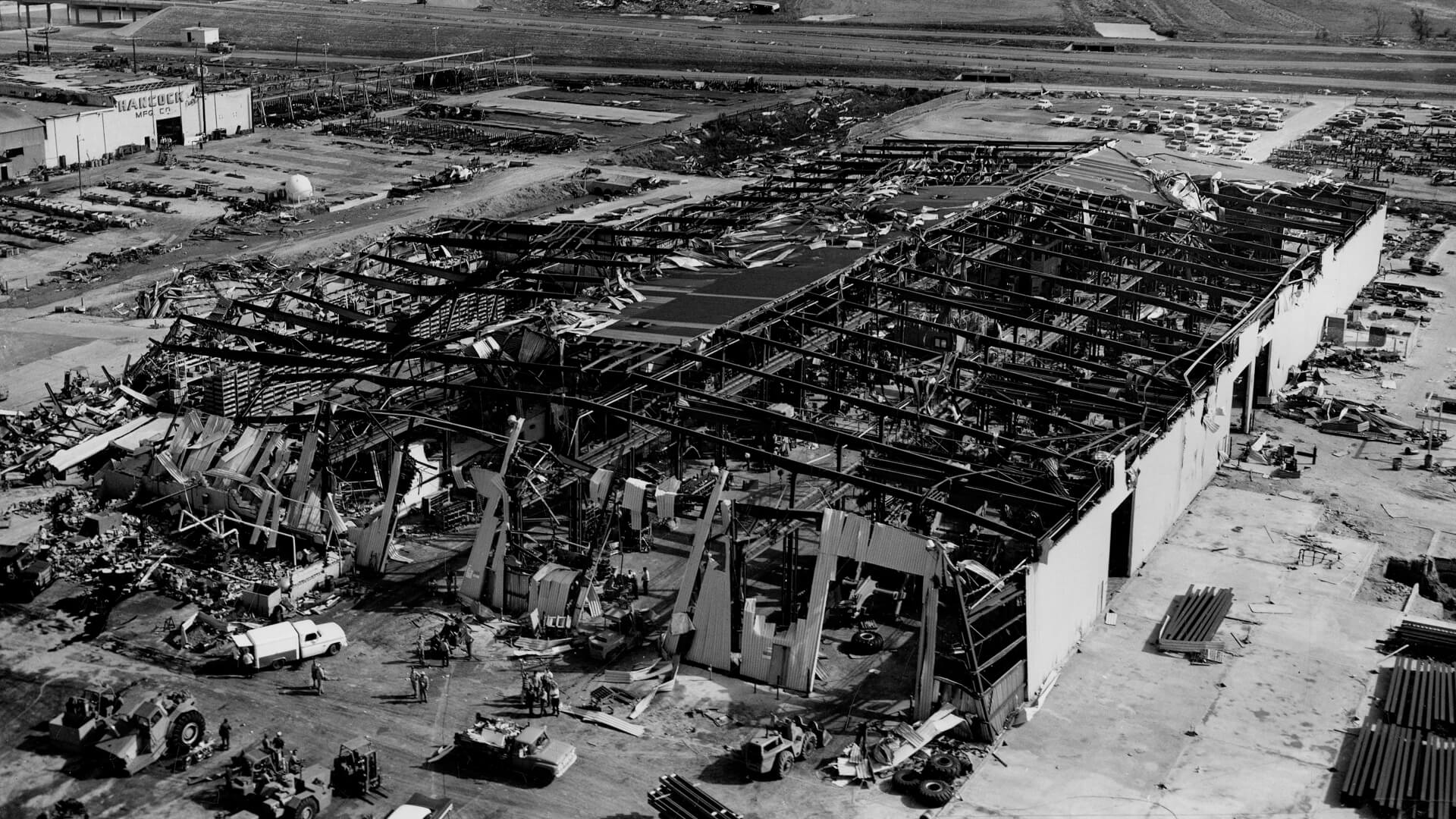 Tornado's Damage to the Economy
Tornado's actual cost: $250,000,000
Cost adjusted to 2019 dollars: $1,657,239,270
The EF5 tornado destroyed 600 apartment units and 430 homes. In total, 8,800 homes were damaged. Additionally, 119 aircraft at the local airport were obliterated, 250 businesses were damaged or destroyed, and approximately 80% of the plate glass windows in the city's downtown area were smashed. There were a reported 1,500 injuries and 26 deaths. Because the tornado arrived after sunset, no known photographs of it exist.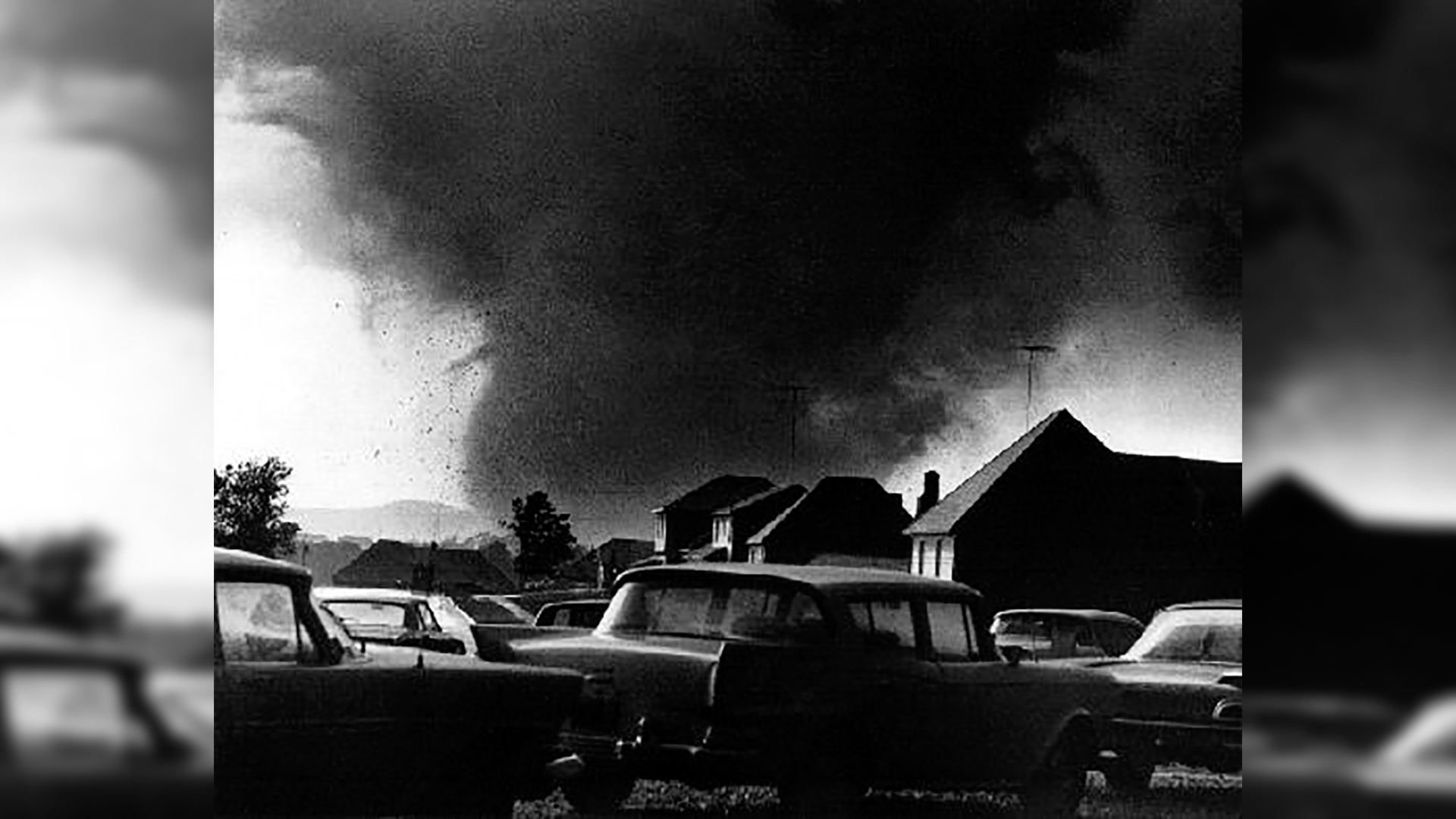 National Weather Service / U.S. National Oceanic and Atmospheric Administration
4. Topeka, Kansas, on June 8, 1966
Around 7 p.m., the tornado formed west of Auburn, Kansas, which is part of the Topeka metropolitan area. Once it reached Topeka, the tornado cut a path that was, at times, a half-mile wide across the city's center. After leaving the downtown area, the storm weakened and eventually dissipated just east of Philip Billard Municipal Airport.
The arrival of the storm contradicted a Native American legend, which foretold that the city would be protected by Burnett's Mound — the highest point around Topeka, which was also a sacred Native American burial ground. Five years prior to the tornado, a water tank had been built on top of the mound, and some believed the tornado was a form of retribution.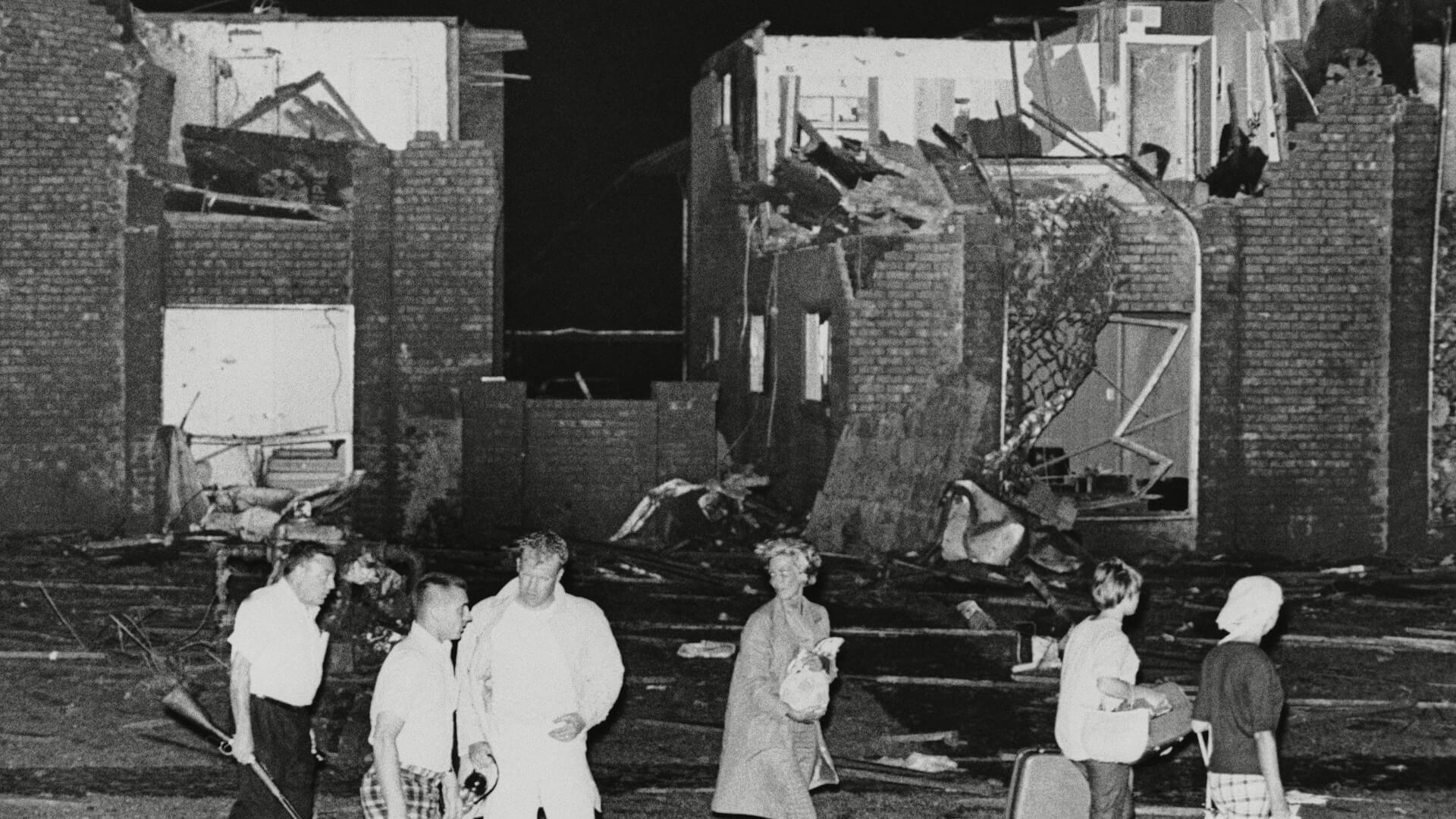 Anonymous/AP / Shutterstock.com
Tornado's Damage to the Economy
Tornado's actual cost: $250,000,000
Cost adjusted to 2019 dollars: $1,984,604,240
Classified as an EF5 tornado, the wind speeds were estimated to have exceeded 250 mph. Because the tornado cut a path through the city's center, complete devastation occurred on an eight-block section. Every structure on the Washburn University campus sustained significant damage or was demolished, totaling $10 million in damage. Other sections of the downtown area, including the state Capitol dome, took damage from flying debris. Throughout the city, 3,000 homes were damaged and 800 were destroyed. In all, the tornado inflicted 550 injuries and caused 17 deaths.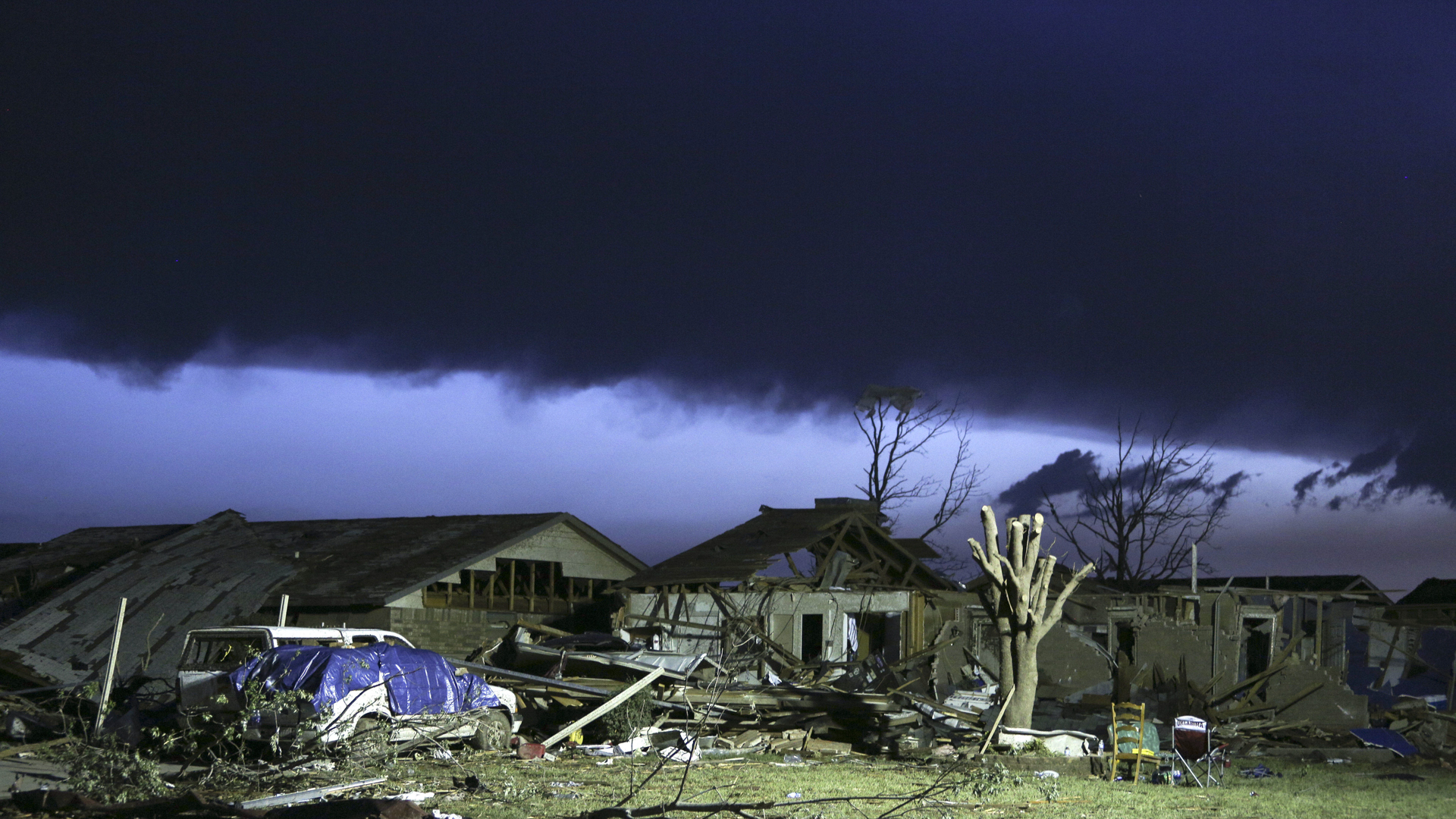 Ed Zurga/EPA / Shutterstock.com
3. Moore, Oklahoma, on May 20, 2013
The 2013 tornado that ripped through Moore originated from a tornado outbreak — spanning from central Oklahoma down through south-central Oklahoma — that began during the afternoon and evening hours of May 20. The strongest tornado in the group, reaching EF5 status, was the one that devastated Moore. While in the city, the tornado damaged schools and destroyed homes in heavily populated residential areas. The storm also heavily damaged the Moore Medical Center, a post office and many other businesses before it vacated the city and continued its path of destruction.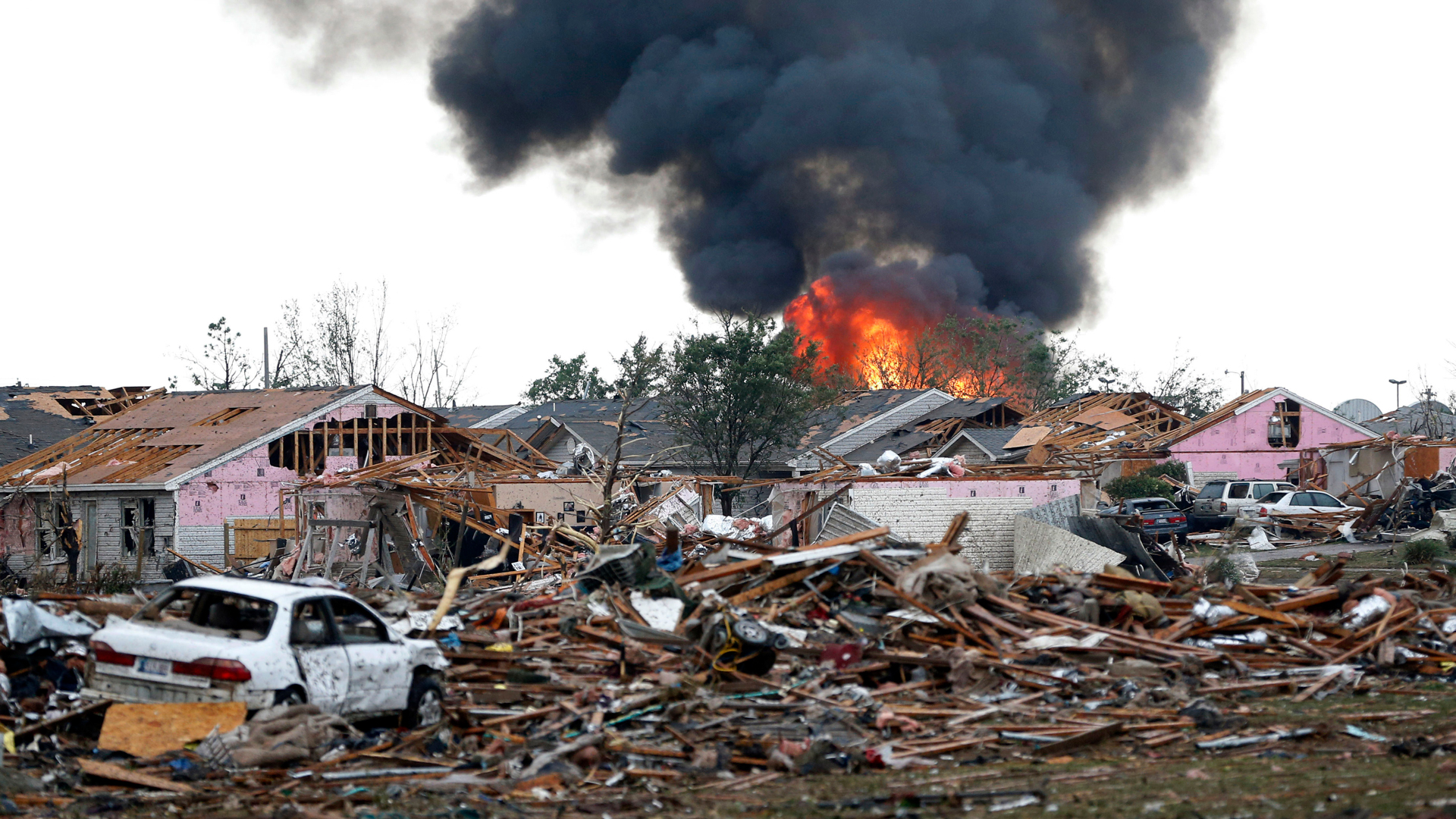 Sue Ogrocki/AP / Shutterstock.com
Tornado's Damage to the Economy
Tornado's actual cost: $2,000,000,000
Cost adjusted to 2019 dollars: $2,286,875,800
The Moore tornado reached EF5 status at times as it tore through Moore, resulting in 24 deaths and 207 injuries. The storm was accompanied by large hail and high winds, which contributed to the damage in the area. Businesses, schools and residences were all affected — some with more devastating results than others. For example, much of Briarwood Elementary, which had students present, was destroyed. However, no fatalities occurred. In another part of town, a wall at Plaza Towers Elementary School collapsed, killing seven children.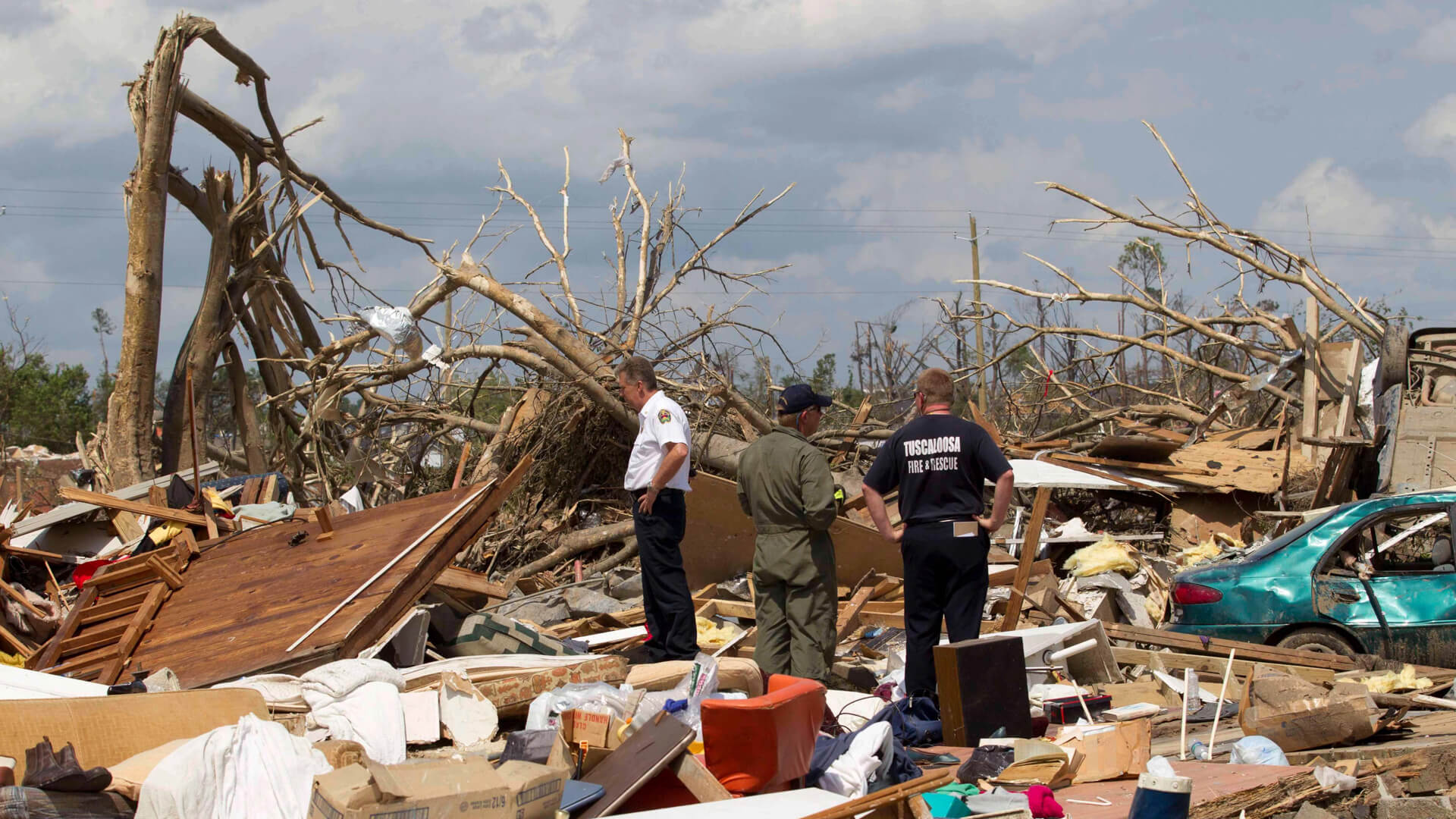 Dave Martin/AP / Shutterstock.com
2. Tuscaloosa, Alabama, on April 27, 2011
The Tuscaloosa tornado was a result of a supercell thunderstorm that began around 2:54 p.m. in Newton County, Mississippi, and traveled approximately 380 miles, finally dissipating in Macon County, North Carolina. During its journey, the storm spawned several violent tornados, including the one that ravaged Tuscaloosa. Tornado warnings for central Alabama were in effect from 3:38 p.m. to 8 p.m.
As the tornado entered Tuscaloosa County, it had an EF2 rating, with winds of 125 mph. The storm strengthened as it crossed the Black Warrior River and roared into the city with winds of 170 mph, which earned it an EF4 rating.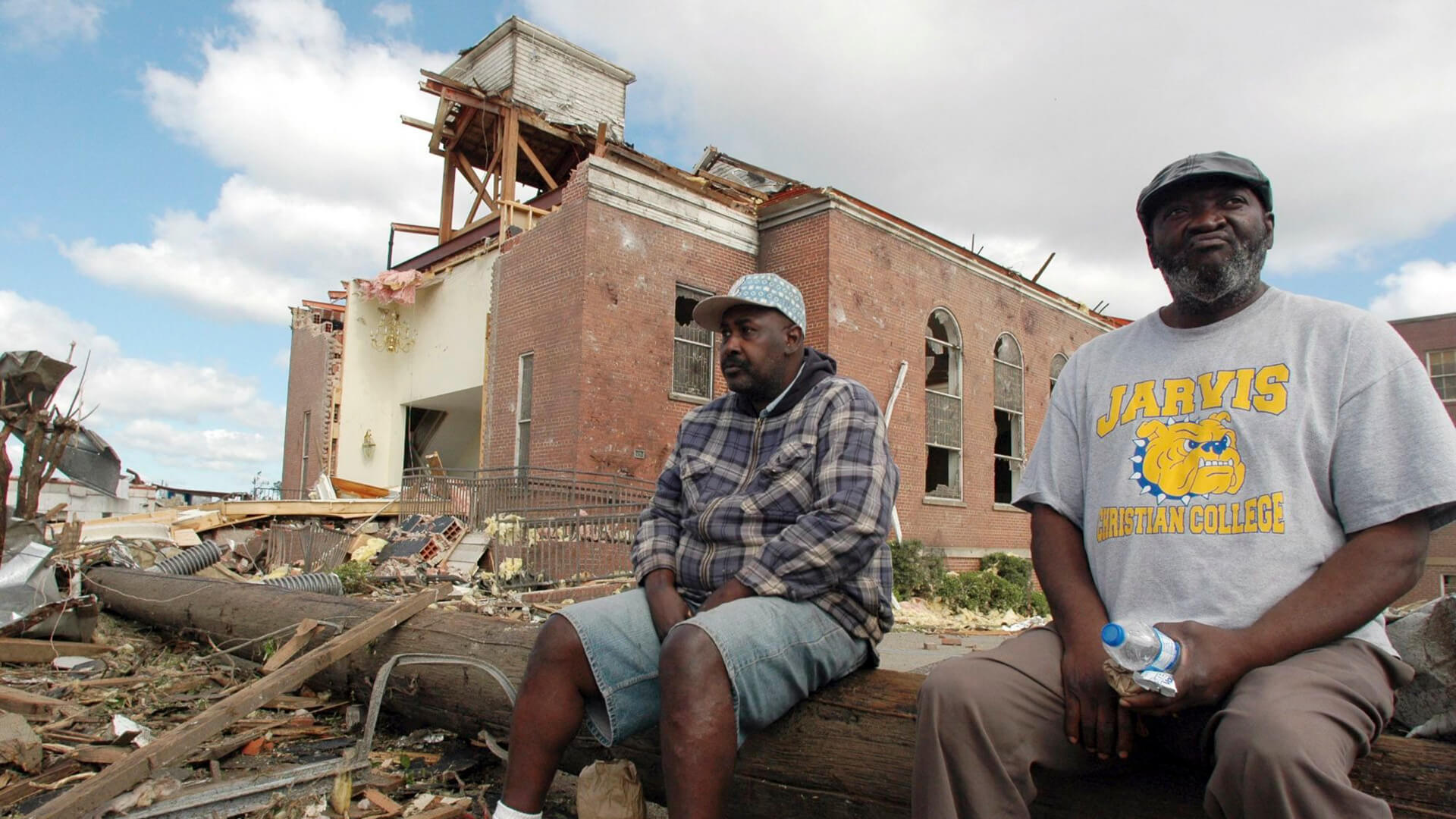 Jay Reeves/AP / Shutterstock.com
Tornado's Damage to the Economy
Tornado's actual cost: $2,450,000,000
Cost adjusted to 2019 dollars: $3,201,634,880
In all, 1,500 injuries and 65 deaths resulted from this EF4 tornado. The Tuscaloosa County emergency operations center was one of the first buildings destroyed, along with several restaurants and stores. An elementary school was reduced to mere portions of walls, and a shopping center ended up as a pile of rubble. Residential neighborhoods were damaged, with several homes completely leveled. In some instances, building debris was completely absent at these leveled sites — a result of the storm violently sweeping away the debris.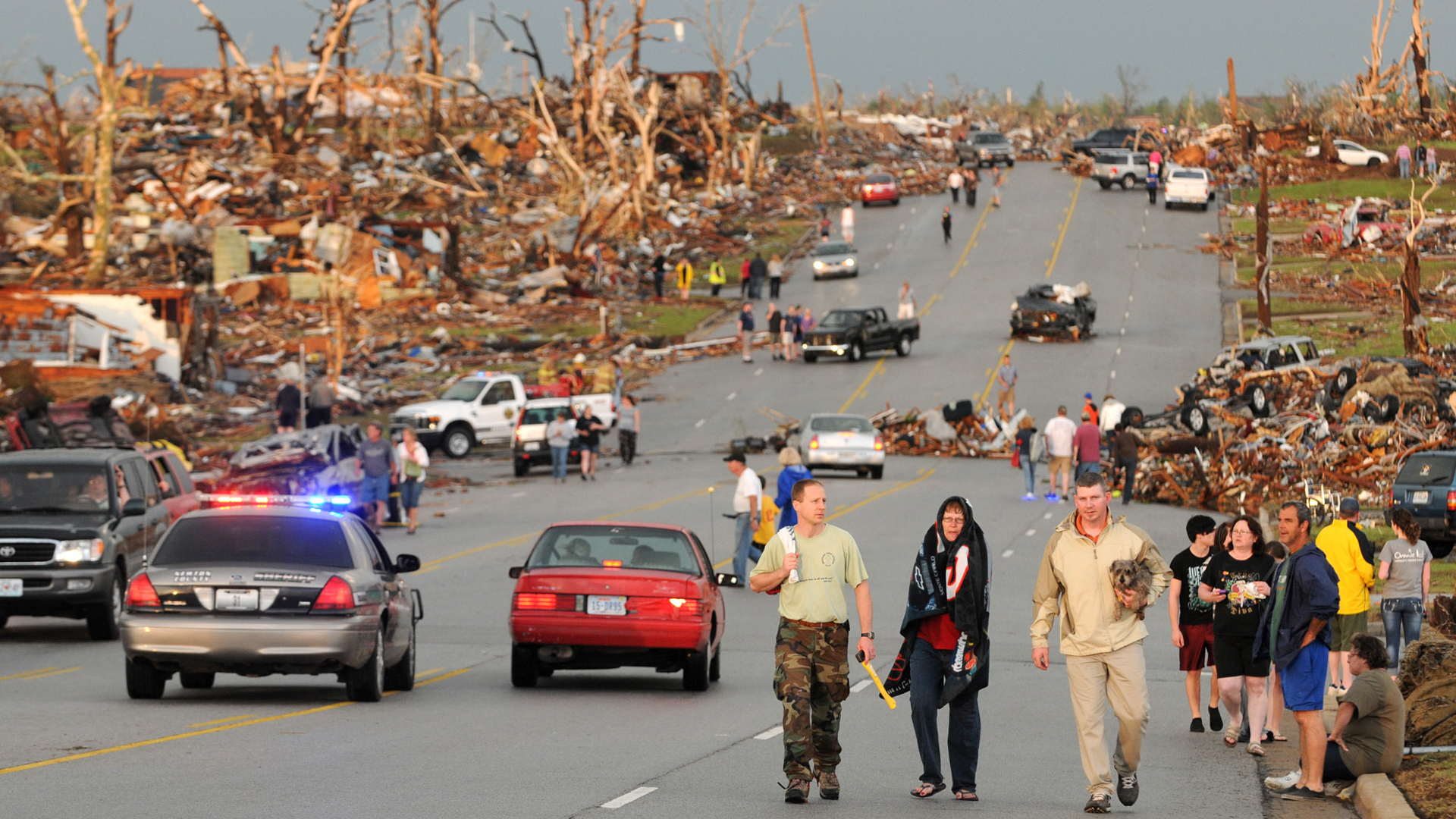 Mike Gullett/AP / Shutterstock.com
1. Joplin, Missouri, on May 22, 2011
The National Weather Service issued a tornado warning at 5:17 p.m. Residents of Joplin were given only 17 minutes before the storm touched down.
At 5:34 p.m., the EF5 tornado touched down in the city with winds exceeding 200 mph. The storm's path was up to 1 mile wide and over 22 miles long — with six of those miles in Joplin. It was the first EF5 tornado to strike southwest Missouri since records had been formally maintained for severe weather events.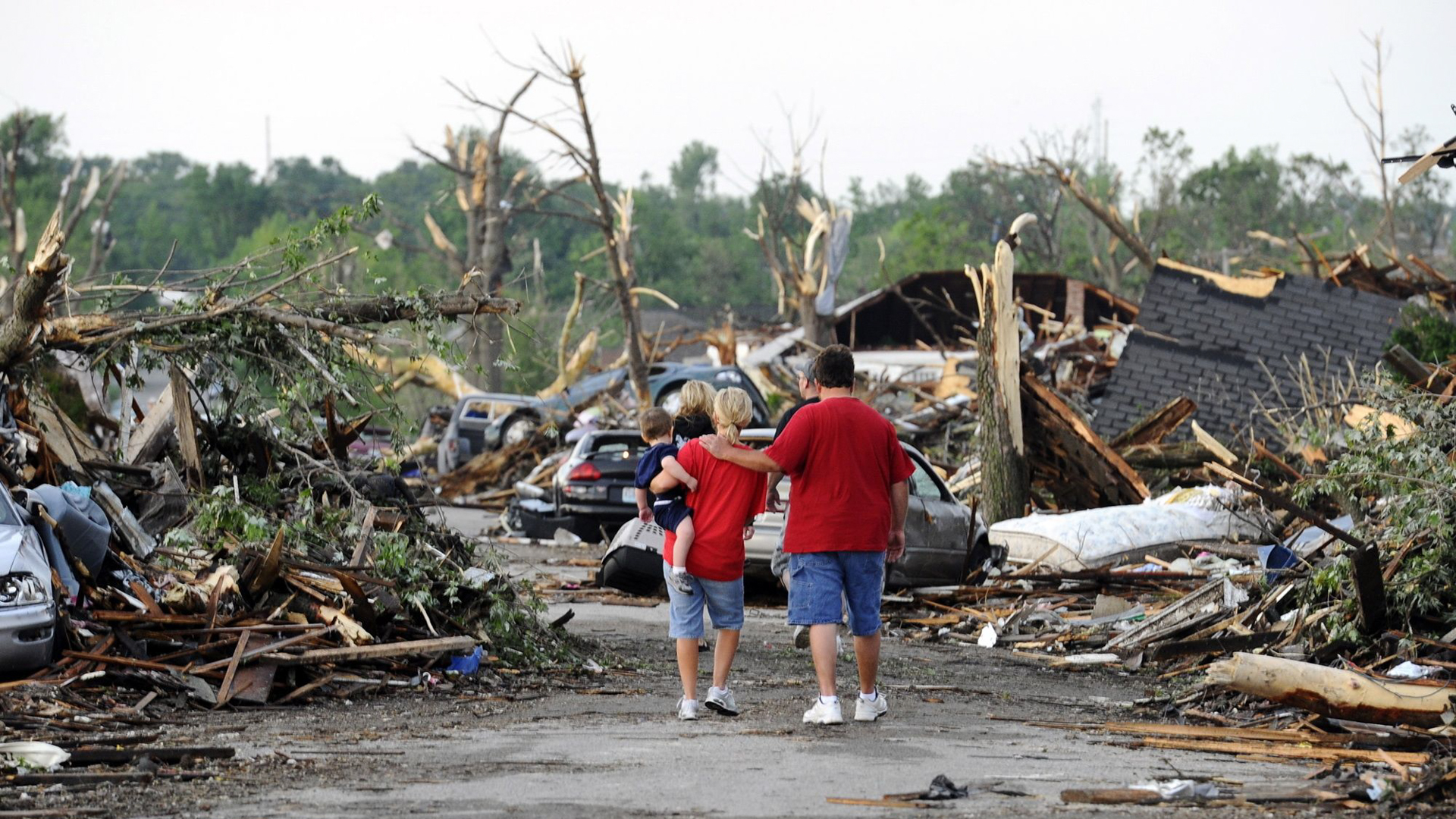 Larry W Smith/EPA / Shutterstock.com
Tornado's Damage to the Economy
Actual cost: $2,800,000,000
Cost adjusted to 2019 dollars: $3,201,634,880
Overall, 1,000 injuries and 158 deaths occurred. The Joplin tornado damage was significant — an estimated 6,954 homes were demolished, and 875 homes received either minor or major damage. Various businesses, apartment complexes and public buildings throughout the city were destroyed or damaged, including churches, schools, fire stations, convenience stores and big-box retailers.
The city's child care businesses also suffered a devastating blow: 19 centers were destroyed, and eight others sustained significant damage, which left thousands of families without child care.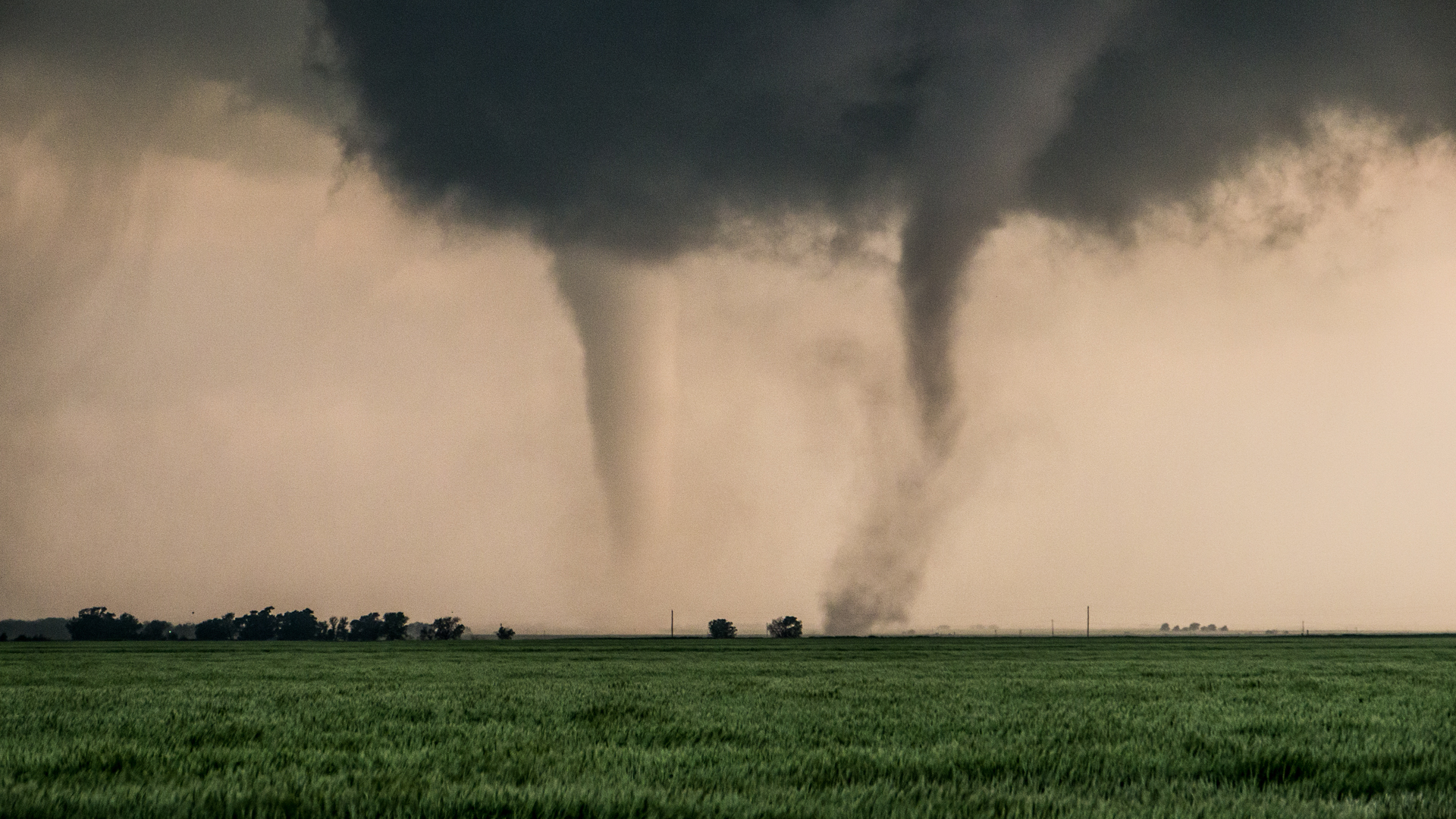 Eugene R Thieszen / Shutterstock.com
Where Do Most Tornadoes Occur in the US?
A majority of the tornadoes that occur in the country form in Tornado Alley, the nickname for an area in the southern plains of the central U.S. that sees a high number of tornadoes every year. You're more likely to experience a tornado if you live in this region — which includes states like Texas, Oklahoma, Kansas and Nebraska — than you are in other parts of the country. However, it's important to note that tornadoes can form almost anywhere in the U.S. Gulf states like Florida, Alabama and Mississippi are also popular hot spots for tornadoes.
On a city level, Oklahoma City has been hit the hardest over the years, with at least 170 tornadoes officially recorded in the area since 1890, according to data from the National Weather Service.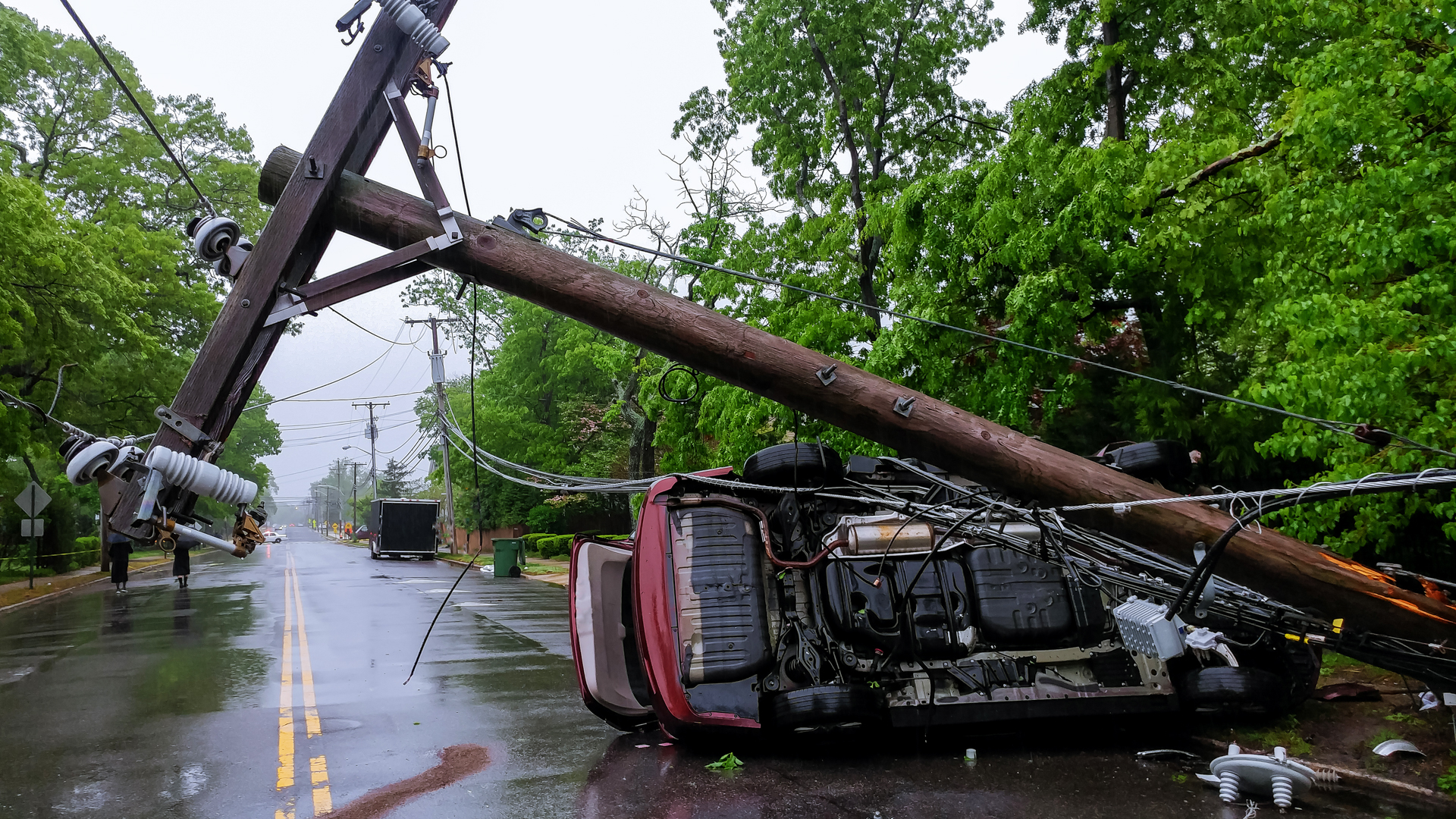 photovs / Getty Images/iStockphoto
How Is Tornado Damage Assessed?
Tornado damage, as evidenced by the previous data, can be catastrophic. The weather service is responsible for determining the priority of ground surveys following tornadoes to assess the damage. Tornadoes that produce the greatest amount of damage are given the highest priority for ground surveys. In addition to helping determine the cost, damage surveys can provide insight into how tornadoes behave, how they cause damage and where they pose the highest risk.
To come up with a final cost for a severe weather disaster, the NOAA's National Centers for Environmental Information receive data from a variety of sources, including insurance companies and state and federal agencies. With the help of these sources, the centers can calculate the costs for physical damage to buildings, material assets within those buildings, roads, bridges, and vehicles and disaster restoration, among many others.
PeteDraper / Getty Images
How To Stay Safe During a Tornado
Tornadoes can strike fast, and some even occur without a warning, according to the NOAA's Storm Prediction Center. While you can't guarantee your safety during a tornado, there are a few measures you can take to help prevent any accidents from occurring and greatly increase your chance of survival.
First off, do not panic. Your immediate response should be to get to the nearest basement or storm cellar. If you're in a home without a basement, head to the lowest floor and take shelter in a center room, such as a bathroom or closet. Be sure to avoid windows at all times, as they can blast open or break from the winds of the storm. Crouch low to the ground, facedown, and shield yourself with some sort of padding, like a mattress, blankets or pillows.
Once the storm has passed, wait for emergency personnel to arrive. Stay away from power lines and loose structures, and make sure to watch your step to avoid broken glass and other sharp objects.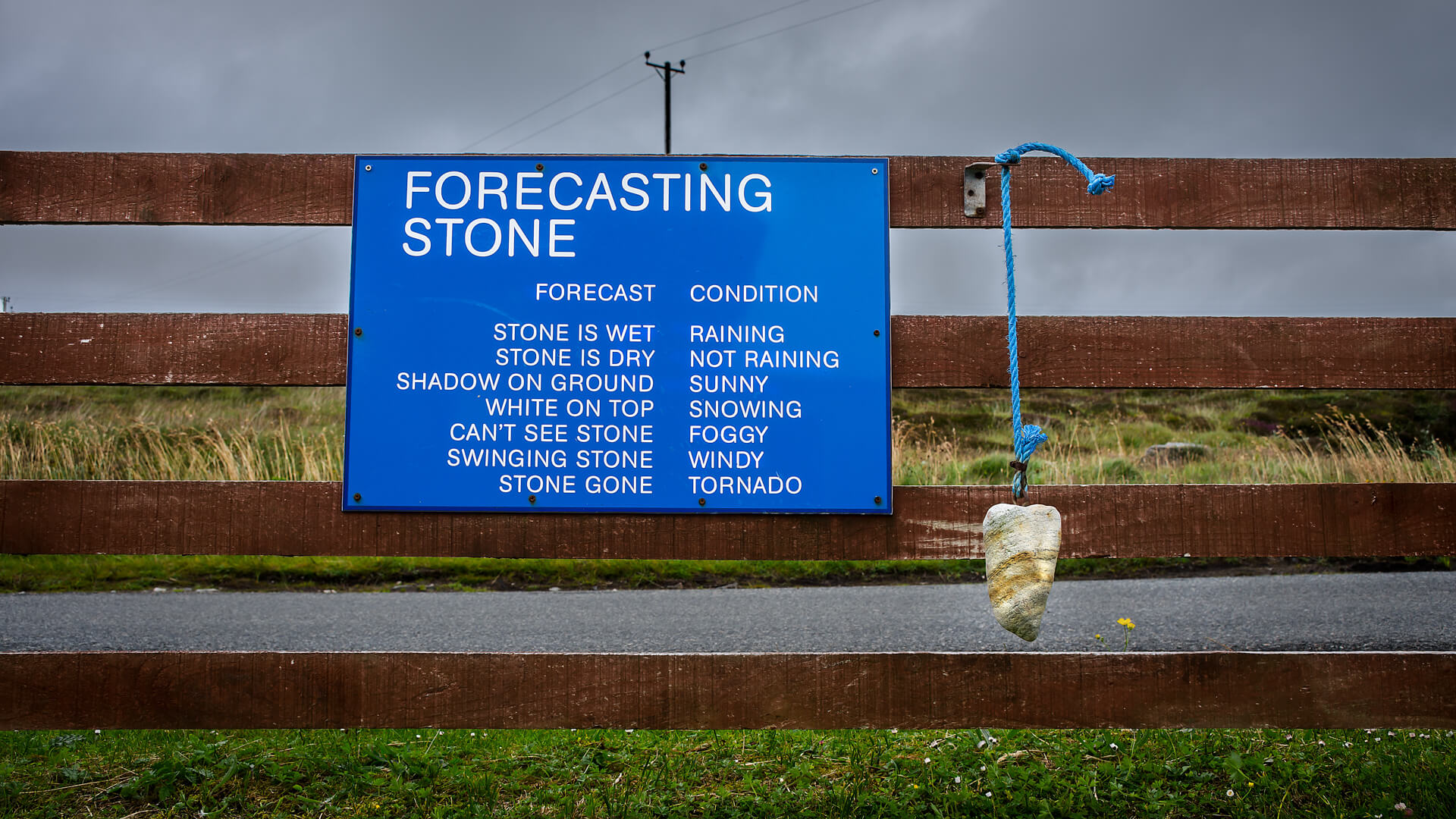 Natasa Kirin / Shutterstock.com
How Do You Forecast Tornadoes?
Prior to 1950, back when there was substantially less research on tornadoes compared to today, the National Weather Service — formerly the United States Weather Bureau — banned the use of the word "tornado" in forecasts, fearing that predicting them might cause panic. The bureau eventually revoked the ban in 1950, and today, the weather service issues tornado forecasts nationwide.
To determine if conditions are ripe for the development of a tornado, meteorologists use computer programs called numerical weather prediction models. According to the NOAA, these models "calculate what the atmosphere will do at certain points over a large area" and gather data from other sources, such as weather balloons, satellites and aircraft. The models then look at current weather patterns and generate a prediction of future weather in the form of text and graphics.
Forecasting severe weather is a highly intricate process. The NOAA's official website has more information on severe weather forecasting, including tornadoes, if you're seeking a deeper understanding of how the process works.
Click through to see how much extreme weather costs taxpayers.
More on the Economy
Chris Jennings contributed to the reporting for this article.
Methodology: Tornado dates and actual costs at the time of the incidents were sourced from the Storm Prediction Center of the National Oceanic and Atmospheric Administration; costs were then converted to May 2019 inflation-adjusted dollars using the Bureau of Labor Statistics' consumer price index inflation calculator. The number of injuries and deaths were sourced from the National Weather Service unless otherwise noted. All data was compiled on June 20, 2019.