25 Vintage Cars for Under $10,000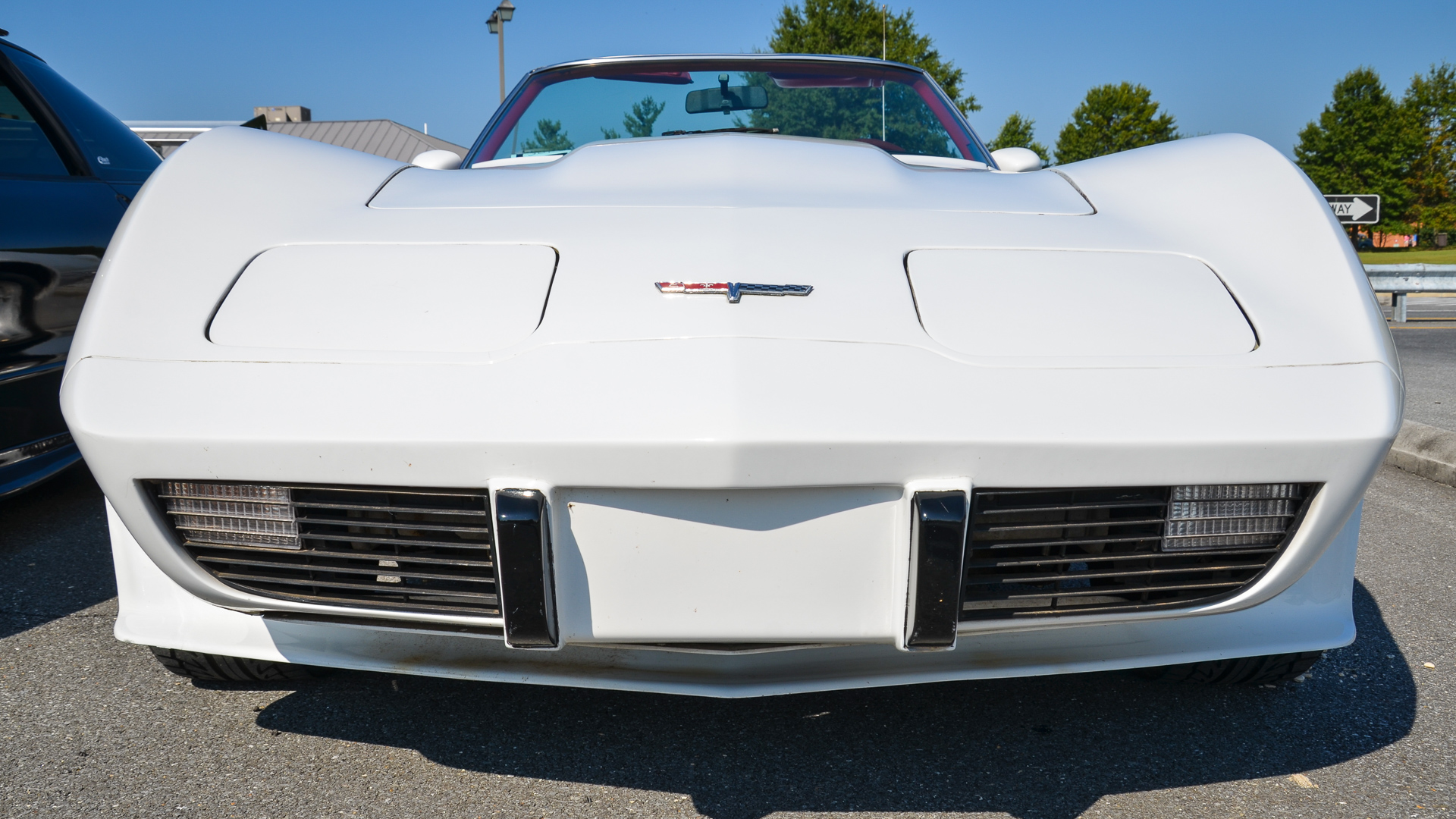 Lissandra Melo / Shutterstock.com
America's love affair with the car runs deep. From Portland to, well, Portland, every town in America is probably going to have at least one gearhead who can rattle off all the differences between model years on 1940s Fords like they're reciting the alphabet. For them, buying and/or restoring some of the classic cars of yesteryear is pretty much the only hobby that makes any sense.
And while the phrase "collecting vintage cars" might immediately conjure up images of country club elites and wildly rich retired comedians, it certainly doesn't have to be that way. While there are plenty of cheaper hobbies, you can keep your car-collecting costs low if you're ready to compromise on buying cars in mint condition. Whether you enjoy doing the restoration work yourself or just don't mind the wear and tear, you can find options for true classics that can be had for less than five figures.
So, here's a look at some of the best vintage cars you can find for less than $10,000.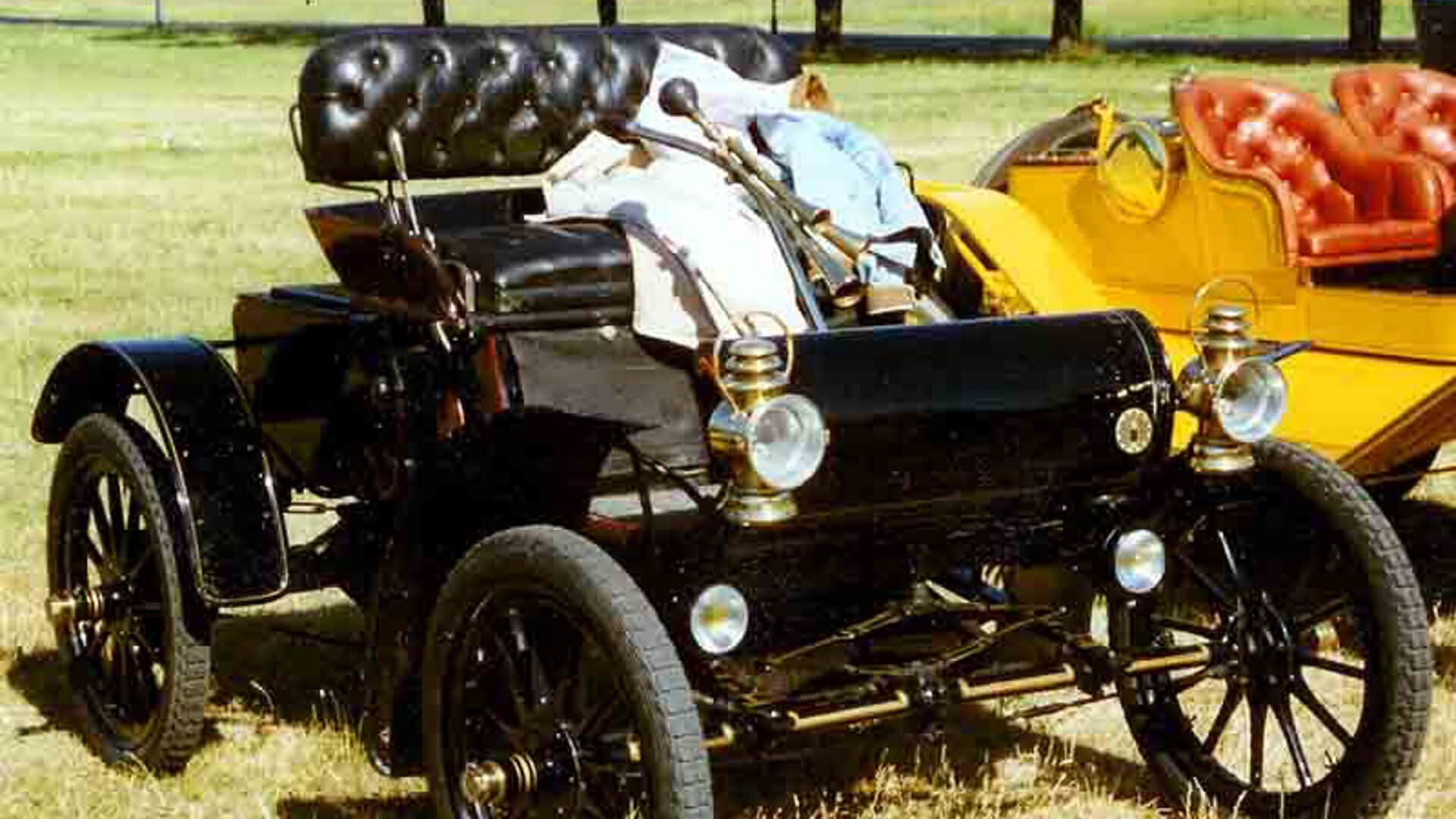 Lars-Göran Lindgren / Wikimedia Commons CC-BY-SA 3
1905 Oldsmobile
Price: $8,495 on Autotrader
If you're in the habit of laughing at people referring to cars as the "horseless carriage," maybe it's because you're not familiar enough with the earliest designs. When looking at this 1905 Olds, one does get the sense that there was some overlap in parts and design work for carriages and cars.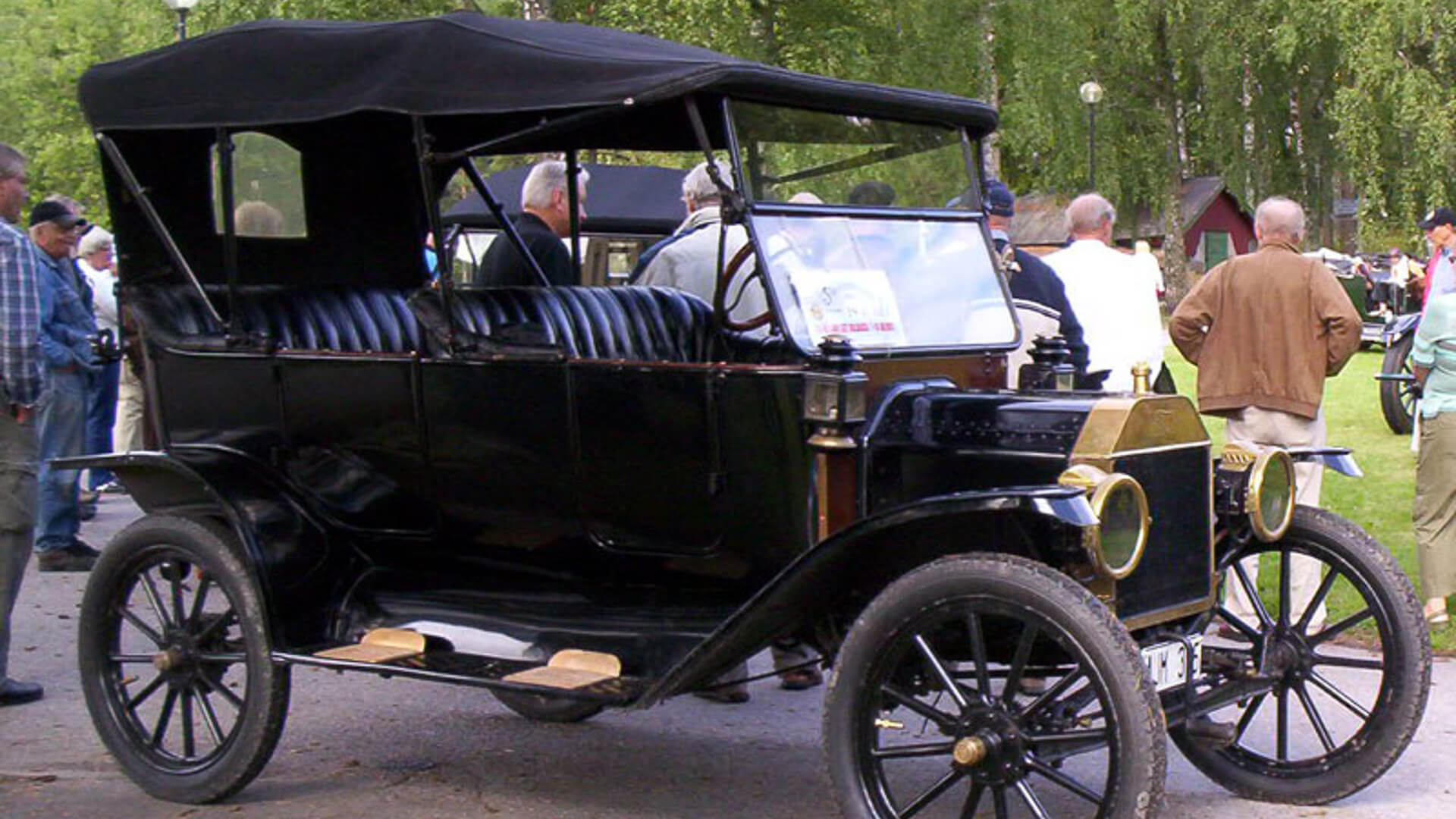 Lglswe / Wikimedia Commons CC-BY-SA 3
1914 Ford Model T
Price: $10,000 on Autotrader
Really, the Model T should be cheap. That's the whole thing about the Model T: It was cheap. Before the Model T — and the assembly-line production developed at Ford factories — car ownership simply wasn't affordable for the vast majority of the country. The Model T unlocked the car for the middle class, launching the American car culture itself. This isn't a vintage car; it's THE vintage car.
Pictured: 1914 Ford Model T Touring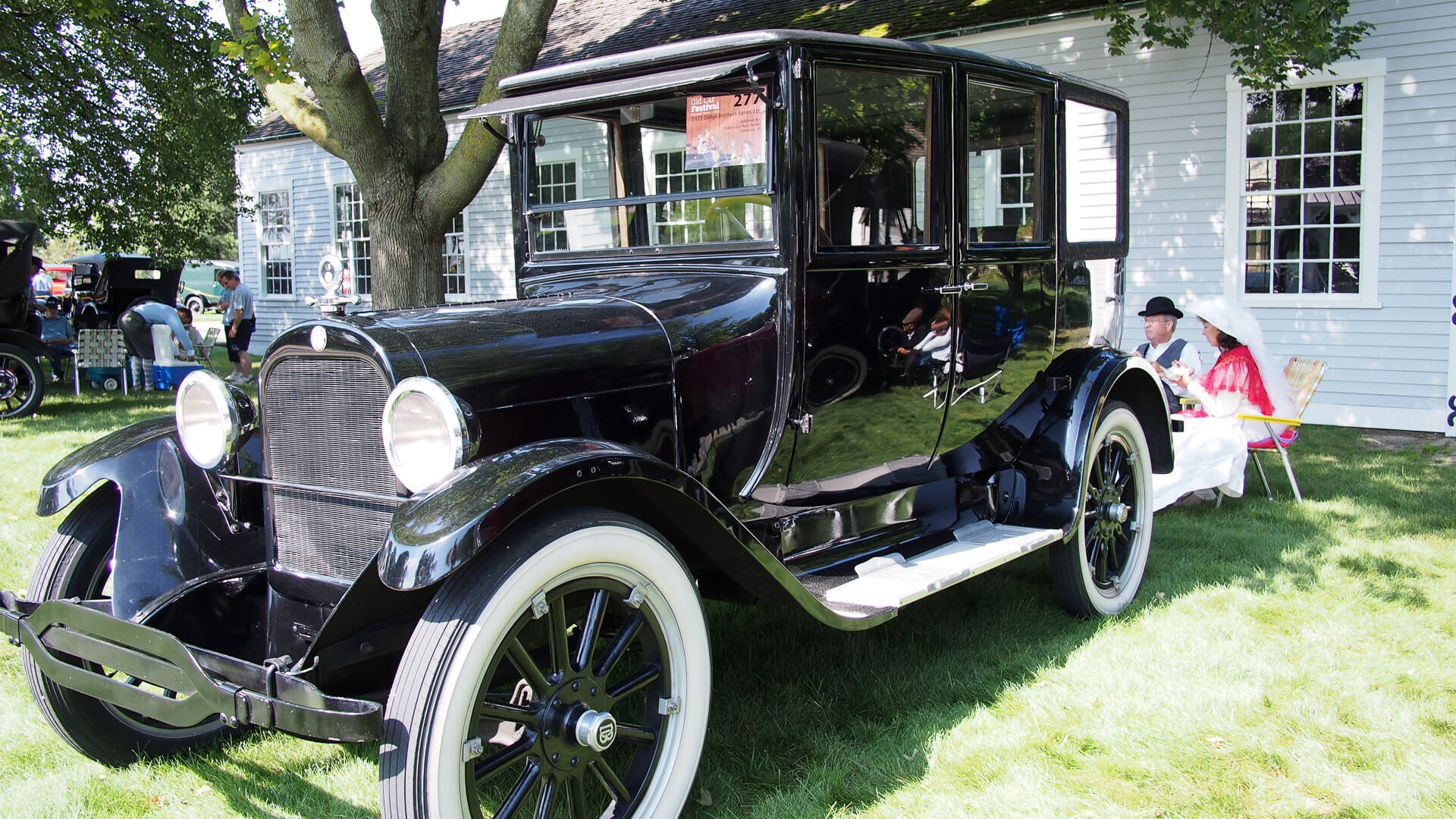 F. D. Richards / Wikimedia Commons CC-BY-SA 2
1923 Dodge
Price: $8,950 on Autotrader
While the 1923 Dodge comes a lot closer to what you would recognize as a car today — note the presence of an "interior" — it's still clearly from another era. The car's engine produces just 25 horsepower, enough for a "touring car" in the 1920s but, clearly, one to keep off the freeways these days.
Pictured: 1923 Dodge Brothers Sedan Series 116
MPW57 / Wikimedia Commons Public Domain
1927 Bugatti
Price: $9,495 on Autotrader
This Bugatti represents a roadster from some of the earliest days of auto racing, and many of the specs on the 1927 reflect changes to Grand Prix regulations of the era. They don't make many cars with this design anymore, but you can experience this blast from the past without breaking the bank.
Pictured: 1927 Bugatti Type 38 Sport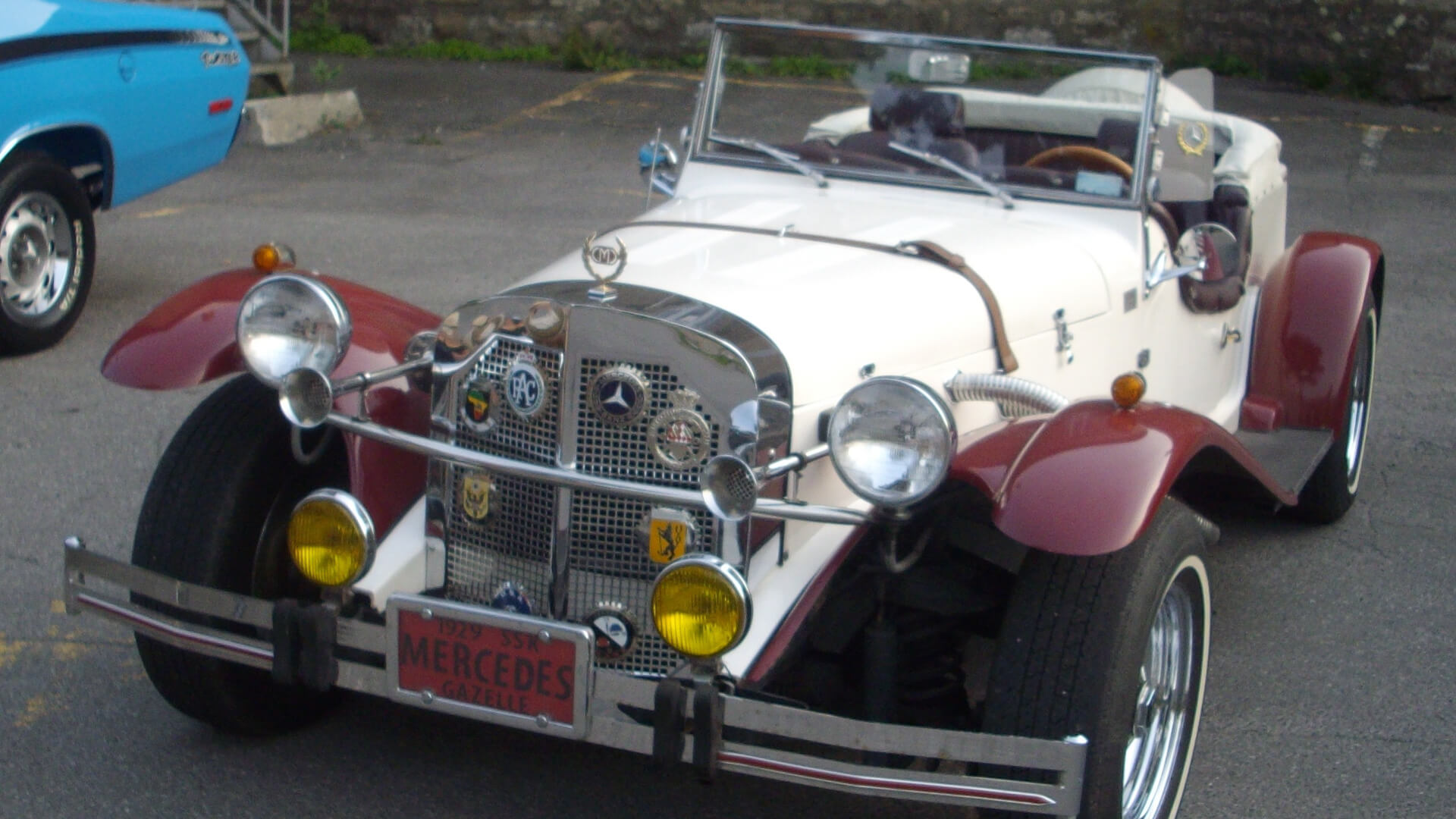 Bull-Doser / Wikimedia Commons Public Domain
1929 Mercedes-Benz
Price: $7,500 on Autotrader
That's right, you can get a Mercedes for less than $10,000. Of course, you will need to reach back as far as the 1920s to make that happen, but in doing so, you can also get the chance to own a Mercedes designed by legendary auto engineer Ferdinand Porsche before he left to found his own company.
Pictured: 1929 Mercedes-Benz SSK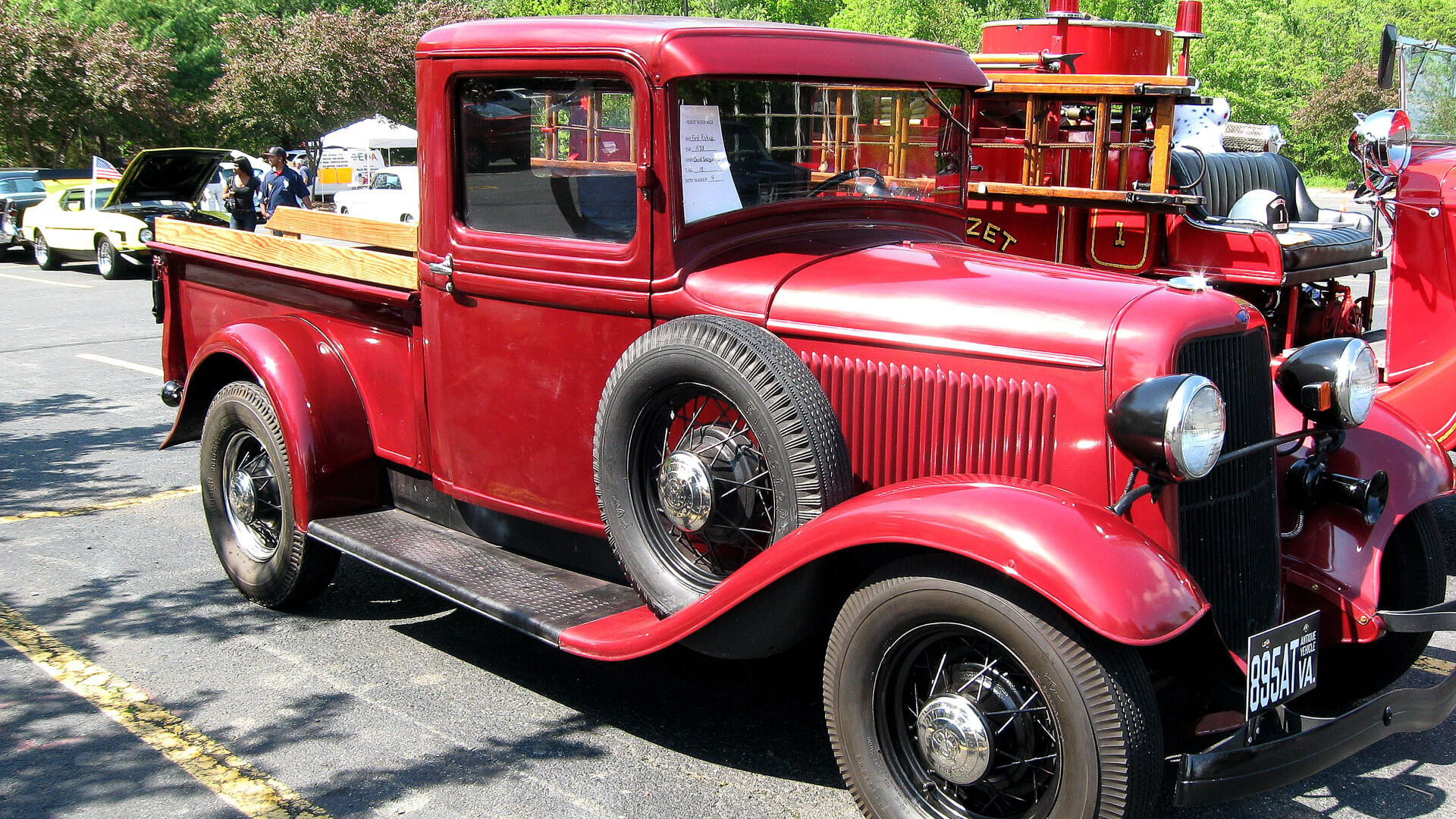 Bill McChesney / Wikimedia Commons CC-BY-SA 2
1933 Ford Pickup
Price: $6,495 on Autotrader
Of course, not everyone loves classic touring cars or racers. For those of you whose ideal vehicle is a rugged pickup, you can still get in the vintage game. Take the 1933 Ford Pickup, which you can find for a relatively modest price if you're ready to shop around.
See: 17 Cars That Celebrities Love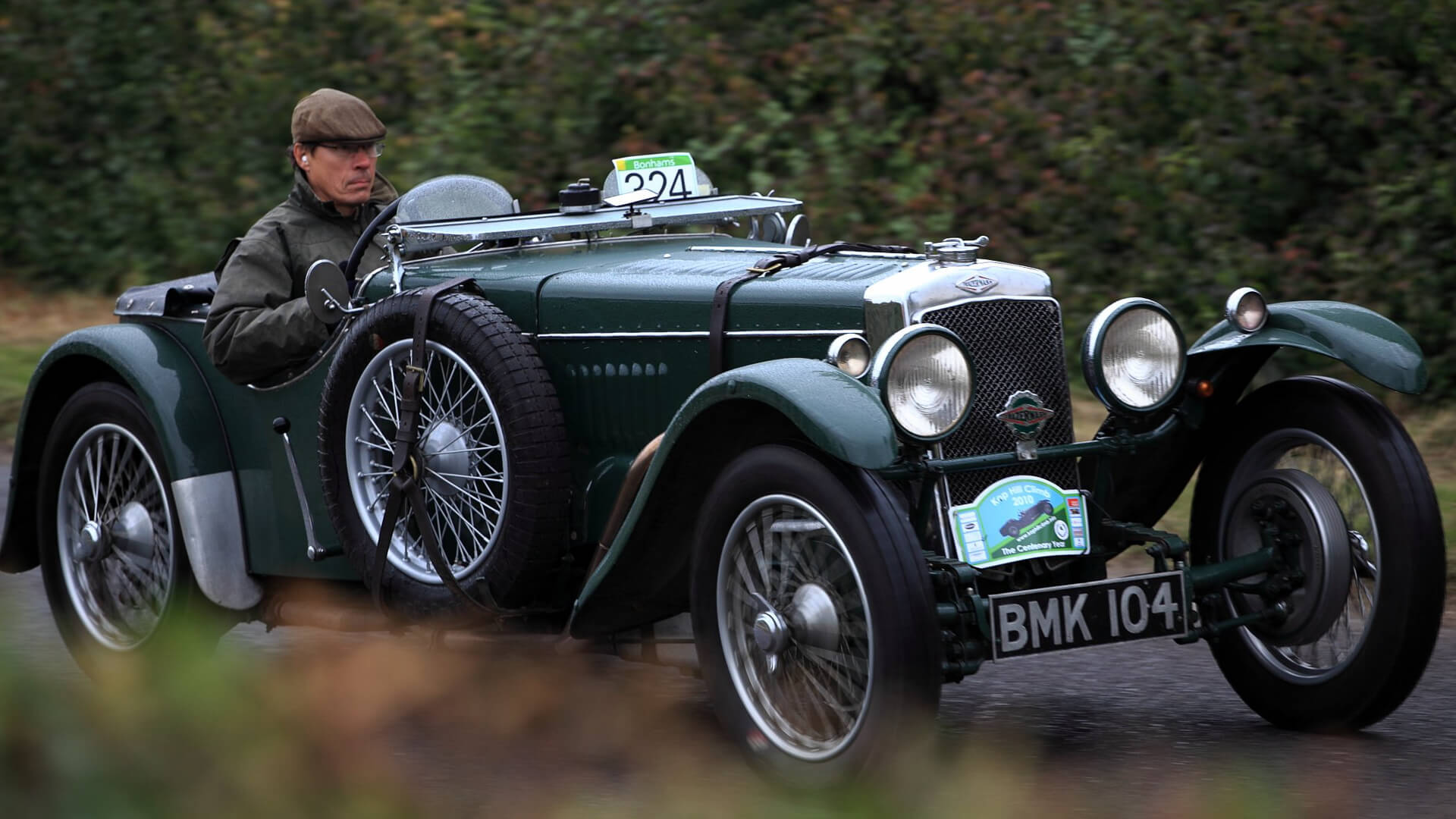 dawarwickphotography / Wikimedia Commons CC-BY-SA 2
1934 Nash
Price: $7,995 on Autotrader
Not everyone remembers Wisconsin-based carmaker Nash — the company would merge with the Hudson Motor Car Company to form the American Motors Corporation in 1954 — but it was once an active member of a more diverse American car market. As such, this 1934 Nash is a piece of history in more ways than one.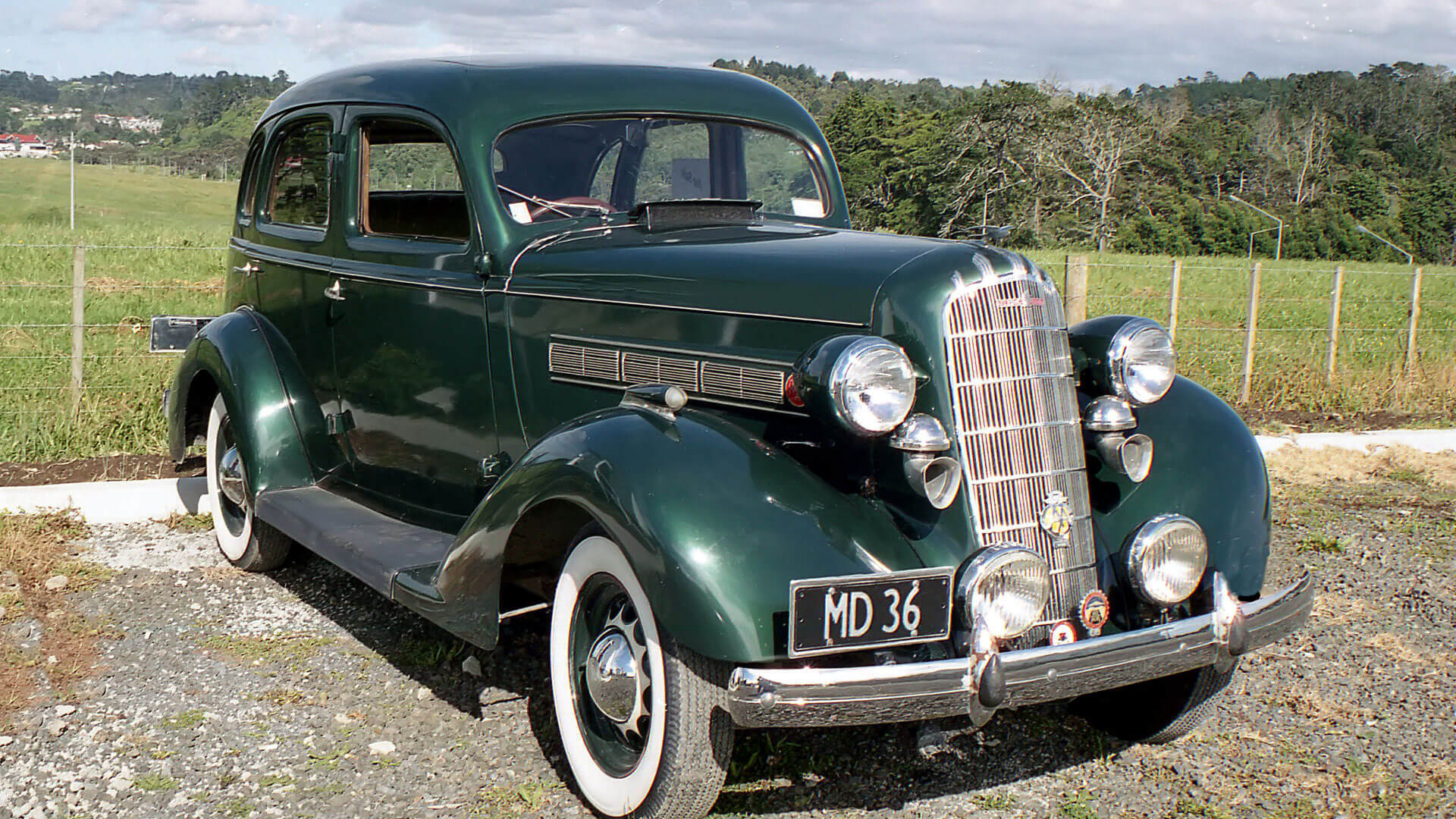 GPS 56 / Wikimedia Commons CC-BY-SA 2
1936 REO Flying Cloud
Price: $8,495 on Autotrader
The elegant design of the REO Flying Cloud has a form that's immediately reminiscent of car designs of the 1930s and 1940s, meaning you'll be unmistakable on the road driving one of these. This model was initially offered with the option for a semi-automatic transmission dubbed the "self-shifter." Of course, getting one did add a whopping $85 to the sticker price.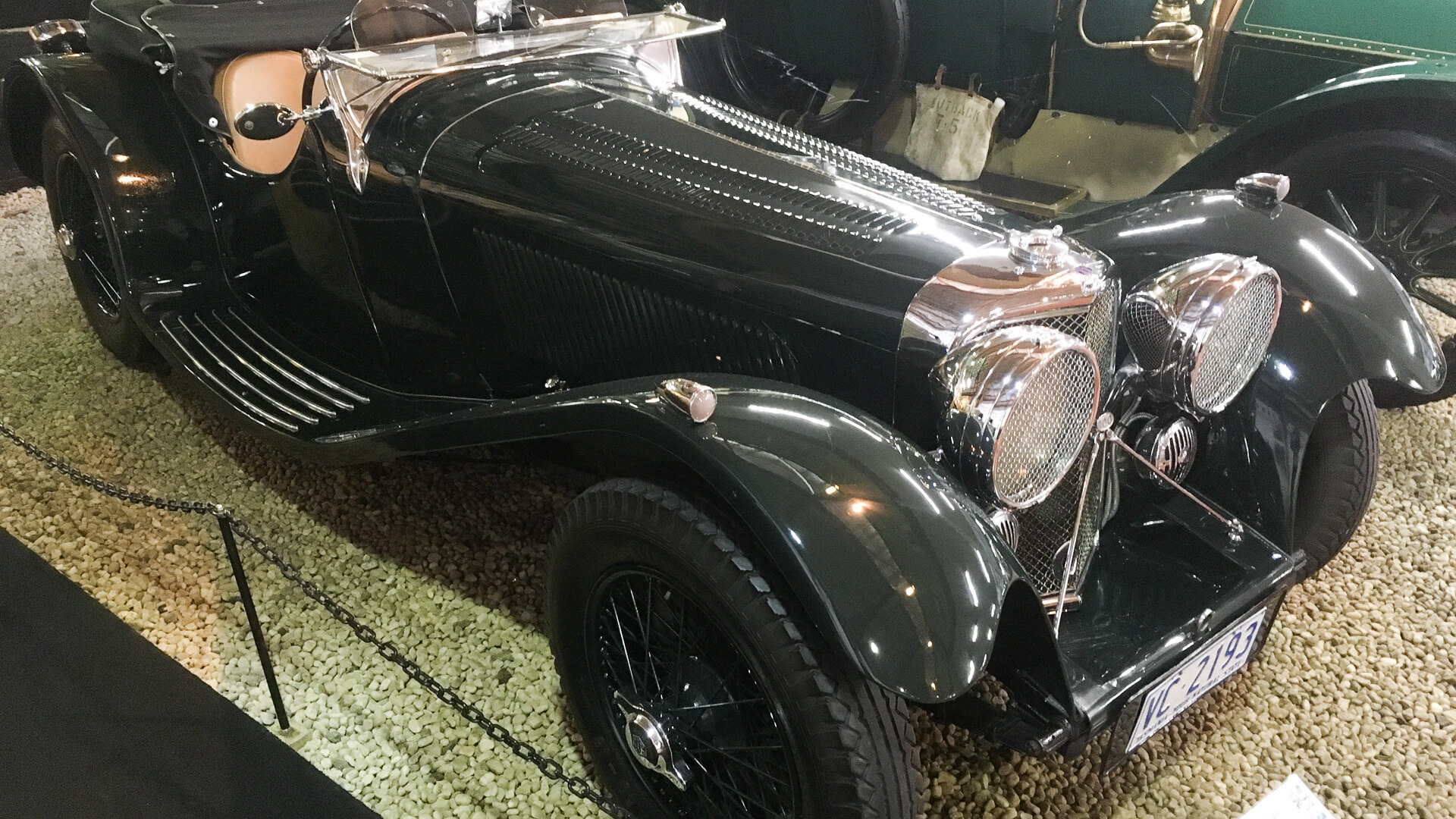 Damien Linnane / Wikimedia Commons CC-BY-SA 4
1937 Jaguar SS100
Price: $8,000 on Autotrader
The "100" in the Jaguar SS100 stands for the theoretical 100 mph you could reach with the 2.5-liter engines. So, while some of the cars on this list feature a top speed that's still too slow to be safe on a lot of public roads, this is one option you might be able to take out on the freeway.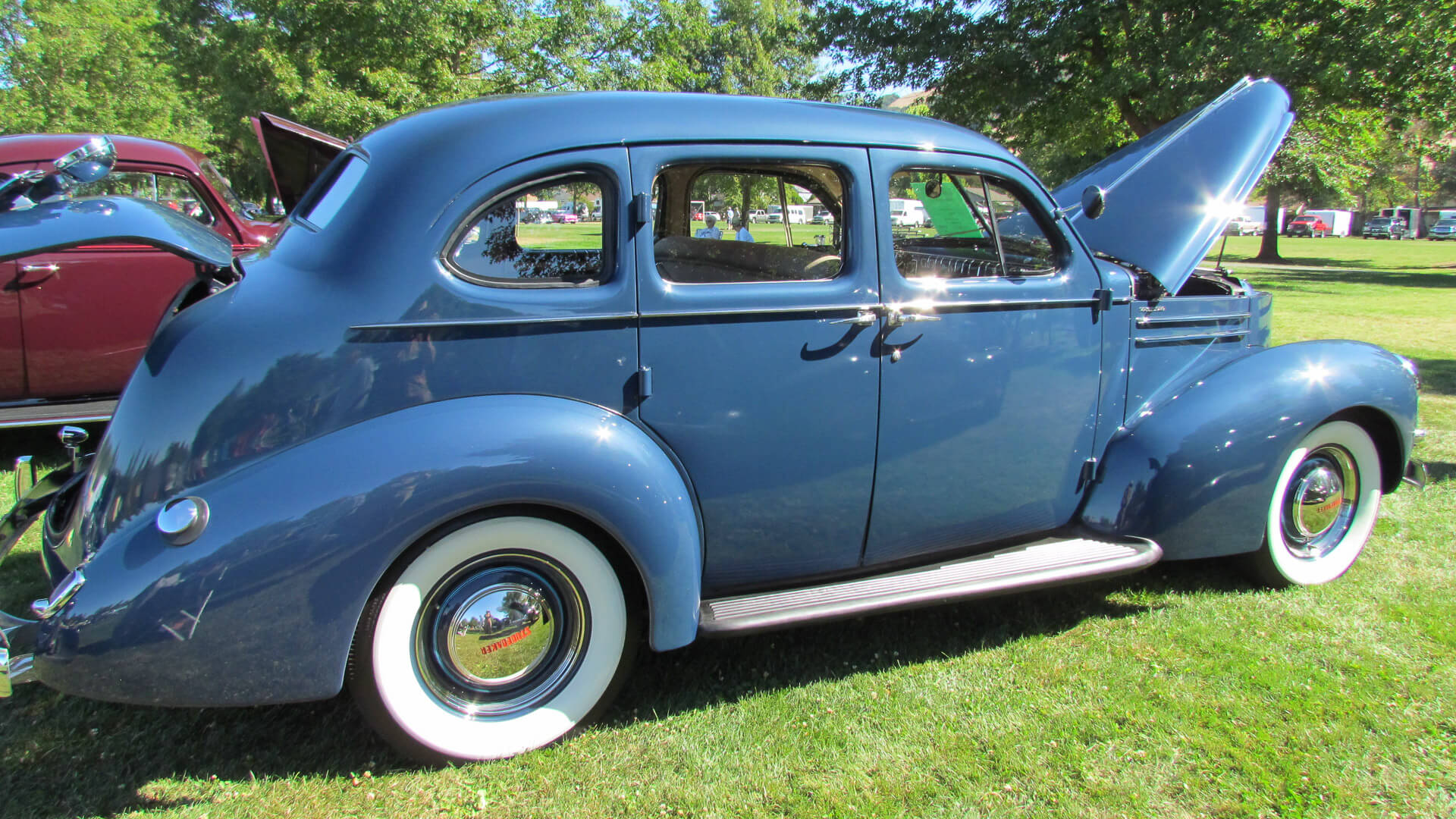 David Berry / Wikimedia Commons CC-BY-SA 2
1939 Studebaker Commander
Price: $9,999 on Autotrader
Studebaker is a classic American carmaker that didn't quite make it all the way to the present. Originally opening as a blacksmith's shop in the 1850s, the last Studebaker rolled off the line in 1966.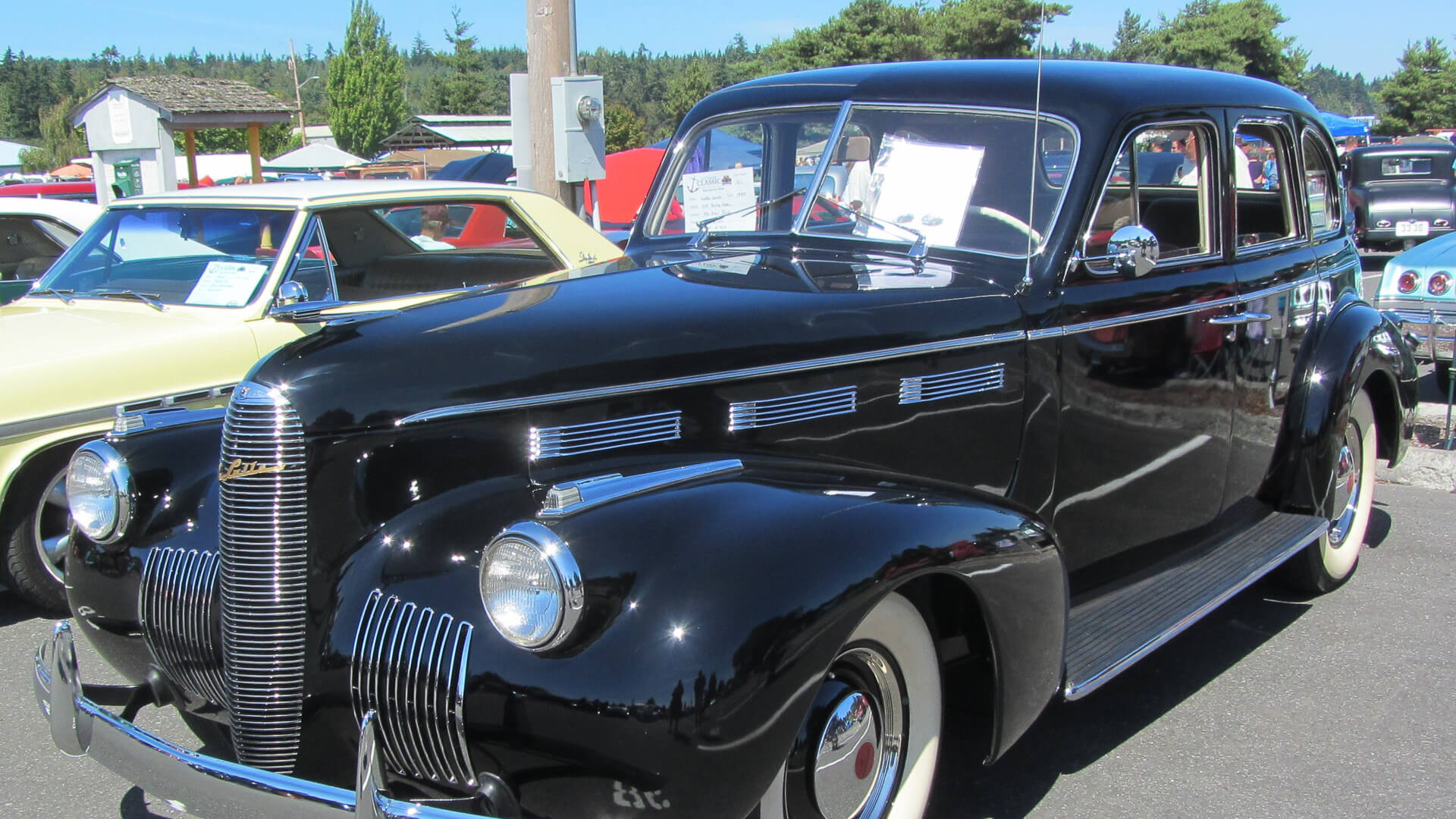 JOHN LLOYD / Wikimedia Commons CC-BY-SA 2
1940 Cadillac
Price: $9,900 on Autotrader
Cadillac would do a complete overhaul of its design in 1942, so the 1940 might seem plain by comparison, but it's also more reminiscent of an earlier era for the carmaker. It was also among the early cars that received the new "sealed beam" headlights.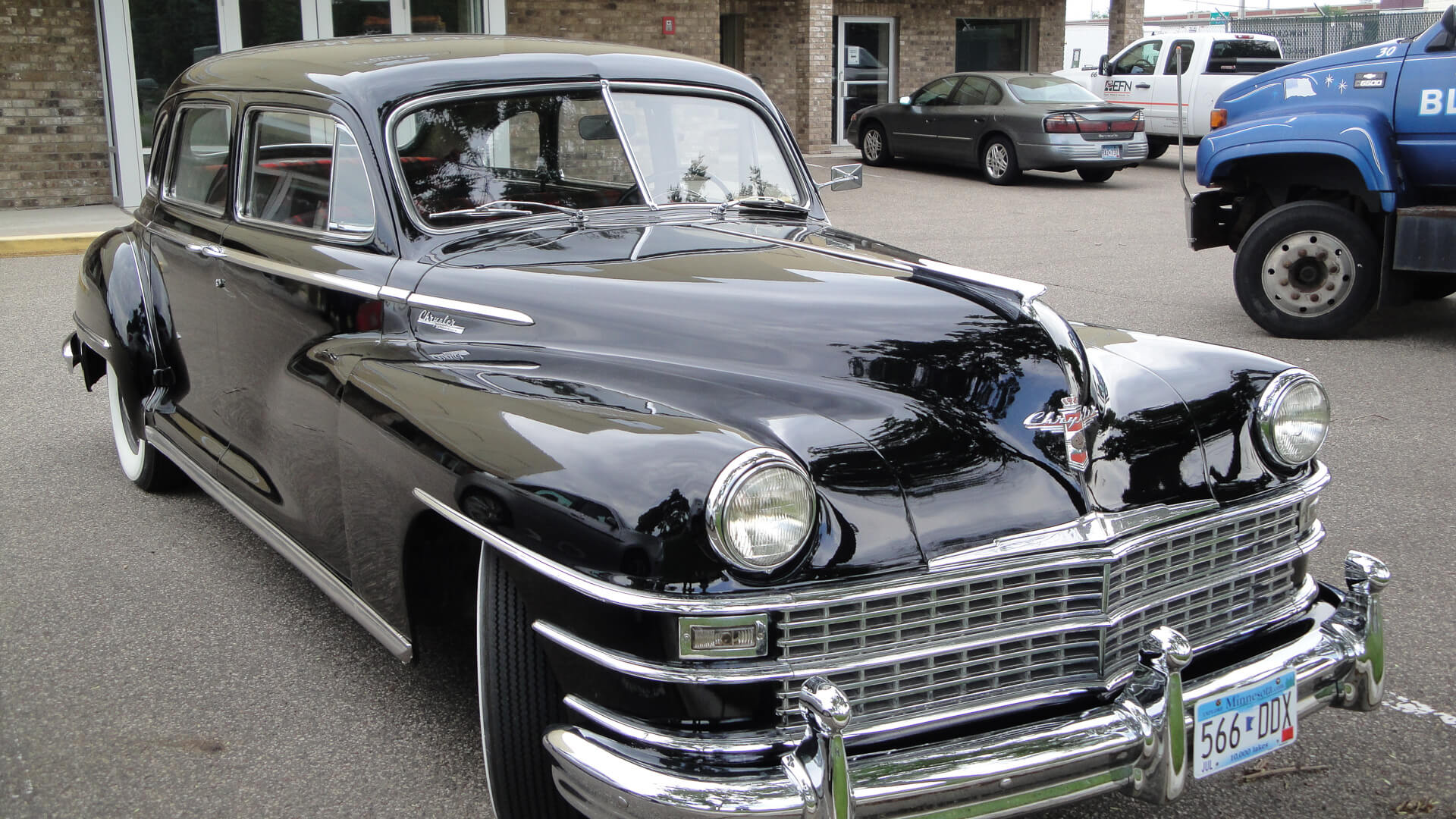 Greg Gjerdingen / Wikimedia Commons CC-BY-SA 2
1946 Chrysler Windsor
Price: $9,750 on Autotrader
This 1946 Chrysler Windsor isn't exactly a sports car — the 115-horsepower engine produces a top speed of just 80 mph and goes from zero to 60 mph in just under 20 seconds — but it does represent a chance to enjoy cruising in a 1940s classic.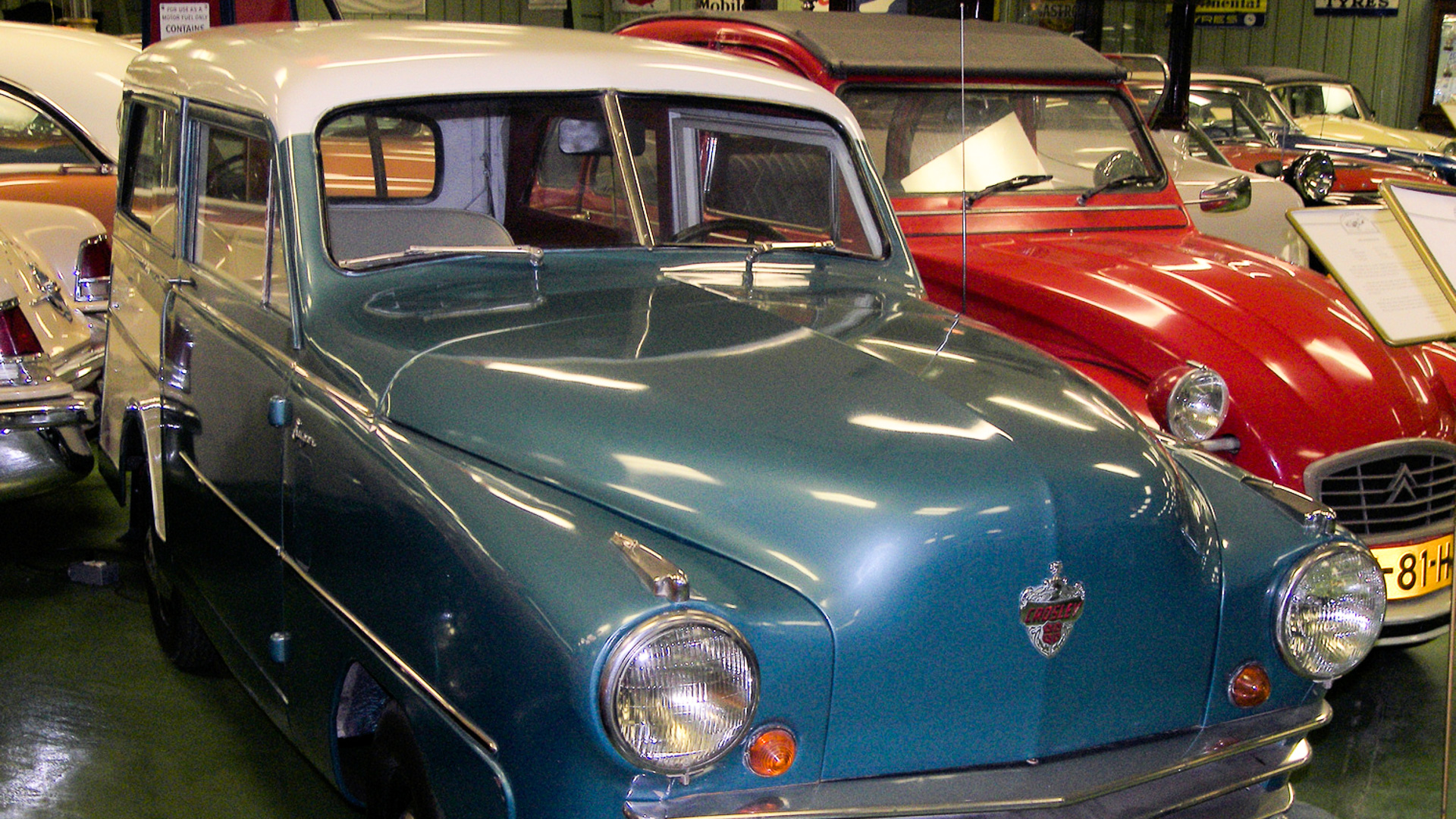 Larry D. Moore / Wikimedia Commons CC-BY-SA 3
1950 Crosley
Price: $8,000 on Autotrader
Not a lot of people still remember automaker Crosley. The company ended up getting pushed out of car making by the big three, ultimately shutting down in July 1952. However, some classic Crosleys are still around, and you can find at least some for relatively cheap.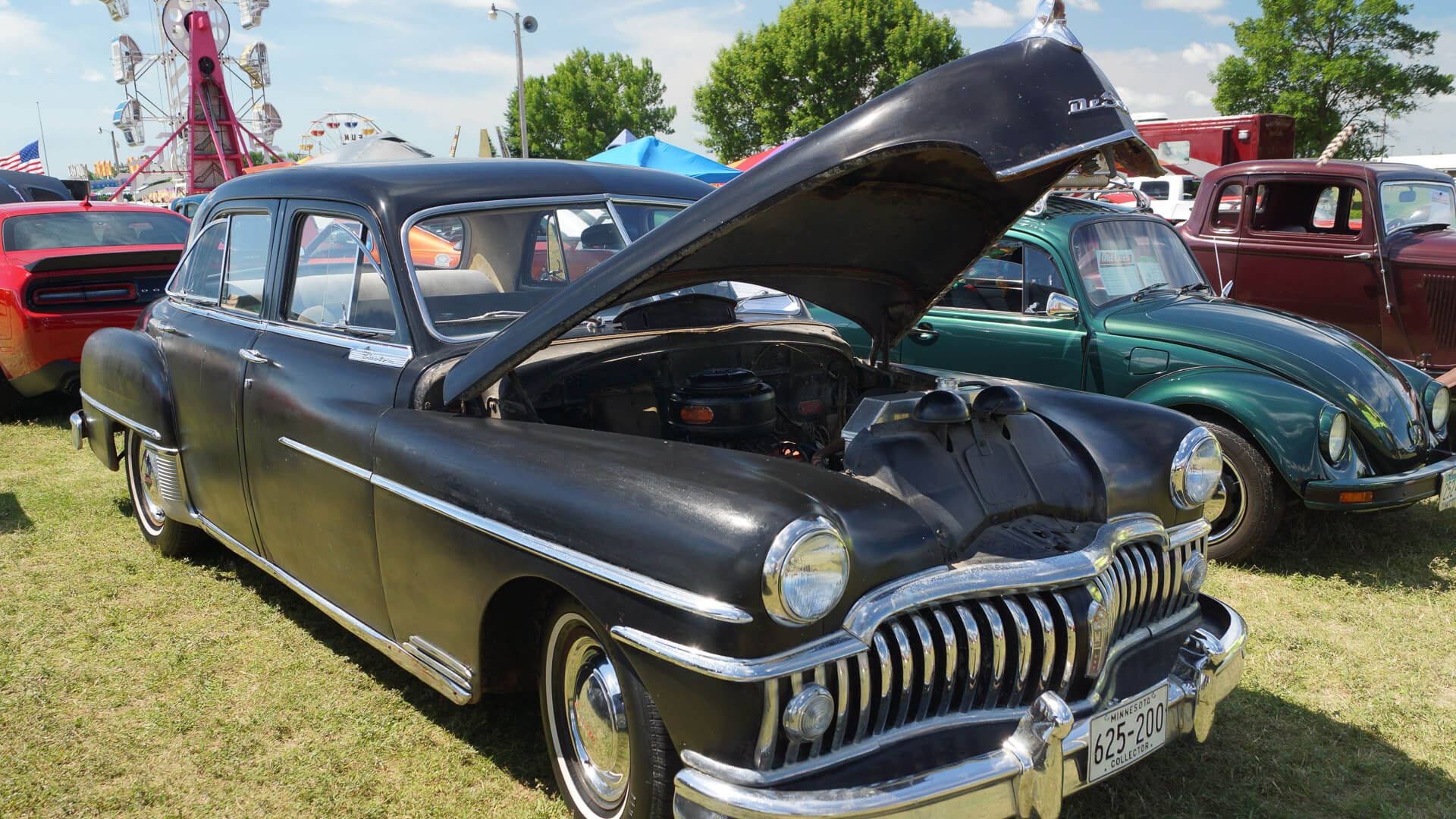 Greg Gjerdingen / Wikimedia Commons CC-BY-SA 2
1950 DeSoto Custom
Price: $7,495 on Autotrader
DeSoto was launched by Walter Chrysler. The name — for the Spanish explorer who "discovered" the Mississippi River — was meant to invoke images of Americana. Much like another Chrysler brand — Plymouth — DeSoto is an extremely common name for counties and towns across the country.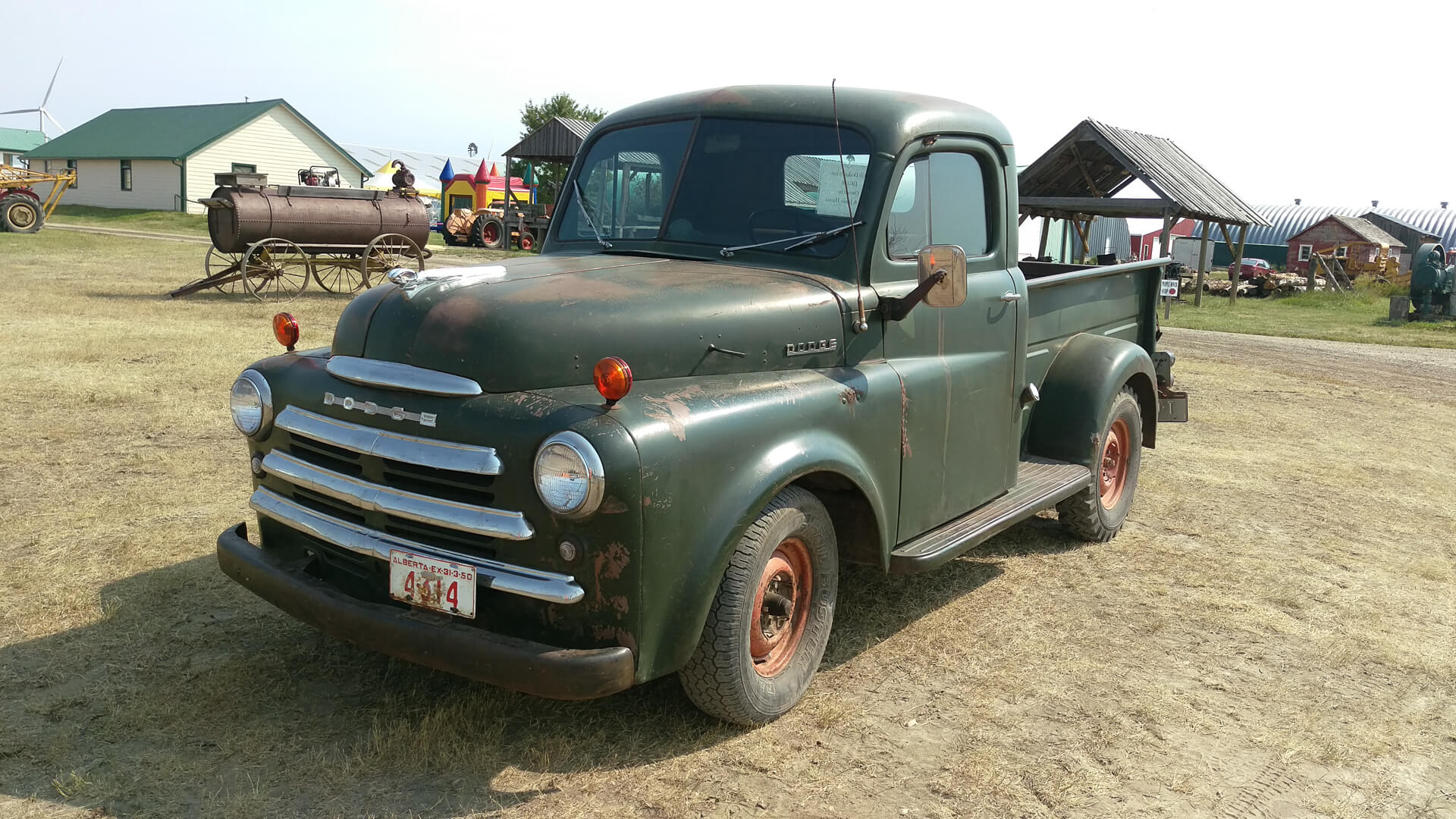 dave_7 / Wikimedia Commons CC-BY-SA 2
1950 Dodge Pickup
Price: $8,995 on Autotrader
Dodge's postwar B-series trucks were superior to their competitors from Ford and General Motors in many ways. In particular, the cabin offered better visibility as well as higher seats and more space.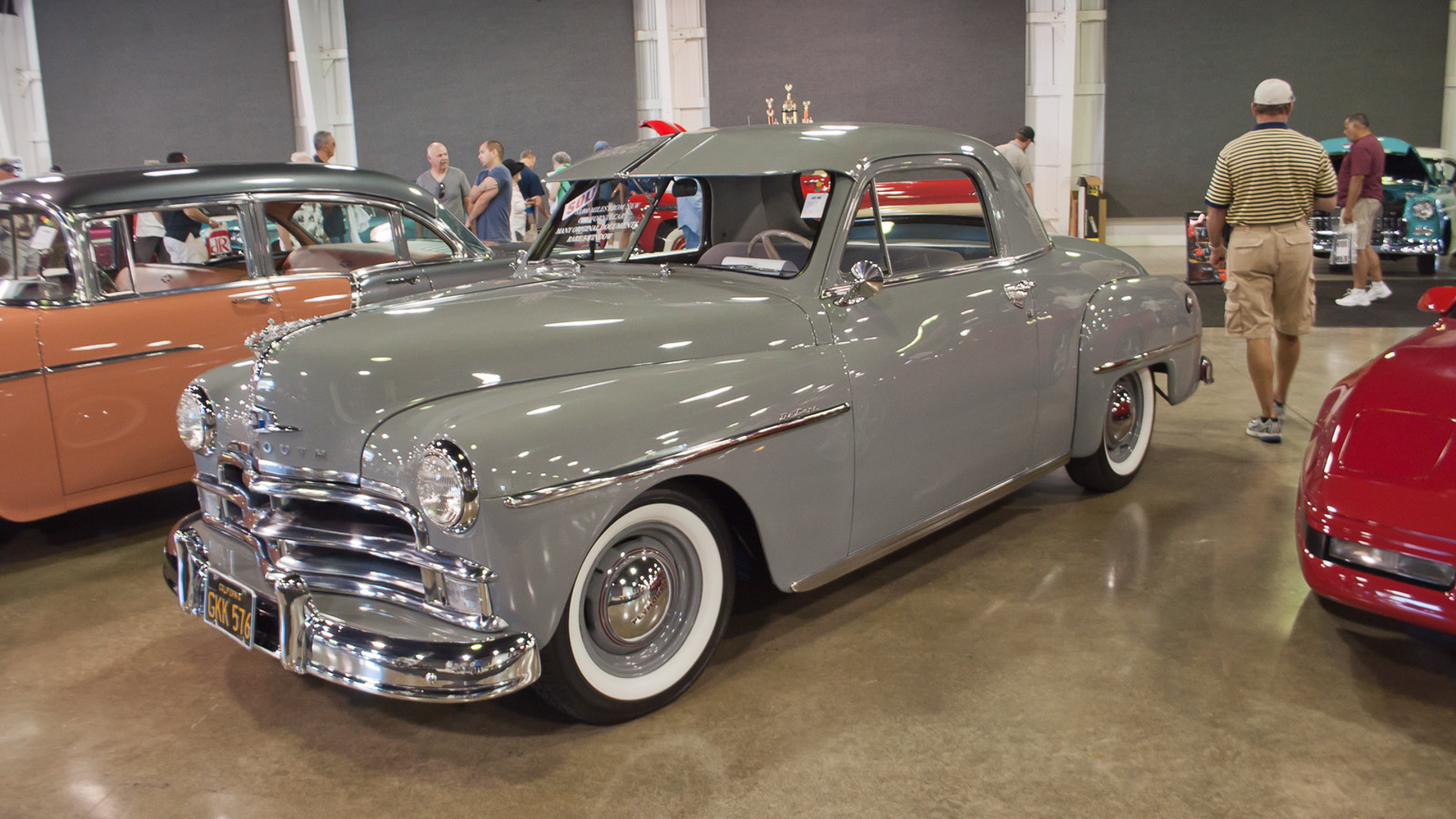 skinnylawyer / Wikimedia Commons CC-BY-SA 2
1950 Plymouth Deluxe
Price: $8,995 on Autotrader
The 1950 Plymouth Deluxe uses a slight roll at the bottom edge of the face plate to give the impression of more size. However, don't let that make you feel overconfident if you take the Deluxe out for a spin — the fluted, three-rib bumpers are nearly impossible to fix up after being dented.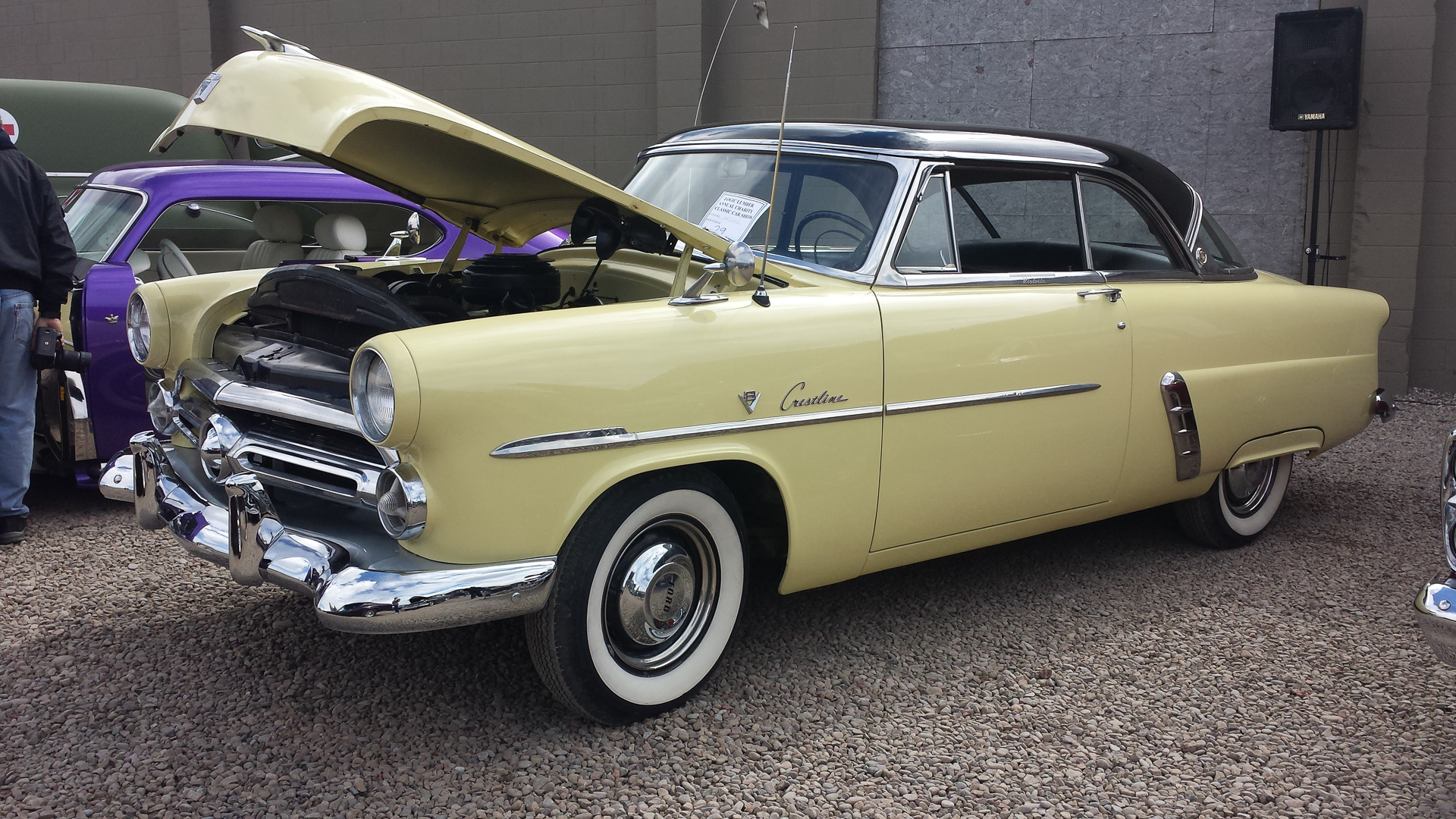 dave_7 / Wikimedia Commons CC-BY-SA 2
1952 Ford Victoria
Price: $9,950 on ClassicCars.com
Ford was just three years into switching back to making new model years of cars rather than bombers when it hit upon the new body design for 1952 that increased length and width while reducing how high the car rode off the ground. The company wound up selling some 77,320 1952 Victorias, and some can still be had for a reasonable price.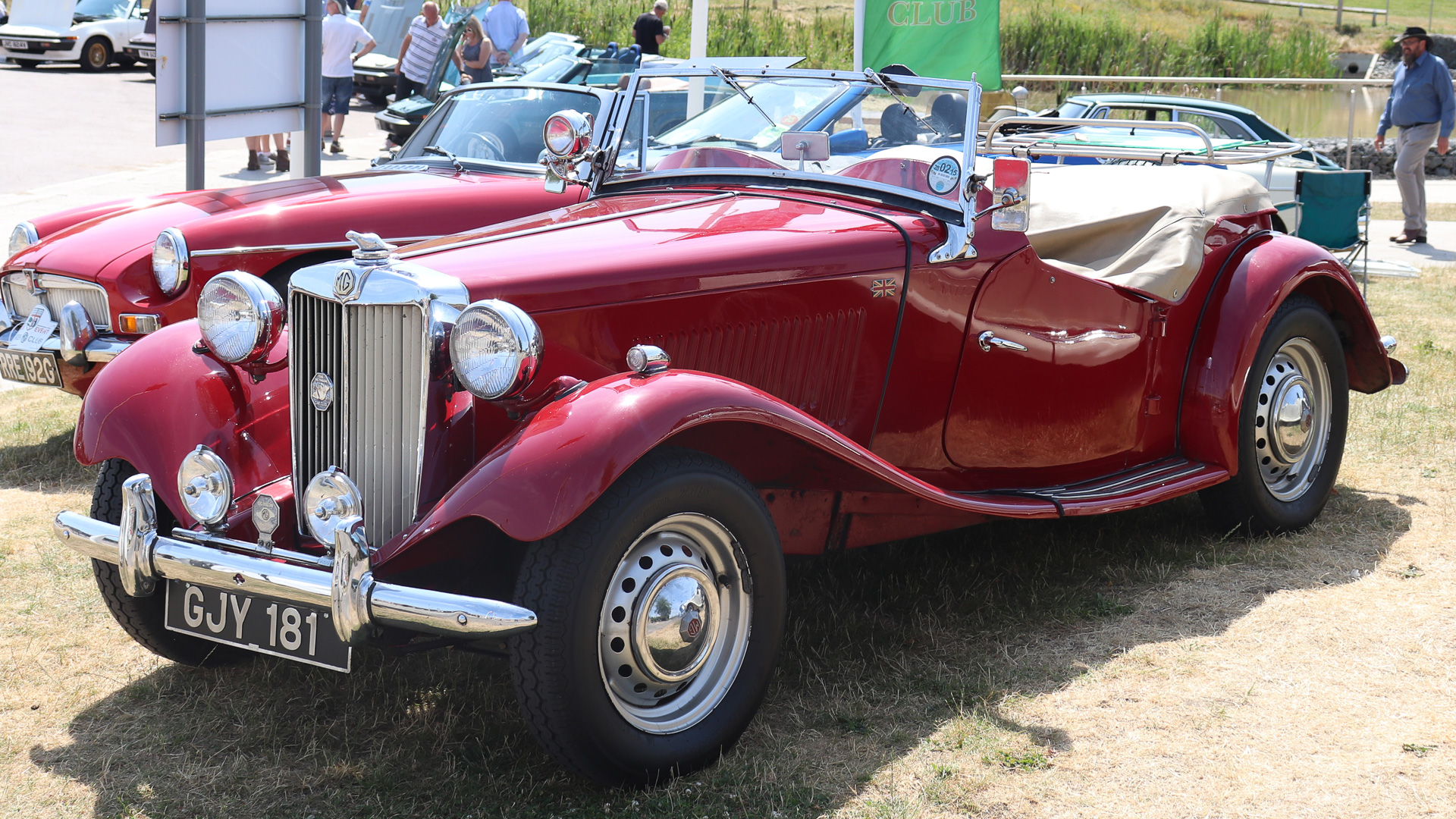 Vauxford / Wikimedia Commons CC-BY-SA 4
1952 MG MG-TD
Price: $9,995 on Autotrader
This rear-wheel-drive standard transmission roadster represented some of the most advanced engineerings of its time. Of course, that doesn't include seatbelts or airbags — the steering column itself is a large steel spike — but with just 52 horsepower, you shouldn't be able to get into too much trouble.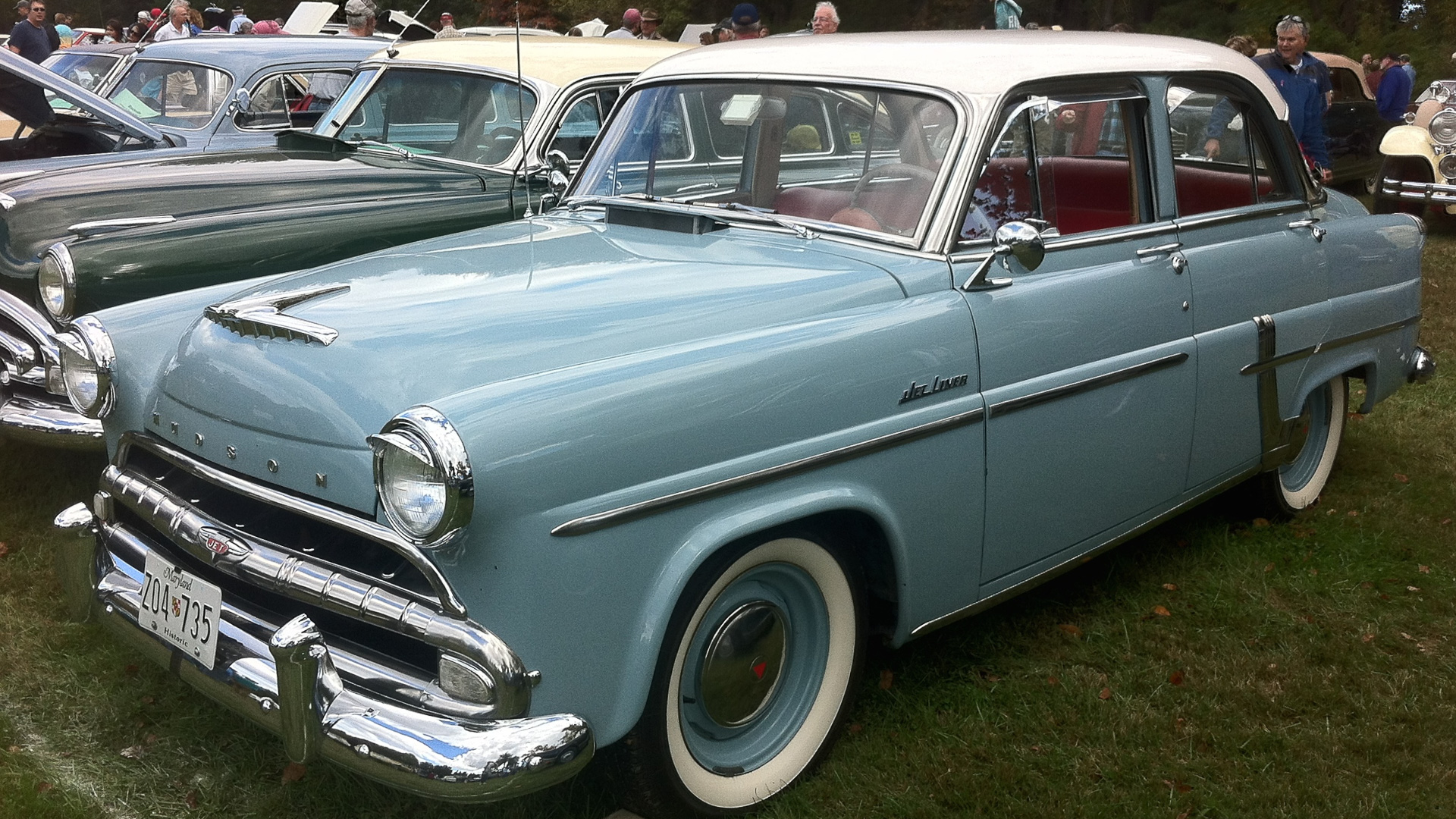 CZmarlin / Wikimedia Commons CC-BY-SA 4
1954 Hudson Jet Liner
Price: $5,000 on ClassicCars.com
The luxury edition of the popular Hudson Jet came with more chrome and three different options for its two-tone interior. Part of the reason for the car's big design was that Hudson President A. Edward Barit wanted a car that accommodated a man wearing his hat while driving.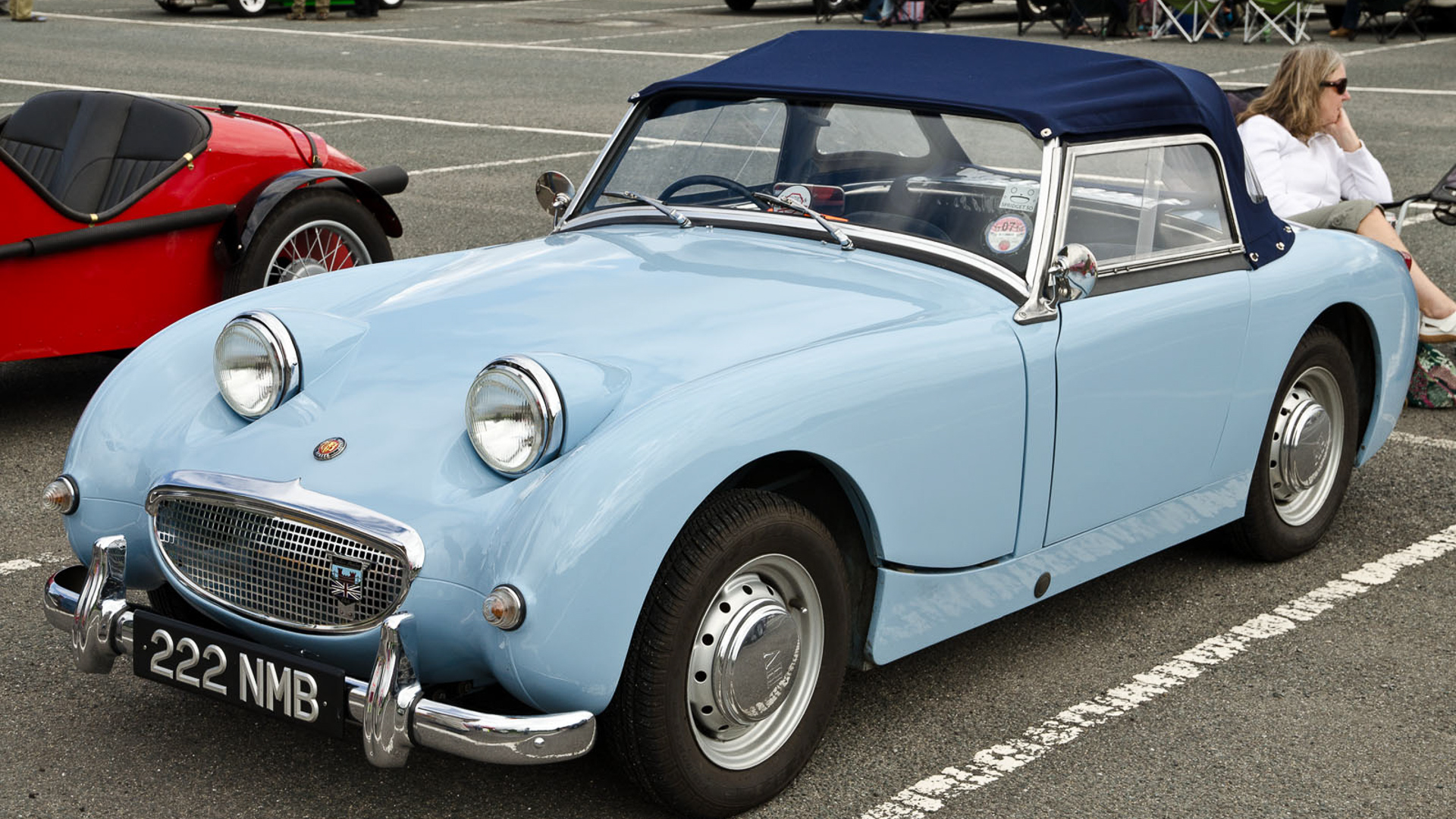 Spurzem / Wikimedia Commons CC-BY-SA 2
1960 Austin-Healey Sprite
Price: $9,750 on Autotrader
This roadster is one that — at least from its outward appearance — would really live up to its name. Its genesis grows from designer Donald Healey being tasked with designing a smaller sports car to balance the larger offerings from Austin-Healey.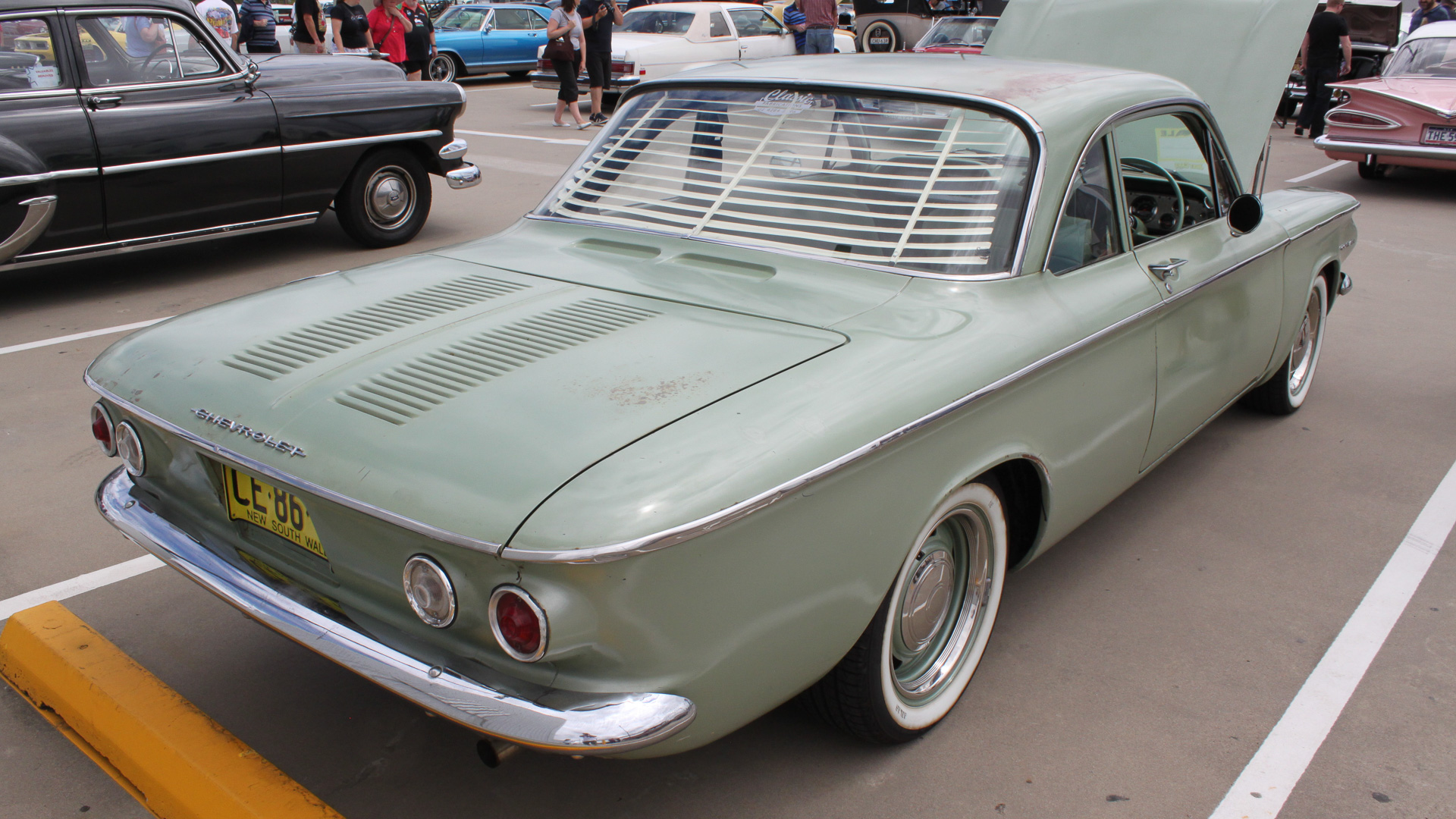 Jeremy / Wikimedia Commons CC-BY-SA 2
1960 Chevrolet Corvair
Price: $5,995 on Autotrader
OK, so you might not want to drive the car that inspired "Unsafe at Any Speed," but owning this little piece of automotive history should still appeal to plenty of collectors. After all, this is the car that played a key role in making seatbelts standard in every car.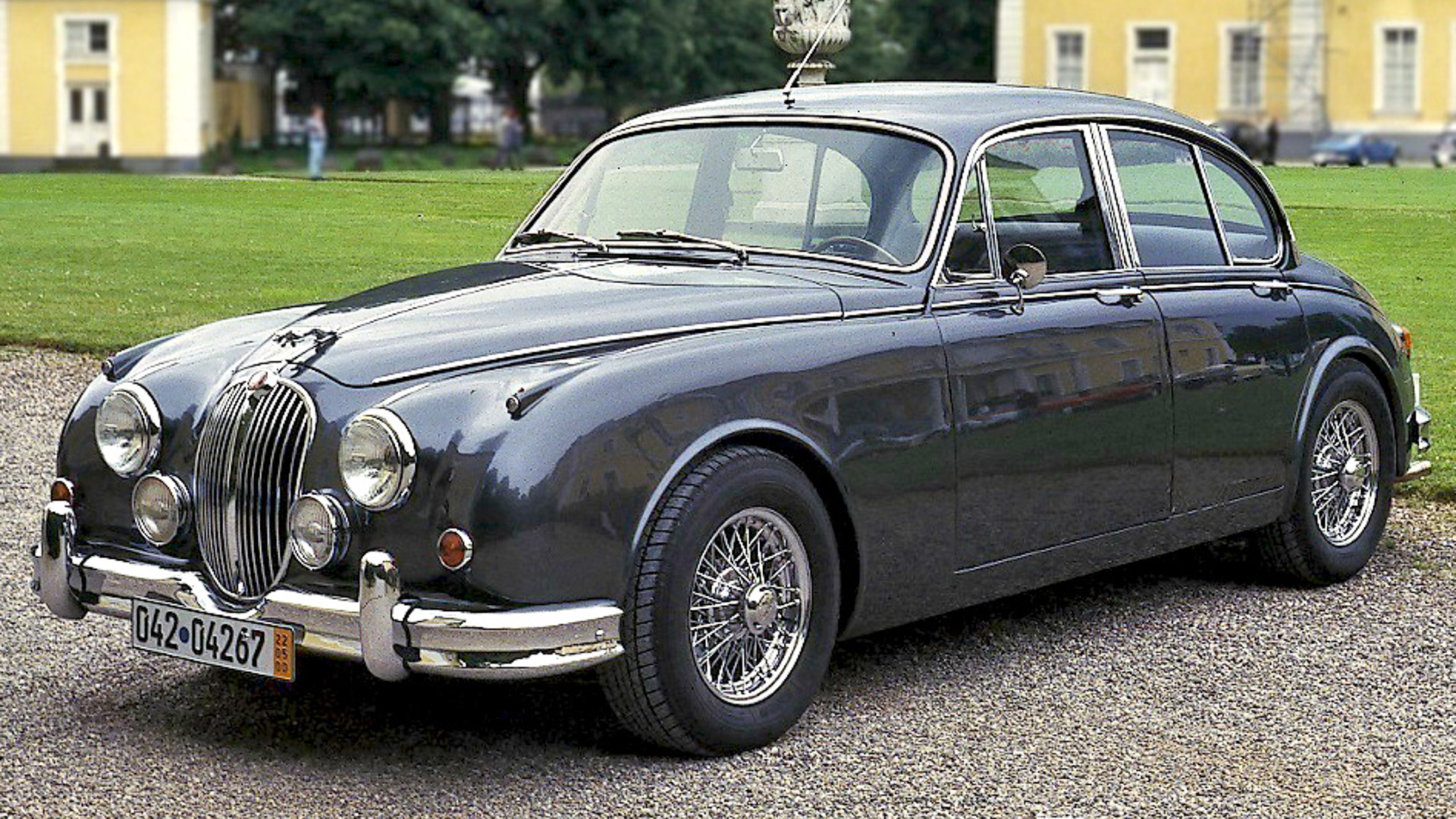 SG2012 / Wikimedia Commons CC-BY-SA 2
1960 Jaguar Mark II
Price: $5,900 on Autotrader
One of the co-founders of Jaguar, Sir William Lyons, stuck to the theory of cars with "grace, pace and space," and the Mark II would appear to be a great example. Featuring a Jaguar XK6 engine, this could be one way to really impress the rest of the folks at the country club without breaking the bank.
Pictured: 1963 Jaguar Mark II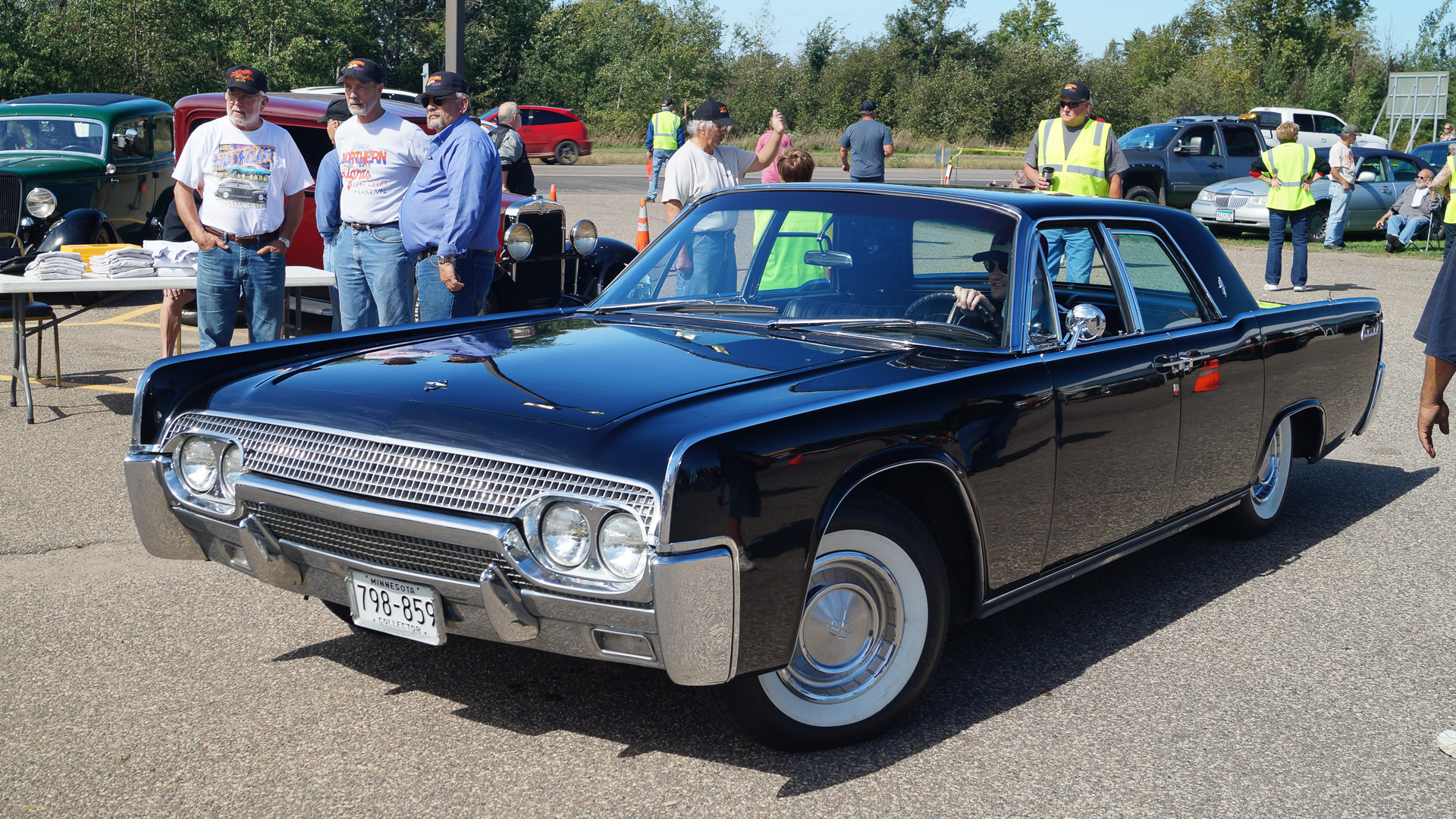 Greg Gjerdingen / Wikimedia Commons CC-BY-SA 2
1961 Lincoln Continental
Price: $7,295 on Autotrader
Interestingly enough, the Lincoln Continental that's been a reliable family car for decades was originally planned as another version of the flashy Thunderbird. However, the proposed stretched version of a two-door hardtop didn't appear to be sporty enough for the typical T-bird driver and the design was salvaged as the Continental.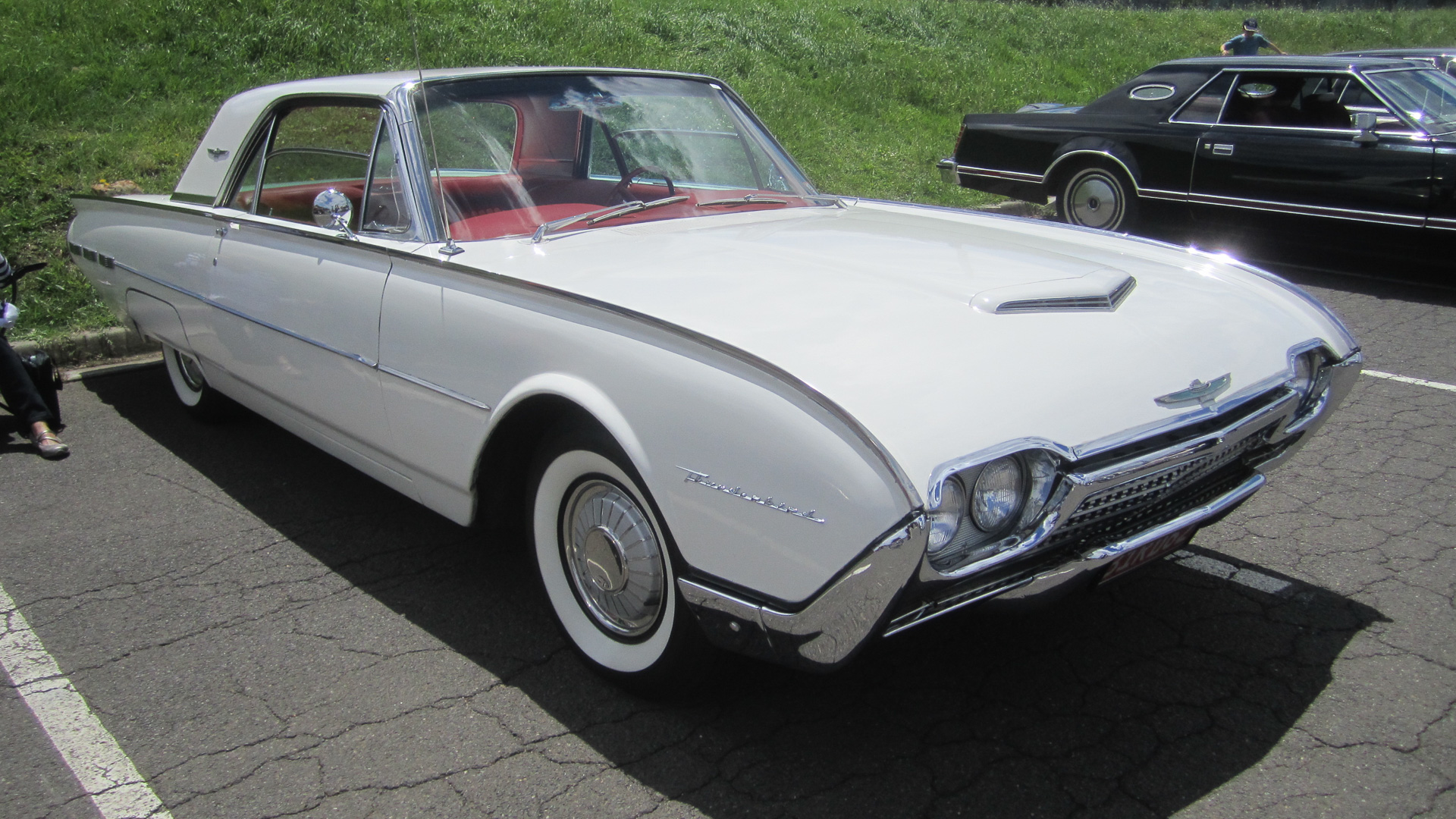 Sicnag / Wikimedia Commons CC-BY-SA 2
1962 Ford Thunderbird
Price: $9,850 on Autotrader
Imagine being able to travel back in time with a 1962 T-bird to show old Henry Ford what his Model T wrought? This beauty could produce a roaring 300 horsepower that would likely mean Ford could have fun, fun, fun till the time travelers take his T-bird away.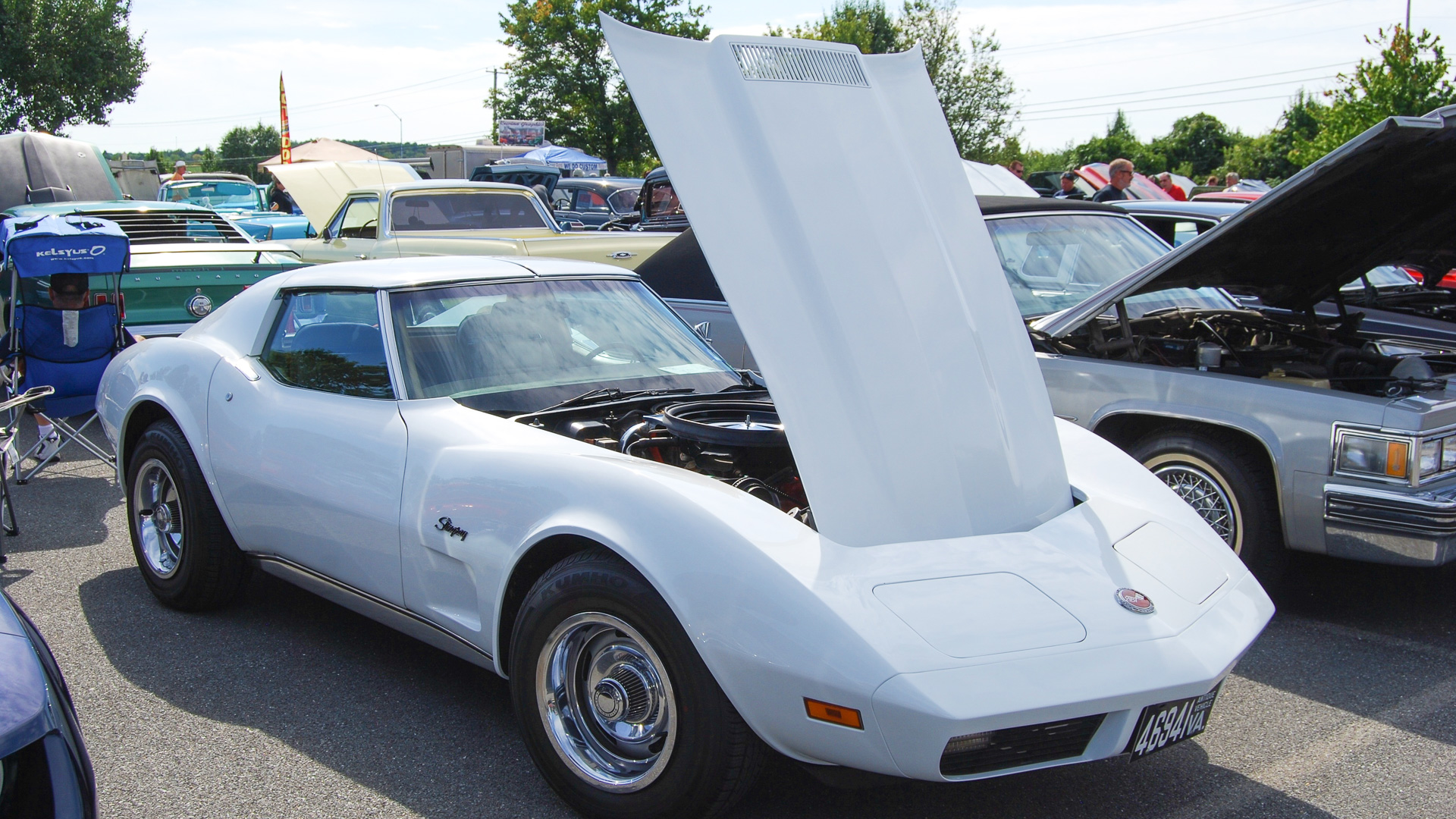 Lissandra Melo / Shutterstock.com
1979 Chevrolet Corvette
Price: $8,950 on Autotrader
Which model year Corvette you might want to buy is a debate that could likely take ages, but if you want to go by popular demand, 1979 would be your car. Corvette production peaked in 1979, making it the year the most Vettes were sold by Chevy for any model year to that point.
Click through to check out vintage cars that are worth a fortune.
More on Money
Photo Disclaimer: Please note photos are for illustrative purposes only and might not feature exact models listed on Autotrader or ClassicCars.com.